TRIBUTE:
Khuda Hafiz, Faraz Sahib: Requiem for Ahmed Faraz


Ahmed Faraz, who died in August, was arguably the greatest living Urdu poet whose noblest moments came when he fearlessly took upon the cause of the common man. Ras H. Siddiqui bids him an affectionate, sad farewell.
---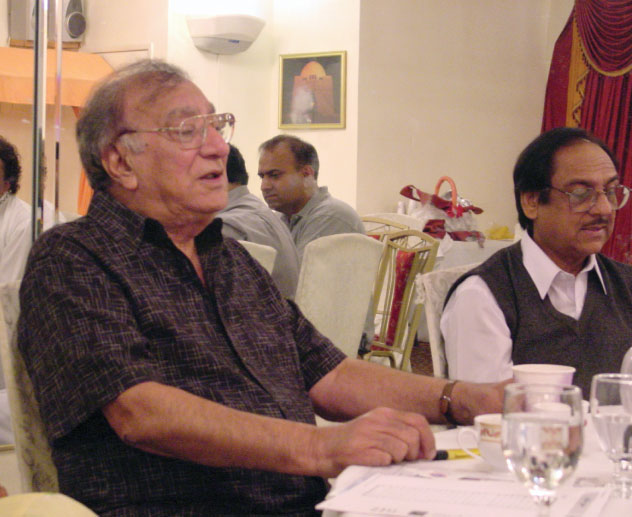 (Above): Urdu poet Ahmed Faraz with ghazal maestro Ghulam Ali (r).

---
This time as we part maybe we will meet in our dreams, or like dried flowers left in books," from Ab kay hum bichray to Shayad or "Faraz, who is there for you, beside you? I just can't see you parted; You from yourself" in Dekha na jayey. And who can forget "I have heard that when she speaks flowers bloom." Many are familiar with these poems sung by Mehdi Hassan, Tahira Syed or numerous other voices. But the writer of Ranjish hi sahi ("Come and see me, increase my anguish, come and see me just to leave me again") cannot make that request anymore.

Ahmed Faraz was one of the few remaining icons from our generation who recently left this world. That he is now not amongst the living troubles the mind, and further increases both the fear and the mystery of mortality.

Faraz Sahib, we hope you will find eternal peace now, especially because writers and specifically poets do tend to live turbulent lives. If one might add, it is out of such turbulence and worldly pressures that the true gems of poetry originate. Ahmed Faraz was one of the finest craftsmen to use the tools present in the rich Urdu language since Faiz Ahmad Faiz, whose legacy he carried on.

Faraz Sahib lived his own colorful, rich and fruitful life but also found within his work the heartbeat of the generation that we belonged to. He was able to enrich our lives for over five decades of poems, a long innings for any writer. He had his faults, (just like his people), but how can one really criticize someone for living and writing truthfully? Faraz Sahib's ongoing romance with our culture and people ended Aug. 25, 2008. And one of the consequences of romancing an entire people is that many of them loved him back. A few did not. (They threw him into solitary confinement).

---

(Above): (Left): Ahmed Faraz, whose poetry was equally passionate in the celebration of love as it was in championing the rights of the oppressed. (Right): File photo of Ahmad Faraz during a trip to the San Francisco Bay Area, flanked by Indian poet folklorist Ved Vatuk (r) and Pakistani poet Farooq Taraz.

---
To digress here, one of the problems that I have had in writing articles about parting with our icons is with their names. Ahmed Faraz has also been spelled Ahmad Faraz (with an "a'). With Melody Queen Noor Jehan, the name was also spelled Nur Jehan, Nur Jahan or Noor Jahan. And most of us that write have probably used them all. Hence I am now using the closest correct spelling of Faraz Sahib's name that I know of here and will not speculate on whether he was 76, 77 or 78 years old when he died, as all three have been reported.

I first met Faraz Sahib in the early 1990s in Berkeley, Calif. He was sitting on a sofa and looked up at me while gripping a very large container of what I later discovered to be his favorite beverage. I remember that I had thought it was odd that a liquid that is consumed in much smaller vessels was being served in a mug to him. And on top of that it was quite full!

The venue was at the home of our local Urdu and Punjabi poet Farooq Taraz. Sitting with Faraz Sahib was San Francisco Bay Area writer/poet Ved Prakash Vatuk. I was able to conduct an in-depth interview of Faraz (in Urdu) which I translated into English as best as I could later. It was a memorable evening, to say the least. I had at the time discovered the first two California-based Pakistani-American newspapers and was alternating in my contributions to them. It was a special evening in the company of Faraz Sahib, as a small group of local fans of Urdu were being educated and entertained by a true master. From that evening on, I ended up making a writing hobby into something of a long-term commitment

I can only share a few memories of that evening since I had the good fortune of meeting Faraz Sahib on a few other occasions since then, and could easily lose track here. The first had to do with my request for his autograph on a book of his that I purchased from a sidewalk book seller in Karachi a couple of years earlier. Little did I know that it was a pirated copy of Faraz Sahib's work. He made me aware of that immediately then smiled at my embarrassment and autographed it for my wife. The second thing that I remember is that as the night wore on and many of us in the group started slowing down, Faraz Sahib, on the other hand, became more alert, intense, and even more meticulous with his language, and increasingly showed his mastery over Urdu and its poetry. By midnight, it appeared that he was just beginning to catch his stride and his increasingly red complexion complimented his passionate delivery.

It was very late when I left to drive back to Sacramento that night but Faraz Sahib appeared to me to be as fresh as a morning breeze and completely in his element. Literature, politics, religion, beverages, all topics were covered that evening. I could tell that a superb mind was in action. He was a very well read person and extremely worldly in outlook. His fine poem on the Vietnam Memorial in Washington is testimony to that fact. although "Mohasara" or "Siege" to this day is considered his best political work, and remains quite relevant.

Why was Faraz Sahib a generational icon? His superb Urdu poetry is one reason. His penchant for writing the truth was another ("Mera qalam to amaanat hai meray logon kee/Mera qalam to adaalat meray zameer kee hai"). It also has to do with his origins from the Pashto-Hindko speaking region (which made him unique). But it was his sympathies with the oppressed people around the world, plus the stand that he took against a tyrant that brought him a great deal of respect. And the fact that young people were engaging in romance through his poetry throughout Pakistan did not hurt either.

So let us not forget his poems of love and anguish and his general or universal romance with life here. "Sunaa hai bolay to baaton sey phool jhartay hain, Yeh baat hai to chalo baat kar kay dekhtay hain" (We hear that when she speaks, it is like flower petals falling. If this is the case, let me start a conversation and see!).

The secular humanist philosophy that Faraz Sahib kept close to his life revealed a lack of patience with religious extremism. "Tum apnay aqeedon kay naizay, Har dil mein utaarey jaatay ho, Hum log mohabbat vaalay hain, Tum khanjar kyoon lehratay ho?"

(Why do you wish to spear our hearts us with your narrow beliefs? We are gentle lovers. Why do you threaten us with your knives?) strikes quite a chord today in the age of the suicide bomber.

Tempering the lives of some who might have mistakenly started to take their own work seriously, only to have it thrown back in their faces, come these words of wisdom that someone emailed to me recently: "In baarishon say dosti acchi nahin Faraz, kaccha tera ghar hai, kuch to khayal kar…" (Don't embrace a friendship with these rains Faraz. Think a little about your own house which is made of weak mud and clay). Somehow these lines have become very relevant since December 27 last year.

In closing one is tempted to toast the life of Ahmed Faraz Sahib by raising a glass of his favorite beverage and celebrate his unique impact on our lives. But instead let me join others in saying farewell to him by remembering him in his moment of deep humility which he wrote about in a poem addressing these lines to God: He wrote "Zindagi teri ataa thi so teray naam ki hai, hum nay jaisey bhi basar ki tera ehsaan jaanan," (This life was a gift to be lived in your name. And throughout the strange way that way that I lived it, I never forgot how indebted I was to you). Khuda Hafiz, Faraz Sahib.

---

Ras Hafiz Siddiqui is a South Asian American writer who lives in Sacramento, Calif.