AUTO REVIEW:
Safety and Style: 2009 Acura RDX Tech


If you're looking for a family vehicle that can go anywhere that can carry the family safely and in style, the 2009 Acura RDX may be just right, writes Sally Miller Wyatt.
---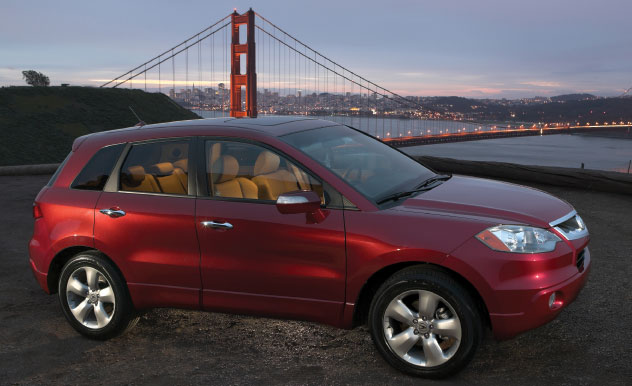 (Above): Exterior view of the 2009 Acura RDX Tech.

---
Goldilocks can relate to the 2009 Acura RDX. It's a mid-sized sport utility vehicle that is not too big, not too small, but just right. Even the three bears would have no complaints.

"Just right" applies to many aspects of this very comfortable, very accommodating vehicle. It's a SUV, so it can go anywhere on any kind of roads, but it's not so gargantuan that it can't fit in the garage.

It has three rows of seats so the whole clan can come along, but you're not so packed in here that you all feel like a can of sardines.

It has a turbo-charged engine which makes Dad happy, and lots of safety features — and five-star crash-worthiness ratings — to appease Mom.

Finally, the RDX's premium sound system, standard XM Satellite radio and MP3 auxiliary jacks means the kids are loving their music no matter where they're sitting. And, with a tri-zone climate control, they're not going to be complaining about being too hot or too cold all the way in the third row.

---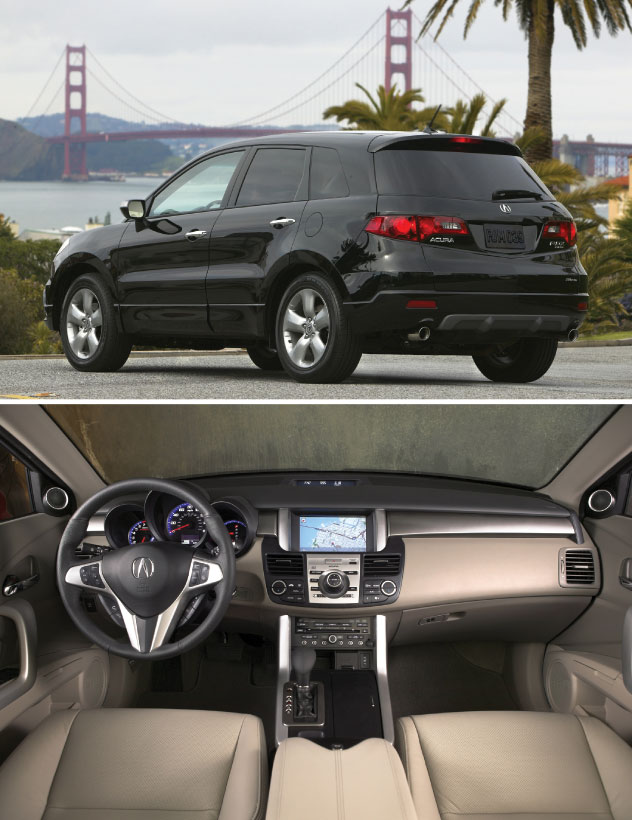 (Above): Exterior (top) and interior (bottom) views of the 2009 Acura RDX Tech.

---
The Acura RDX's pricing starts at slightly above $33,000, but our test version had a base price of $36,995. Still, there is much on board here to suggest a much higher sticker price. Standard interior features include a navigation system with voice recognition and a rearview camera; sporty seats with perforated leather trim; a Dolby sound system with 10 speakers; driver recognition memory system and 10-way adjustable seating; heated front seats; Bluetooth hands-free link; and power windows, door locks, and mirrors.

Safety features include driver and front passenger dual stage air bags, side curtain air bags and driver and front passenger side air bags, Vehicle Stability Assist, anti-lock brakes, side-impact door beams, and remote entry with a security system.

Every Acura I've driven has offered a pleasant, secure and performance-enhanced experience, and our time in the RDX did not disappoint. Behind the wheel we found the dashboard was intelligently laid out, the visibility good even though the A pillars are a bit wide, and the seats were very firm and well-supported. Your back won't get tired on long distance driving.

The vehicle was equipped with a five-speed automatic transmission, but for those who just can't go without the "shifting" experience, paddle shifters are located on the steering wheel.

The rear seat passengers have a good amount of leg and hip room, and that traditionally uncomfortable rear middle position wasn't too objectionable.

If you're looking for a family vehicle that can go anywhere in any kind of weather or any kind of event, that can carry the family safely and in style, and still provide a fun driving experience, the 2009 Acura RDX may be "just right."

---