TRAVEL:
A Slice of Europe: Point Richmond


Unbeknownst to the scurrying motorists on Interstate 580, the picturesque hamlet of Point Richmond, geographically nestled next to the San Rafael Bridge, is a cozy village that reminds its globally far-flung aficionados of Europe, writes Al Auger.

---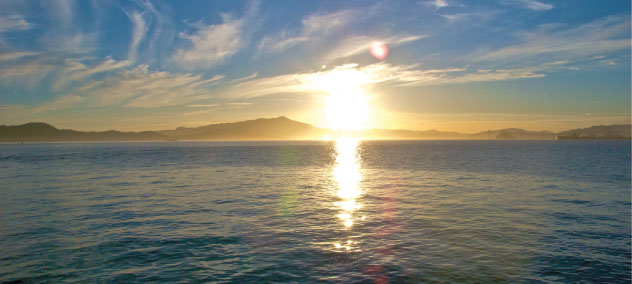 (Above): Sunset at Point Richmond, Calif. The wide breathtaking vista is guaranteed to smooth out the last trace of stress of modern Western living.

---
A lot of people say they are attracted to some destination point in Europe because it reminds them so much of home. I live in Point Richmond because every time I come back from Europe it's as if, in many ways, I'm still there.

They say the best places in life can be found in your own backyard. There is a definite "best place" for those hunting for a quiet location for meditation, friendly folks or the more sybaritic pleasures such as dining, entertainment or beautiful views of the Bay Area. A place where there is a slower, more involved pace that is fast disappearing from life in America. The kind of place where even if you don't know the person passing your way, you still say "Hello" or "How are you?"

Almost anonymous, even shunned, is the picturesque hamlet of Point Richmond.

Geographically nestled next to the San Rafael Bridge, the "Point" is a perfect location for a hidden bit of paradise and a weekend to shake off the past week. Protected from the vagaries of the bay by a barrier of hills, its connection with "outsiders" is strictly peripheral as they speed by on Interstate 580 on their way to or from one side and hidden from view by the immense buildings and tanks of the resident oil industries.

At the center of the village square is the stately Hotel Mac, a turn-of-the-century bed and breakfast devotedly restored to bring back the glories of this historic landmark.

Even as a long-time resident of the Point, my partner and I oftentimes take a few days at the Hotel Mac to drift off into a sort of twilight zone getaway of restoring the juices, fine dining and total escape from the everyday. We dine well at any of the big and small fine eateries that fill the few blocks of the village, drop by to soak in the warm elegance of the Hotel Mac lounge for an after-dinner beverage.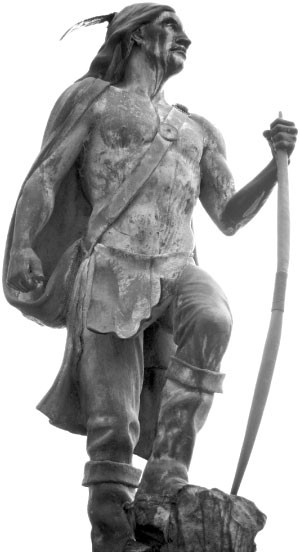 (Left): The Sentinel, the famed Indian statue at the center of the Point Richmond village.

Built in 1911, the 3-story, sturdy brick building is listed in the National Register of Historic Buildings. Its restaurant is known throughout Northern California for its highly respected wine cellar where, like the famous Cheshire Cheese in London's Fleet Street, a small party may dine in privacy surrounded by shelves of vintage wines from around the world.

The "Mac" boasts a choice of luxury suites with fireplace, Jacuzzi, plush robes and connecting room or luxury rooms, some with fireplaces, all have mini-bars and queen beds with fluffy comforters. Each also has individual safes for extra security. Each room is warm and inviting with delicate lace curtains, fat comforters atop characteristic vintage beds.

Early reservations are a must as the Mac enjoys an almost year-round zero occupancy. A peek at the logbook shows the vast numbers of international travelers who stay at the Mac. Much of this wide scope is mainly due to their Web site. Their worldwide clientele is mostly business people from everywhere in Europe and Asia. This is due, I am sure, to the village-like European atmosphere plus the ease of getting around the Bay Area.

For hundreds of years Point Richmond was home to Native Americans who enjoyed the good life living off the generosity of the bay and surrounding flora and fauna. In the early 1800s the Spanish found shelter here and the area was known as the Potrero (pastureland), part of the immense Rancho San Pablo owned by Don Francisco Castro. In the late 1800s, an U.S. Government survey party designated what was at that time an island — Point Richmond.

By 1901 the government-owned waterway dividing Point Richmond had been filled and the booming burg became a bustling center of boarding houses, "bawdy houses," secretive port for prohibition booze and later boisterous saloons. Soon, though, the village began to take on the aura of a well-endowed little city with all the amenities such as hotels, grocery and clothing stores, funeral parlors and a livery stable.

Today, the bay side of this hamlet of some 4,000 residents is studded with large and small homes that rival its neighbor Marin County in style (and price) with views to kill for: San Francisco, three bridges, Alcatraz, Angel Island. On the village side is the middle class, populated by students, artists, some old-fashioned hangers-on, characters, some who border on weird and a large contingent of retired people. They are white, black, brown, beige, yellow, gay, straight, blended — a rainbow mélange that truly works.

Of all the endeavors available in Point Richmond, be they intellectual or physical, walking is right up there among the top choices.

The homes are eclectic and imaginative in their architecture. Victorians and Queen Anne's are seen in age that range well over 100 years. Modern, art deco, radical, boring, big, small — just name it and you will find it on your tour. The hills proffer an aerobic outlet, the scenery a more passionate path.

Climb Washington Ave. to its end, turn left on Western and follow it to John F. Kennedy Park with its shady picnic tables and barbecues overlooking a small beach. Continue along the wandering parkway west to Miller-Knox Regional Shoreline Park. Here is an expansive green belt of picnic tables, barbecue, a running path, leash-free dog run, and the blue bay stretching out to San Francisco, Angel's Island, Alcatraz and Marin County.

On a sunny, blue summer's day you can watch a rusty, barnacled oil tanker make its lazy way to the offshore dock of Chevron Oil. Sailboats are everywhere on a weekend, many of them embarking from the private Richmond Yacht Harbor further on around the bend to Brickyard Cove. Substantial homes jut out on the bay, their backyard a pier with the required boat, many as substantial as their owner's home.

---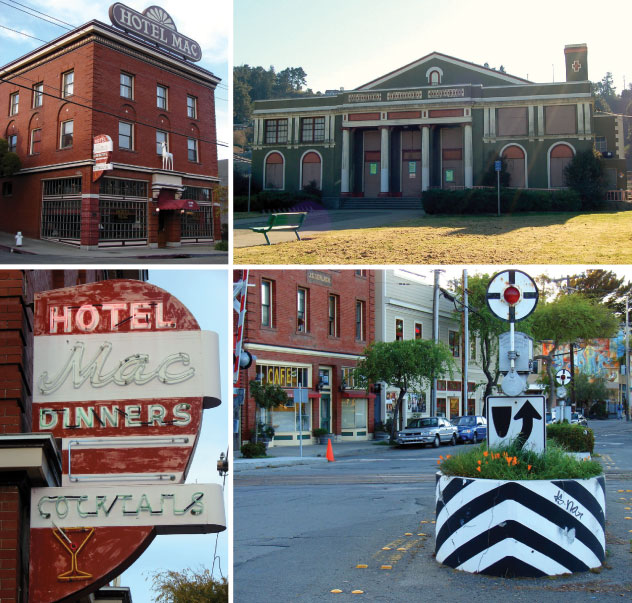 (Clockwise from top left): The statuesque Hotel Mac has an old-world charm; Currently under restoration, the Point Richmond natatorium (indoor swimming pool) is the largest in California; Downtown Point Richmond — cozy, quirky and fun; and the retro-style Hotel Mac sign beckons to a clientele that is worldwide.

---
Like the thousands of anonymous villages around the world, Point Richmond has a strong sense of self-sufficiency. This tightly knit community boasts its own fire station, branch library, a number of delicatessens offering a long menu of delicacies, bakery, post office, two small but well appointed grocery stores, a natatorium (indoor swimming pool) that is in the process of being upgraded, a large park on the bayside, marina, an elementary school, excellent restaurants offering everything from Chinese to pizza, filet mignon to scampi to tamales, even an upscale bed and breakfast, churches and its historic Masquers Playhouse.

In the past few years, in addition to the large community of artists, writers, etc., the Point has become a mini-Silicon Valley. Cottage industries engaged in the world of cyber space has taken over much of the downtown area. The good side is the weekday worker population adds a great deal of intellect and easy conversation at the number of coffee houses and watering holes. There's a serenity to the laid-back daily routine of a small town: Regulars taking their seat at the tables outside their favorite deli, catching up on their reading at the little park in the center of town or coming home from work for a quiet dinner at one of the wide selection of local restaurants.

A nicely turned illustration of the seduction of Point Richmond is the success of the Incurable Collector shop in the "downtown" center. Owner Bill Vallivero originally ran a flourishing shop for fine antique jewelry, china, settings, etc., in San Mateo. "There," Bill explained, "It was no big deal to turn a $25,000 sale. Many of my regular customers hailed from Aptos, Hillsborough and the like. Here, while there are a substantial number of comfortably well off residents and I do a very nice business, I came here because first, I have lived here for years, and I was waiting for a small venue to be available. While the $25,000 sale is only a memory, this has proven to be the best move I've made."

Even with its seeming laconic pace, the activities in the Point are many and diverse. In May, the community holds its annual garage sale to benefit the Masquers Playhouse. This year over 60 households put out their wares and donated a percentage of their sales to the venerated theater. The intimate theater has staged every kind of production such as "Auntie Mame" to the story of Helen Keller. With only 99 seats, it can be a family party as everyone breaks for coffee and sweets in the tiny lobby at intermission, particularly on the popular weekend matinees.

The year 2009 will be the eighth annual Point Richmond Music Festival. Bands are everywhere playing everything from jazz to the blues to reggae and more. Merchants set out tables on the sidewalk with tasty treats, fine wines and sweets — many of the tasty treats are free. It's a big block party and thank you from the local merchants with the outside public invited to enjoy the festivities.

---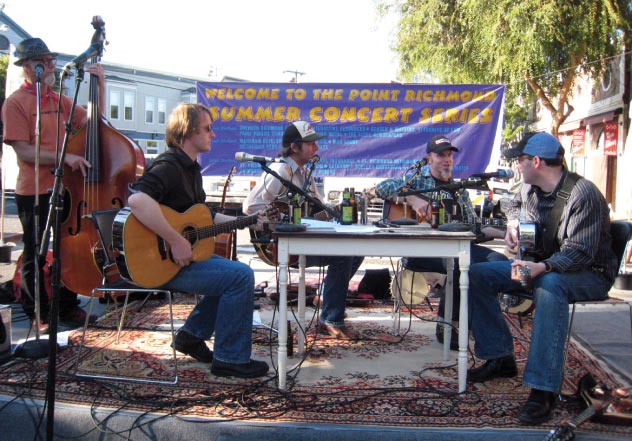 (Above): The Rock Soup Ramblers performing at the Point Richmond Summer Concert Series.

---
The Point's most recent claim to fame is being chosen as a prime location for the Robin Williams movie Patch Adams and Clint Eastwood's True Crime. The Patch Adams shoot took six days of day and night scenes, using many locals as extras and buildings and houses for background and interiors. A month later movie crews were back in town for a three-day shoot of the Clint Eastwood thriller. One local resident and a longtime friend of Williams and his Marin family, said (with a wry smile), "Looks like we're becoming Hollywood North."

At night, the muted horns of the Santa Fe belt line engines shuffling back and forth still carry the fanciful dreams of a train disappearing into a dark, purple night going somewhere — anywhere. Sitting on one of the hidden little beaches watching a luminous red painting forming behind the Golden Gate Bridge the sounds of the lapping waves lull you into a feeling of contentment.

Across the street from the Mac is Little Louie's, one of the Point's favored hangouts for the locals and executives and workers from the numerous industries surrounding the village. "Mama" Pura watches over her extended family of co-workers serving up homemade soups, salads, sandwiches and the prerequisite coffee/latte/espresso menu.

One of the most popular restaurants for the locals is Little China, featuring a dizzying menu of Chinese dishes cooked and served by the family owners. More intimate than tiny, Little China is a quiet place warm with linens and fresh flowers at each table. These and a host of others (see box) make the singular burg of Point Richmond a diner's delight — at all levels.

The point is, with no pun intended, Point Richmond is rich in heritage, character and characters, friendly and interesting people, architecture and views, hidden pockets to find serenity — everything a small town must have. Every now and then, though, the blinking lights of San Francisco across the bay play like a visual siren song drawing you over the bridge for a night of sophistication. A big city break, even knowing you will return home to the Point, where the rest of the world thankfully passes you by.



POINT RICHMOND: Tips for the Epicure

Point Richmond is an island of gourmand/gourmet delights. The serene, tree-shaded streets that angle off from the famed Indian statue at the center of the village are chock-a-block with restaurants and delicatessens serving everything from classic dinners to fat sandwiches for the lunch crowd.


Dining

HOTEL MAC: Lunch and Dinner; BRAZIL CAFE: Breakfast, lunch and dinner;

LITTLE CHINA: Mandarin Lunch and Dinner; RED PEPPER: Hunan-Mandarin Lunch and Dinner;

LITTLE LOUIE'S: Deli menu, Breakfast and Lunch, Catering available, Outdoor deck;
EDIBLES: Lunch and catering; ANNIE'S MEXICAN GRILL: Breakfast/Lunch;

CAFÉ ALTURE: Deli, coffees, pastries;

EXTREME PIZZA: Free delivery;

GREAT AMERICAN HAMBURGER: Delicious pies.

HIDDEN CITY: Breakfast and lunch; KAO SUN: Thai cuisine - lunch and dinner:

ROYAL OAK: British pub and restaurant;

SALUTE RESTORANTE: Italian dining, full bar and vista;

SPOT LIQUORS: Hot dogs and snacks;

STARBUCKS: Coffee and sweets; SU ZHOU: Chinese cuisine and sushi bar;

UNION BAR & GRILL: Breakfast, lunch and dinner.

Entertainment

THE MASQUER'S PLAYHOUSE - 105 Park Place/232-4031

GOLDEN STATE MODEL RAILROAD MUSEUM - 900 Dorman Dr. /234-4884

THE PLUNGE/RICHMOND NATATORIUM - the Bay Area's largest heated swimming pool - 1 East Richmond/620-6l82

RED OAK -fully restored World War II Liberty ship open to the public.

HOTEL MAC BED & BREAKFAST: 10 Cottage St. 94801 - (510) 235-0010\Fax: 510-235-1869/E-Mail: hotelmac@pointrichmond.com.

---

Al Auger is a freelance writer. He lives in Redding, Calif.
---