COMMUNITY | News in Brief:

Isha Yoga Teacher Visits Bay Area | Fundraiser Hosted for Bihar Flood Relief | AIF Gala | Dussehra at Fremont | IVACC Senior Tour | United Way Foundation: ndia Expansion | Diwali in Sacramento | Free Medical Camp


---
Isha Yoga Teacher Visits Bay Area
Devotees performing Isha Yoga.
---
Isha Foundation founder Sadhguru has designed an Isha Yoga program called "Inner Engineering" that will be offered monthly throughout the San Francisco Bay Area.  The classes will be offered by a highly-trained Isha Yoga teacher in San Francisco, Berkeley and Milpitas, according to a press release from the foundation.

"Isha Yoga programs are a 'live' process—an inner exploration of the very essence of life. Inner Engineering participants take home a balanced set of simple, but powerful yoga practices, including Shambhavi Maha Mudra, an ancient 'kriya' (an inner energy process)," the release added.

"Together, the program and practices are an extraordinary opportunity to break through personal limitations, establishing health and vitality, mental calm and clarity, and a sense of deep joy." 

According to Sadhguru, this foundation of total wellbeing is the first step toward knowing the true abundance of vibrant life within you.

"Yoga is the science of transforming your inner energies—gaining control over your inner energies in such a way that, whatever you do, within yourself, it's a conscious process," he says. 

A yogi rooted as strongly in mundane and pragmatic matters as he is in inner experience, Sadhguru works tirelessly towards the physical, mental, and spiritual wellbeing of all, the release added. Sadhguru has spoken at some of the world's most prominent international leadership forums to affect change, including the United Nations, the World Economic Forum, and the World Peace Congress.  He is the author of four books.  

Founded by Sadhguru in 1992, Isha Foundation is an international non-profit organization dedicated to cultivating peak human potential through yogic science. The Foundation is operated by over 250,000 volunteers dispersed throughout more than 150 satellite centers worldwide. 

For more information visit www.ishafoundation.org.

|TOP|

---
Fundraiser Hosted for Bihar Flood Relief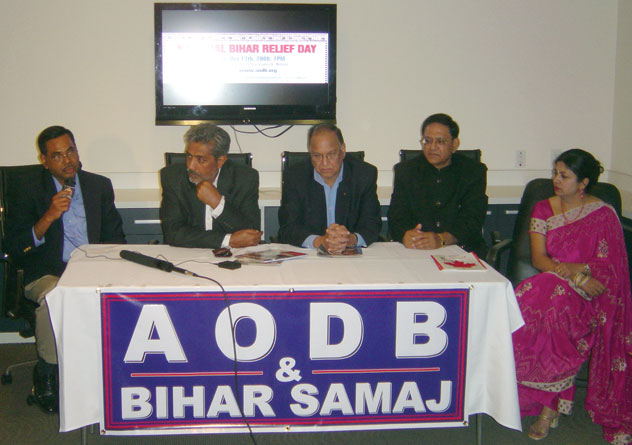 Volunteers at a fundraiser Oct. 17 for Bihar flood relief hosted by the American Organization for the Development of Bihar and Bihar Samaj.
---
American Organization for the Development of Bihar and Bihar Samaj hosted a fundraiser for Bihar Flood Relief Oct. 17 at the India Community Center in Milpitas, Calif. A press conference hosted by Vandana Kumar featured filmmaker Prakash Jha and Bidhu Jha, MLA from Radisson, Manitoba in Canada along with community leaders Sujay Roy and Ramesh Yadava.

Over 300 people attended the gala which included dinner; a short film by Prakash Jha on the work of Punarwaas; a silent auction featuring items including Madhubani paintings, autographed posters and DVD sets of Prakash Jha films.

Sujay Roy, co-ordinator of the Bihar Flood Relief efforts, welcomed the audience. Special guest filmmaker Prakash Jha spoke about the grim situation in Bihar. He has formed Punarwaas which has adopted Relief Camp-22RD, the village Kataiya. The camp will provide complete care for 5,000 people including food, clothing, healthcare, sanitation, education and eventually rehabilitation.

His inspirational talk was followed by a pledge drive led by Ramesh Yadava. By the end of the evening AODB, Bihar Samaj, Seva and RDI  had collected pledges worth $75,000.  So far $16,000 has been sent for relief work to Patna in early Oct and $15,000 was given on stage to Prakash Jha for Punarwaas.

The evening's cultural performance included a Manipuri dance by Aavartan school and a kathak dance performance by Shilpi Verma of Tarangini School.

Veteran Bay Area musicians Praveen and Ritee Chaddha entertained the audience with a nostalgic mix of Bollywood oldies.

|TOP|

---
AIF Gala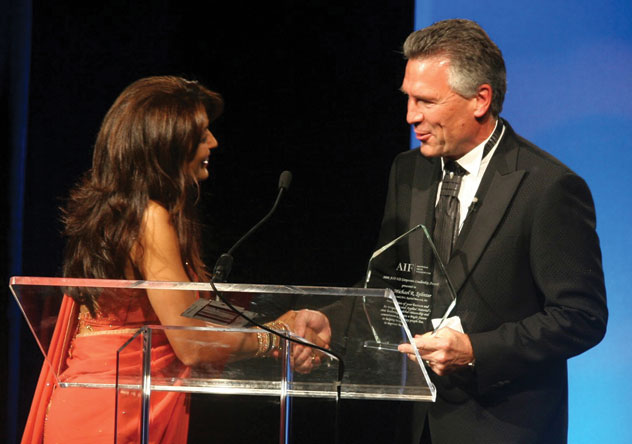 Mike Splinter, CEO of Applied Materials, receiving an award from Lata Krishnan, Vice-Chair of the American India Foundation.
---
The American India Foundation Oct. 4 honored Mike Splinter, president and CEO of Applied Materials, for his corporate and philanthropic commitment to India. Splinter was presented the award at AIF's Fifth Annual Gala in Santa Clara, Calif.

"Under Mike's leadership, Applied Materials has significantly expanded its presence in India, and is investing in technology and businesses that are helping the Indian economy develop immensely," said Lata Krishnan, AIF's vice-chair. Krishnan, formerly president of the foundation, praised Mr. Splinter for his dedication to India, and thanked him for his commitment to AIF as a means for accelerating social and economic change for marginalized communities in India.

Applied Materials, which has 1,500 employees in India, has co-invested with AIF in projects to benefit some of India's poorest people. In 2008, Applied Materials invested $140,000 in the following programs: AIF's Digital Equalizer program, that provides training for students and teachers in middle schools enabling them to integrate computers into their curriculum to improve the basic quality of education; AIF's Service Corps Fellowship, which sends young American professionals to work with Indian non-governmental organizations for 10 months; and in AIF's partnership with a Delhi-based NGO, Chintan, that is improving the lives of waste workers in Delhi.

During the Gala, AIF highlighted the Service Corps Fellowship, which has sent 190 young American professionals to work for 10 months with 94 Indian NGOs since 2001.

The gala, which raised over $1.5 million, was attended by around 600 guests, including corporate leaders, philanthropists and leaders of the Indian-American community. The gala was chaired by Rajat Gupta, former managing partner of McKinsey & Company, Mike Moritz, Sequoia Capital and Jeff Morgan, executive director of the Global Heritage Fund.

For more information, visit: www.aif.org.

|TOP|

---
Dussehra at Fremont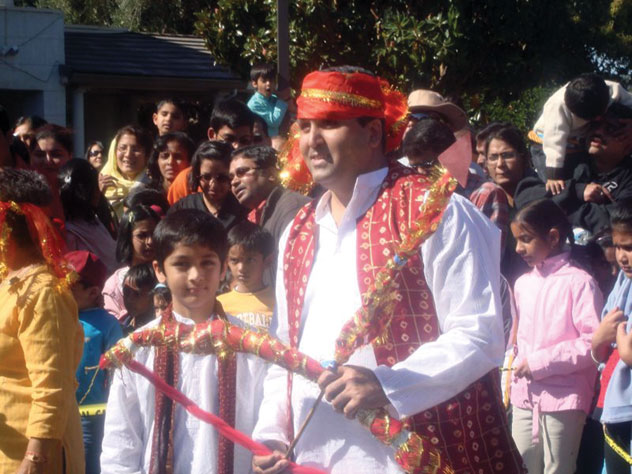 Devotees at the Dussehra celebrations at the Fremont Hindu Temple.
---
Dusshera and Ravan Dahan was celebrated with traditional fervor in Fremont Hindu Temple Oct. 12 amid burning of an effigy of Ravana and presentation of Ramlila depicting the victory of  good over Evil.

The temple was decorated with colorful decorations and lighting arrangements. The effigy of  Ravan was 12 feet tall  was built in the temple.

The act of Ravan Dahan was enacted during the celebration. Kids were excited to see Ravana effigy and Ram and Lakshman with bow and arrow. Ajay Bhutoria was dressed up as Lord Ram with a colorful Arrow and bow in his hand, while Raj Bhutoria was dressed as Lakshman. Pandit Govind Srinivasan performed the Aarti and puja with vedica mantra and slokas and did the tilak to Ram (Ajay) and blessed him to destroy the Evil. Ram (Ajay) and Lakshman (Raj) shot the arrow at Ravana Effigy, and fire crackers were burst. The crowd of over 500 people raised the slogan of "Shree Ramchandra ki Jai." Attired in their festive best, spectators witnessed the spectacular fireworks after the towering effigy came crashing on the ground.

Temple chairman Gokal Gupta highlighted the importance of the day and  greeted the public.

Devotees were served with Preeti Bhoj in the temple kitchen.

|TOP|

---
Senior Tour

The Indus Valley American Chamber of Commerce organized a senior trip to the Rancho Cordovan Daycare Health Center on Sept 26, according to a IVACC press release from general secretary Sukh C. Singh. Over 20 seniors from West Sikh Temple took part. The aim of the trip was to create awareness about these facilities for seniors and inform them about government privileges available in the state of California.

The trip was organized by S. Sadhu Singh and Kathy Kuniyoshi, RN.

Dr. Nazar Chauhan,  and Dr. Harcharn Singh Kahlon took and active part in the discussion.

Rancho Cordovan Adult Daycare Health Center is a medical day care facility for the disabled, frail, and elderly adult.  The center provides nursing, physical therapy, occupational therapy, speech therapy, nutritional, and social services.  It is covered by MediCal, Veterans Administration, and, of course, private pay.

Kathy Kuniyoshi, RN is the administrator and Henry Kacatbashian is the owner of the facility.

|TOP|

---
India Expansion

United Way has taken an ambitious step in its United Way Expansion in India Initiative, according to a press release.  United Way of Delhi, which opened Sept. 26, joins well-established United Ways in Baroda and Mumbai, and marks the second of 11 United Ways that will be founded across India during the expansion. United Way of Bengaluru was the first to be set up, in July, 2008.

"We at United Way of Delhi are truly committed to the United Way vision of creating stronger communities in and around Delhi," said Venkatesh Valluri, board chair of United Way of Delhi and President and country general manager, Agilent India.  "Our volunteers are enthusiastic and eager to start demonstrating the value of United Way and focus on addressing the community needs to bring positive change. "

Kapil Dev of the Indian Cricket League is the patron of United Way of Delhi.  Other committed members of the Board of Directors include Neeta Agarwal of AT&T, Jitesh Avlani of Cargill India, Bhushan Kachru of Carlson Hotels Asia Pacific, Rohit Kochhar of Kochhar & Co., Kapil Kumria of Corporate Flyers, Pracheesh Mathur of Raytheon, Saket Misra of Navatar Group, Rekha Mody of StreeShakti and Divya Chhaya, William S. Pinckney of Amway India Enterprises, Sunil Sachdev of American Express and Pranav Roach of Hughes Network Systems.

United Way of Delhi has been established with the financial support of LG. Dr. Y.V. Verma, director, LG Electronics India Ltd., expressed LG's commitment to the communities of Delhi, saying, "LG invested in United Way of Delhi to help bring the local NGO sector together to address the community's most pressing issues and creating long term impact; and to have an infrastructure for organized charitable giving available to donors."

|TOP|

---
Diwali in Sacramento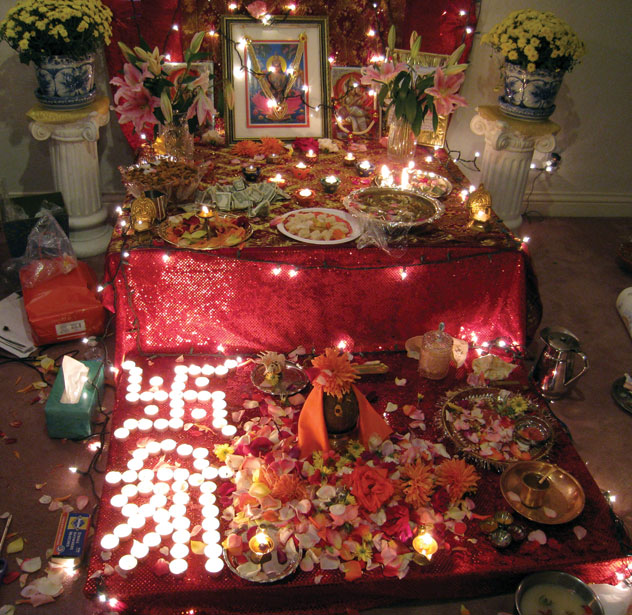 SACRAMENTO — An elaborate puja was performed by the priest of Badarikashrama in San Leandro, Calif. at the home of Vinita and Vishan Wadhwani here Oct. 25 to mark Diwali.
The event was attended by about 150 devotees from Sacramento as well as the San Francisco Bay Area. A mahaprasad was served to all devotees after the puja.

|TOP|

---
Free Medical Camp

Rotary Club of Plainsboro, NJ, and Global Organization of People of Indian Origin, Central Jersey conducted a free health camp  Sept. 27 between the hours of 10:00 AM to 2:00 PM at  Durga Mandir, Princeton, N.J. 08540.

A group of well known physicians volunteered their time to serve the needy. Some of the physicians who volunteered their time included Dr. Alexander Swan, G.P.; Dr. Bharati Penupatruni, G.P.; Dr. Tushar Patel, G.P.; Dr. Mukesh Patel (clinical and non-invasive cardiology); Dr. Rao AndaVolu (blood bank director and pathologist); Dr. Suruchi Verma; Dr. and Mrs. Abbas Banglawala and several physicians from the Robert Wood Johnson Medical School Department of Pediatrics (Dr. Maya Ramagopal, Dr. Sunanda Gaur, Dr. Mayoor Bhatt, and Dr. Rajeev Mehta).

More than 100 elderly patients and 30 kids came to the health camp for a free health checkup. The camp was well organized with minimal wait time. All members and presidents of Rotary Club of Plainsboro and GOPIO of Central Jersey were at the health camp.

Since its charter in 2002, the Rotary Club of Plainsboro has done many social projects including both local and international projects. Some of the projects that the club will be undertaking in this fiscal year, are serving the needy at Soup Kitchens, Jaipur Limb Project, celebrating Diwali with Elders at an Old Age Home, Toys for Tots, Dictionary Project, Adopting a stretch of highway, etc.

|TOP|