HINDI FILM REVIEW:
Overwrought Drama: New York

Rating: **1/2 (Average)
New York

Directed by: Kabir Khan
Music: Pritam
Starring: John Abraham, Katrina Kaif, Neil Nitin Mukesh and Irrfan Khan.
---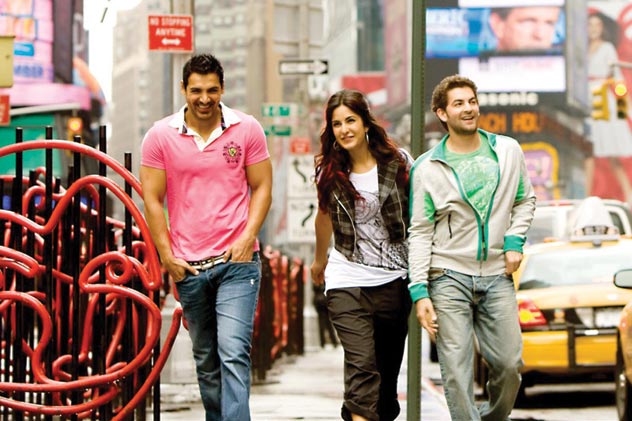 (Above): John Abraham, Katrina Kaif and Neil Nitin Mukesh in "New York."

---
This one makes one scratch the proverbial head. I mean, for goodness sake, this page has been unforgiving in pointing out the countless misdemeanors of Bollywood potboilers. So when along comes a film which tries to treat some issue seriously, it deserves our applause, right?

The only fly in the ointment is that film is also entertainment, unless you are targeting the art house crowd, and no Hindi filmmaker can really afford to do that.

The fact of the matter is Kabir Khan's attempt does not quite measure up for a whole host of reasons—some of it has to do with him, some of it has to do with Bollywood convention. Yet it is also true that he has made what seems to be an honest attempt to deal with a sensitive issue, so yes, he deserves quite a bit of credit. As they say in high school here, he gets an A for effort.

The film is about the aftermath of the terrible 9-11 terror attacks, and how it skewed U.S. policy towards civil rights.

---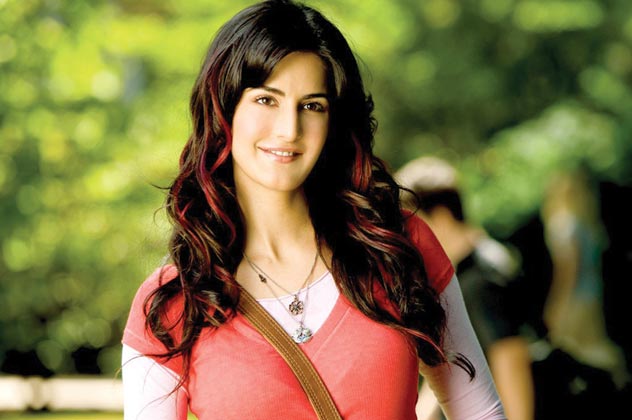 (Above): Katrina Kaif in "New York."

---
The story revolves around three college friends, Sameer Shaikh or Sam (John Abraham), who has been living in the U.S. since the age of 4; Omar (Neil Nitin Mukesh), who has come to the U.S. to study; and British-Indian Maya (Katrina Kaif).

A love triangle develops, we discover, as the story is told through these friends. Omar is in love with Maya, but before he can tell her, he finds out that she loves Sam. So he walks out of their lives just after 9/11.

Seven years later. (Yeah, it's one of Bollywood's oldest storytelling devices. At least be thankful for small mercies—there was no deep baritone intoning: "Aaj se bees saal pehle…")

Omar now drives a cab in New York. When arms are discovered in the trunk of his cab, he is whisked off to a detention cell. Enter FBI officer Roshan (Irrfan Khan).

---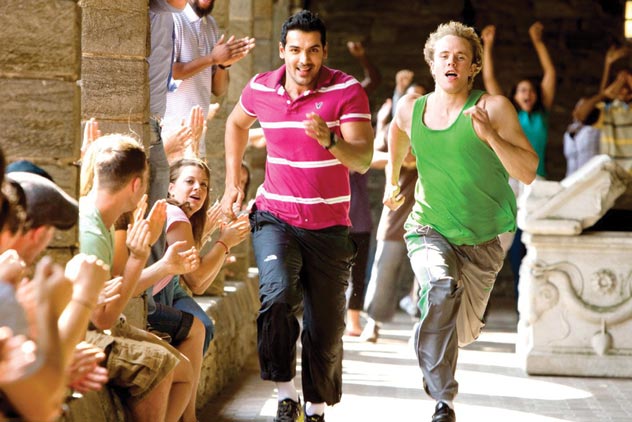 (Above): John Abraham in "New York."

---
Omar protests his innocence again and again, but to no avail. Then he is shown a video that shocks him: Sam is heading a terrorist cell.

It becomes clear that the whole business of finding arms in his cab was a set-up, the plan all along was to co-opt him in the effort to nail Sam.

---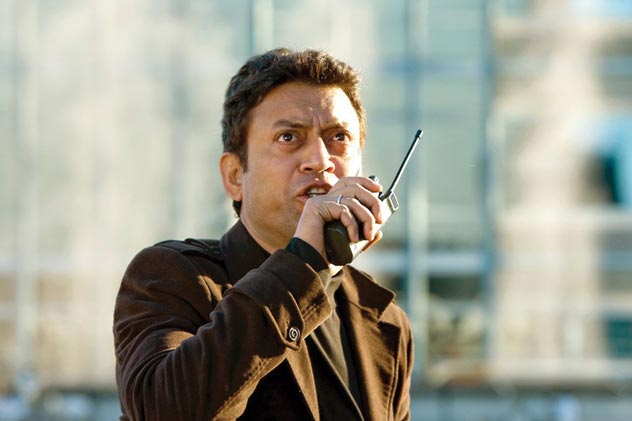 (Above): Irrfan Khan in "New York."

---
Omar now has to resume contacts with Sam, who is now married to Maya and has a kid, and work as an undercover FBI agent by pretending that he hates America and wants to do something about it. This will ensure his freedom. Omar realizes the reason why he has been framed, but he has little choice. He is an unwilling player in Roshan's well-researched and planned-out gamble. He still refuses to believe that Sam could be planning something against America, but follows FBI orders and is in for a shock.

Kabir Khan defends America's good points, but the film also takes a tough stand against the administration's knee-jerk reaction whereby all concern for civil rights fell by the wayside. The film is particularly critical of the frequent hardline law enforcement stand that pretty much every Muslim was a suspect, a stand that proved to be disastrously counter-productive.

---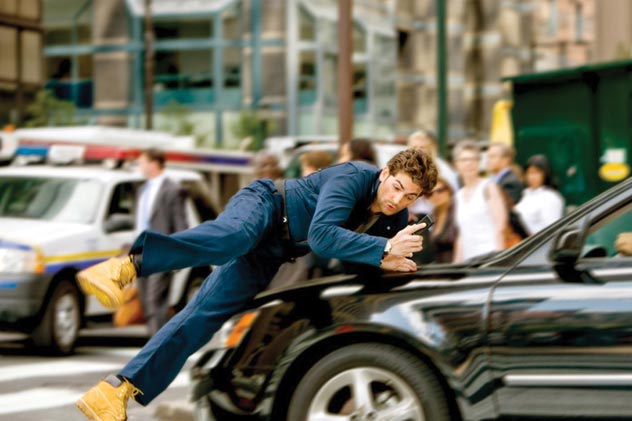 (Above): Neil Nitin Mukesh in "New York."

---
Which is all fine as far as it goes, but the film's challenge is to tell the story in a way that moves out of the standard Bollywood potboiler ishtyle.

As far as acting goes, John Abraham is okay, but Katrina and Neil Nitin Mukesh still have miles to go before they can be convincing as actors. Like many a Bollywood filmmaker, Khan seems to have forgotten the cardinal rule of moviemaking—less is more. The torture, the melodrama is overwrought. In the first half, the fluff is equally mindless.

---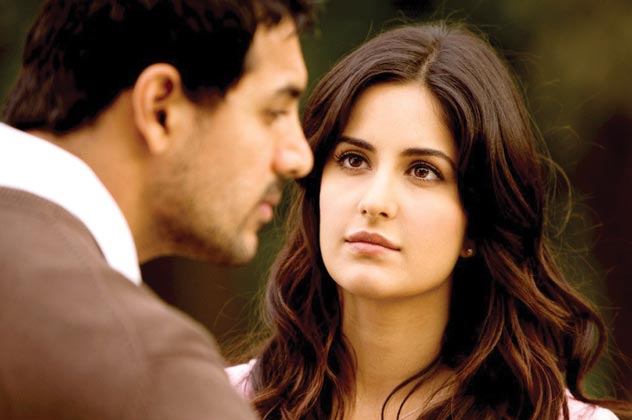 (Above): John Abraham and Katrina Kaif in "New York."

---
And it is here, alas, that the film falls short.

Here's a sample of what the Los Angeles Times said in its review:

"New York opens with the amped-up FBI arrest of an Indian-immigrant cabbie carrying a cache of AK-47s and plastic explosives in the trunk of his hired ride. Detained under the Patriot Act, the driver, Omar (Neil Nitin Mukesh), adamantly denies any wrongdoing. His interrogator (the great Irrfan Khan, suffering the loopy dialogue as best he can) tells Omar he'll make him disappear unless he cooperates and spies on his onetime college buddy Samir (John Abraham).

"At this point, the way-back machine transports us to 1999 where Omar, the muscle-bound Samir and the impossibly beautiful Maya (Katrina Kaif) are students at New York State University. They have no cares (and apparently no classes). Musical montages repeatedly emphasize youthful passion and Omar's unrequited love for Maya.

---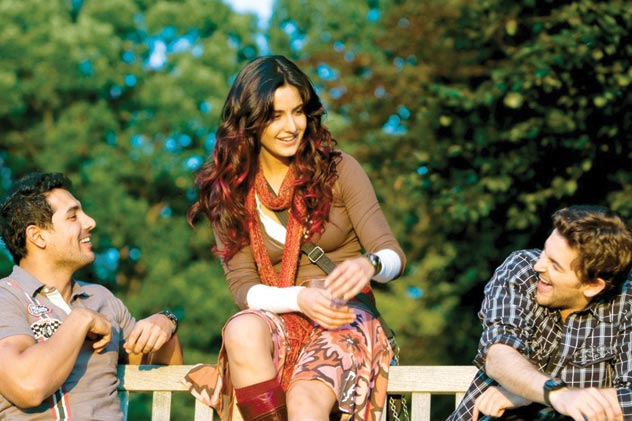 (Above): John Abraham, Katrina Kaif and Neil Nitin Mukesh in "New York."

---
"Then Sept. 11 happens, signaling an abrupt change for the characters and the film itself. Fluff gives way to some slow-motion torture, romance is upended by impossible plot contrivances. What Director Khan intends as an examination of the abuse of civil liberties is undercut by an overreaching of creative liberties, not to mention the shallow acting of the young leads."

I know what some readers will be saying—why should we care about what gora reviewers think? I think that's a cop-out. Particularly if Hindi cinema wants to break out of its ethnic ghetto, filmmakers better pay heed.

---

---
At least you cannot write off the Los Angeles Times reviewer as an insufferably biased Westerner because he also writes, with telling effect: "Those looking for a better movie dealing with similar themes should seek out the 2007 Pakistani import Khuda Kay Liye, which imbues its subject and characters with a dignity that eludes this film."

Touche.