SUBCONTINENT
Recognizing Gay Rights: Delhi Court Verdict


In a landmark judgment, the Delhi High Court has decriminalized gay sex, bringing India in line with most other nations, writes Priyanka Bhardwaj.
---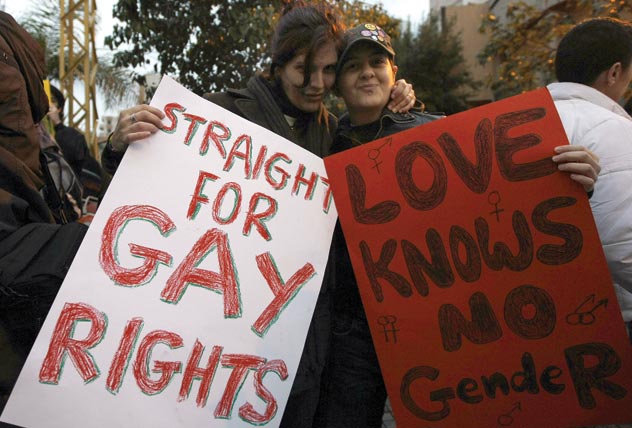 (Above): Gay rights supporters celebrate the Delhi High Court verdict that annulled Section 377 of the Indian Penal Code that criminalizes gay sex among consenting adult individuals in private.
---
India, the land of Kamasutra, has finally awoken to the rights of people with different sexual preferences.

In a landmark judgment, the Delhi High Court has annulled Section 377 of the Indian Penal Code that criminalizes gay sex among consenting adult individuals in private.

"This is in line with their fundamental rights of life, liberty and equality as guaranteed in the Constitution of India," the court said. "Criminalizing consensual sexual acts of adults in private violates of Articles 21, 14 and 15 of the Constitution (that relate to individual liberty)."

The court clarified that this change will be held until the Indian Parliament chooses to amend the law.

Until now, India was counted among a clutch of non-liberal Islamic nations that do not recognize the gay community. Neighbors including Nepal and even China have turned gay friendly.

According to estimates, gays in India could number anywhere between 2 percent and 13 percent of the total population, which works out to be a substantial 20-130 million people.

The court decision was in response to a Public Interest Litigation filed against Section 377 by outfits 'Voices against 377' and 'Naz Foundation.'

It was argued that Section 377, an archaic law handed down during the British Raj, was formulated in 1860 by Lord Macaulay on the assumption that carnal intercourse violated the laws of nature.

The petitioners stressed that Section 377 IPC, based on the Judeo-Christian moral and ethical standards, viewed sex in purely functional terms implying procreation, which meant that any non-procreative sexual activity was "against the order of nature."

This made Section 377 anachronistic to modern social ethos, relationships and practices.

Though the law in course of time has been rightly employed in cases of child sexual assault and abuse, it was also misused for blackmail and harassment of the lesbian, gay, bisexual and transgender people in India.

Section 377 IPC has served a weapon for the police, known to be notoriously corrupt.

It has led to detentions, questionings, extortion, forced sex, payment of hush money, perpetuating of discriminatory beliefs towards sexual minorities.

It created a class of vulnerable people who could be exploited at whim by the state machinery.

All of this ultimately drove the Indian gay and lesbian community underground thereby also crippling HIV/AIDS prevention efforts that such communities are particularly vulnerable to.

Indeed, the view that homosexuality is not a crime or a disease but a sexual orientation has long been recognized in psychiatry and psychology.

Historically ancient Indian literature and mythologies document various instances of homosexual acts.

The Hindu sage Vatsayana, in his Kamasutra, a treatise on love making, wrote an entire chapter on auparistaka or homosexual intercourse.

However Mahatma Gandhi, as editor of the journal Young India in 1929 referred to homosexuality as an "unnatural vice" in boys' school.

Babur, the founder of the Mughal dynasty in India in 1526, has recounted how he had a particular liking for a young and beautiful boy in his Central Asian days of wars and adventure.

Even Islamic Sufi literature has used homosexual eroticism as a metaphorical expression of the spiritual relationship between God and man.

Some writers have spoken about Persian poetry and fiction using same sex relationships as instances of moral love.

The Indian court's decision has thus been hailed by gay communities in India and worldwide.

As the judgment was pronounced social networking sites such as Face Book, Orkut, Twitter and MySpace have been inundated with posts hailing the verdict.

A candid discussion on this topic has been taboo in India for fear of retribution from authorities.

The Delhi Queer Pride Committee that recently organized a gay parade in New Delhi welcomed the decision. A member said: "Now India is amenable to a more nuanced and open concept of sexuality."

Michel Sidibe, UNAIDS executive director, said that the "Delhi High Court has restored the dignity and human rights of millions of men who have sex with men and transgender people in India."

Anand Grover of "Voices against 377" said: "The new verdict is aptly executed with the support of the government, police departments and other courts. This historic judgment may be just the beginning and the struggle for rights will continue."

The court's reversal sends a positive message to countries which still have such subjugations laws prevalent.

In an interview to AsiaNews, Asghar Ali Engineer, a human rights campaigner and Muslim scholar in India said that "homosexuality is an undesirable act and a sin, but not a crime."

He cited the Quranic condemnation of homosexuality but mentioned that at no instance there was any equation of the act with crime.

Indian political parties, however, have been more circumspect due to fears of a backlash from conservative sections of Indian society.

New Delhi has so refused to react to the court judgment. A cautious federal Health Minister M. Veerappa Moily said that he and the government would examine the judgment in detail.

Senior Bharatiya Janata Party leader Murli Manohar Joshi, meanwhile, expressed his displeasure over the judgment while another leader, Sushma Swaraj, said that the party had not taken any view on it.

Conservative religious and spiritual leaders have been forthright about their reservations.

Yoga guru Baba Ramdev, who has a massive following in India and abroad, has said that "homosexuality is a disease and that I will challenge the order (in the higher Supreme Court)."

Muslim leaders have deplored the judgment as against Indian mizaaj (cultural ethos).

The Jamaat-e-Islami Hind president Syed Jalaluddin Umri called for a consensus to be evolved among leaders of all Indian religions to challenge the verdict.

Maulana Abdul Rahim Querishi of All India Muslim Personal Law Board and the leading Islamic seminary Darul Uloom, Deoband, Uttar Pradesh, voiced their concerns that such events can lead to destruction of the family system in India as is happening in the West.

"The judgment comes in the way of expanding the family and since this is not endorsed by any religion of India, the provisions of the Section 377 must be retained," said Maulana Rasheed of the AIMPLB.

The Indian Church has consistently opposed homosexual activities, marriages and relationships as they consider the family as the basis of any social fabric.

Though the deviant nature may be de-criminalized, "we cannot agree that it is a socially normal form of behavior," said Fr Babu Joseph, spokesman for the Catholic Bishops' Conference of India to a news agency.

Indeed, new economic patterns, media influences, diverse lifestyles and diminishing role of moral and religious absolutism particularly in urban areas are fast transforming mores, beliefs and life-styles.

The court may have done well to review and scrutinize a legislation that led majority impulses rooted in moralistic tradition to impinge upon individual autonomy.

The Indian Constitution emanates from the Objective Resolution moved by Prime Minister Jawaharlal Nehru in 1946 that underlines inclusiveness.

It recognizes a role, respect and dignity in society for everyone and not exclusion or ostracism of anyone as deviants.