COMMUNITY
Festival of Lights: Diwali in Cupertino


The Seventh Annual Diwali-Festival of Lights will be held Sept. 26. Presented by the Asian American Business Council of the Cupertino Chamber of Commerce, festivities will include food, music and dance including a traditional Rangoli display. A Siliconeer report.
---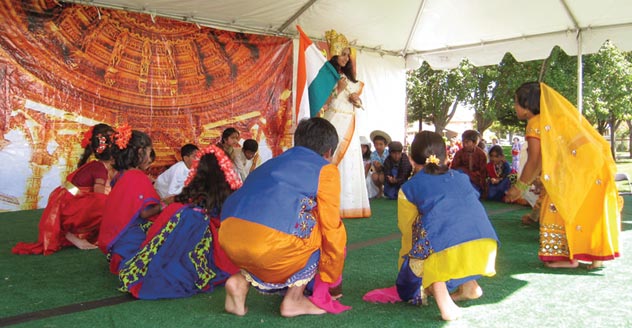 (Above): Children performing a dance act at last year's festival. [Siliconeer photo]
---
The Seventh Annual Diwali-Festival of Lights will be held at Memorial Park on Saturday, Sept. 26, from 10:00 a.m until 6:00 p.m, according to a press release from the organizers.

Diwali, or Festival of Lights, marks the beginning of the new business year in India and it is a festival of joy, splendor, brightness, happiness and prosperity. Celebrated throughout the world, typical Diwali traditions include exchanging gifts, new clothes, meeting new and old friends, offering traditional sweets and wishing each other prosperous new year.

Visitors to the festival will be treated to a festive atmosphere of sari-festooned trees, spectacular lanterns, and a cultural kaleidoscope of activities and performances. Beginning at 10:00 a.m. with the popular "Kids Zone" art show and grand opening featuring community and elected leaders in native Indian clothing, the festival appeals will present Indian food, music and dancing, featuring classical "Kuchipudi" and "Kathak" to folk "Koli," and "Bharatanatyam" to popular Bollywood dances.

Attendees may get decorative "mehendi" tattooed on the palm of their hands or attend the booths with ethnic Indian art, clothing, jewelry, children's books and toys.

The elaborate and exciting Kids Zone will be packed throughout the day with children visiting the magic show, petting zoo, pony rides, Jump abouts, wood workshops, face painting and coloring contests.

"The Diwali Festival of Lights is an excellent opportunity to bring the business community together to celebrate a holiday that is very significant for our Indian population," said event chair Mahesh Nihalani. Asian American Business Council chair Ram Gopal said that "the mission of the AABC is to promote, strengthen and enhance the inter-ethnic business environment in the Cupertino Chamber and the Diwali Festival has proven to be an excellent way to bridge our business community with the residents of Cupertino."

For more information about the festival or membership in the Cupertino Chamber of Commerce and the Asian American Business Council, readers can contact the Chamber in Cupertino at (408) 252-7054 or visit the Chamber's Web site at: www.cupertino-chamber.org.