BOLLYWOOD | Guftugu:

Guess Who Plays the Gentlemen's Game? | No Behen at Baba's Birthday? | Better to be a Bechari than a Bitch | Jab They Split | Bare Fact | Angry Aish | Nervous Aamir | Halwa for Jawans | Forced Memento | Malaria after Shower | Hollywood Calls | To Suzanne with Love

---
Guess Who Plays the Gentlemen's Game?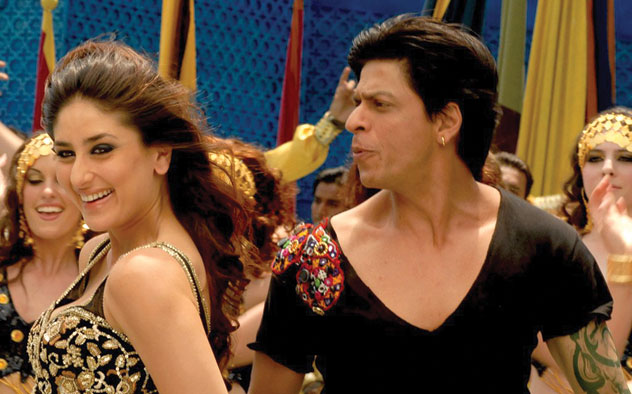 Shah Rukh in "Billu."

So what if he is the badshaah of Bollywood? When he is with his kids, Shah Rukh Khan is an affectionate father, and like any loving dad, happy to join in a game of cricket.

Imagine the scene. The Big Khan playing cricket just like everybody else in a park. I know it's impossible to imagine, and for good reason. If it happened in Mumbai, it would set off a stampede.

London, though, is a different matter.

Shah Rukh is holidaying with his bachchas at his favorite hot-spot London. He loves London so much that when he's there, he drops all his starry inhibitions and becomes one of them. He is often spotted playing cricket in Hyde Park (which is a stone's throw away from his new plush apartment).

His son loves the sport as much as Daddy, so they join Aryan's friends in the park to play their favorite game. Obviously they have quite an audience (and self-appointed cheer-leaders, umpires, etc.), but the game goes on. Some fans even hang around the park for autographs and pictures, but no one, not even the paparazzi really bothers him too much. Well, if the English team plans to join him for one of the games (or simply to rub shoulders with the King Khan)... that will be another story.

|TOP|

---
No Behen at Baba's Birthday?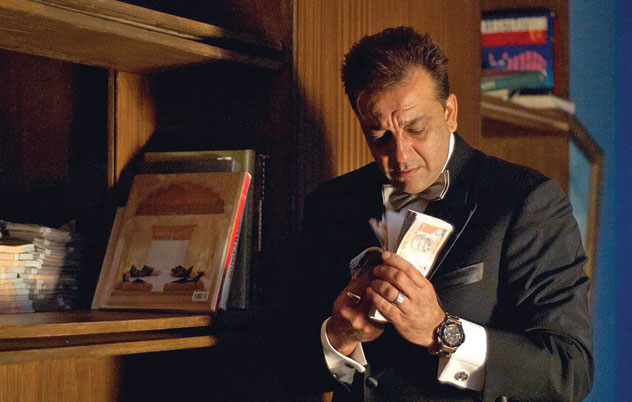 Sanjay Dutt in "Kidnap."

Manyata and Sanjay Dutt have decided to celebrate the latter's 50th birthday July 29 in South Africa, where Sanjay is working on his next film, No Problem.

Although the couple won't have a grand birthday party as Sanjay's close friend, Amar Singh, recently underwent surgery and is now recovering, they have decided to have a small celebration. The interesting bit is that Sanjay's sister, Priya Dutt, with whom Sanjay has had a strained relationship ever since he married Manyata, has also been invited.

CEO of Sanjay Dutt Productions, Dharam Oberoi, who is in South Africa, says, "They'll have a small gathering with close friends from Mumbai. It's not going to be a lavish affair." Sanjay's close friend, Bunty Walia, says, "I'm off to South Africa on July 28. Sanjay Dutt is family and no matter where he is, I have to be by his side on his 50th birthday."

While Priya has been invited for the party, she's not going.

Work comes first for Priya. She says, "I won't attend the party as I'll be in Delhi for the parliament session."

The reason behind that diligence might be her low attendance in parliament. During a recent visit to Delhi, when asked about her attendance, she said, "I'm glad you asked. Everyone who's been speaking about my attendance in parliament has not taken into consideration that in the three-and-a-half years that I've spent in parliament, I've had two children. I think I'm entitled to maternity leave. I'm a parliamentarian and also a woman."

|TOP|

---
Better to be a Bechari than a Bitch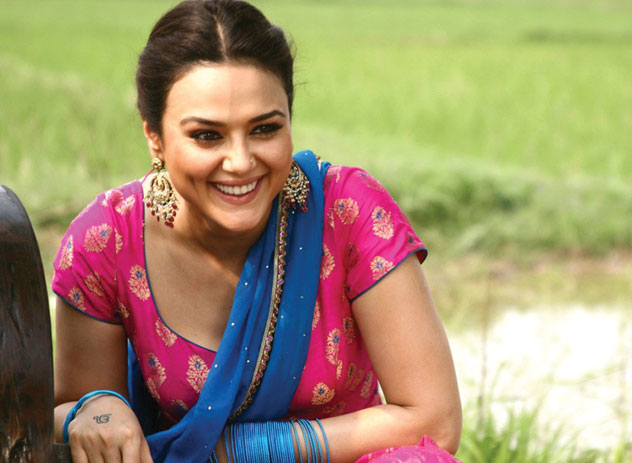 Preity Zinta in "Heroes."

Dimpled star Preity Zinta has had a pretty disastrous outing at the Indian Premier League in South Africa, what with her relationship heading south. "I don't deny the fact that I'm single," she had said then. "I've not spoken about my personal life and I won't do it now. I'd rather be the bechari than the bitch!"

She has been making brave statements about next year's IPL, about how she'll be there, because she's not just financially involved with her team, but also emotionally attached to the business of cricket now. "That's how I am, that's my personality, if I'm not attached, I cannot be passionate about what I'm doing," she has said.

Meanwhile, she is excited about her Bollywood career. "I'm going to pull out a lot of surprises," she promised. "This year, the films that will release will release, but now I'm excited because my career is going exactly the place I want it to go. I've always wanted to go in different directions and grow.

"That's why I ventured into cricket. And as an actor, I'm my own factory, I'm looking at doing films that add value to my body of work. Like The Last Lear, Heaven on Earth, Heroes... I feel so good I did them, they're away from commercial cinema and take lesser time to make, and yet they take me to another horizon."

"People can say what they want, the press can say what it wants, I'm not going to give five interviews to clarify... the fans judge me by the way I perform. Now I'm in my own space. I'm like a jack-in-the-box. When I'm in, I'm down. But once I'm out, I'm out!"

|TOP|

---
Jab They Split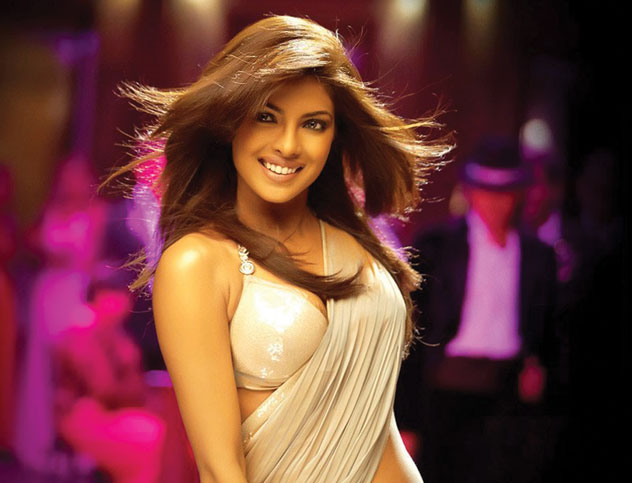 Priyanka in "Dostana."

Shahid Kapoor and Priyanka Chopra have broken up, and seem to be keen to spread the misery around.

In the case of their forthcoming film, Kaminey, they are refusing to make appearances together to publicize the Vishal Bharadwaj film. Never mind that they are expected to do so as lead actors.

If Shahid gives a nod to attend a particular media event, Priyanka either flatly refuses or backs out at the last minute. Same is the case with Shahid.

A source from the unit of Kaminey says, "The two refuse to give us any dates together for interaction with the media. They want to interview them as Kaminey is due for release on August 14. Such unprofessional behavior is totally uncalled for."

The other day, Priyanka was on her way for an interview to a radio station but she suddenly asked her driver to head back home. "Priyanka was furious with the radio channel because, according to her, they were only publicizing Shahid's name before the joint interview started. She was irked because her name was hardly mentioned even though she too was going to interact with listeners," adds our source.

Same was the case when a music channel wanted to shoot with them together for a show. The two were adamant about not showing up together.  An insider revealed that they shot separately and their shots will be merged. "They did shoot together for a while but they kept cutting each other's lines so the channel decided that it would be better to do it individually," says the insider. As a result, they shot for the show on the same day, but at different times.

Our source from Kaminey says, "The two have never admitted that they are romantically involved. Even today, the exact status of their relationship is not clear. They may evade questions about their personal life but the least they can do is promote Kaminey."

|TOP|

---
Bare Fact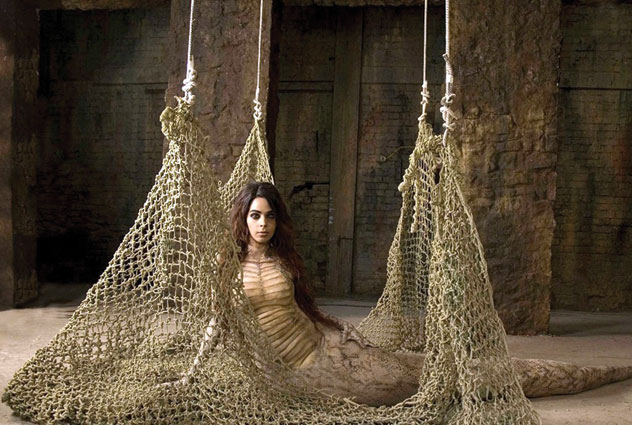 Mallika Sherawat

There's blood, people turning into snakes, a kidnapping to interest you. If that still doesn't pique your interest, here's something that surely will.

Mallika Sherawat baring her butt. In not just one scene, but a few of them. We're talking about Mallika's film Hissss.

Ratan Jain, who is a part of the film, tried to wriggle his way out by saying, "I am only involved with Hissss in the capacity of a financier. You can talk to Mallika's bother, Vikram Lamba, who is the producer of the film."

Vikram totally denies that Mallika has exposed her butt in Hissss. "We have used a body double," he tells us. Did the otherwise bold actress develop cold feet when asked to do the scene?. "There's nothing like that," Vikram shoots back. "Jennifer Lynch (the director) took a call on the matter and decided that we should use a body double."

Hissss is the story of a naagin with a vengeance agenda, played by Mallika. The naagin turns into a beautiful woman to locate her mate who has been captured and creates chaos in the city, and it is this naagin which Irrfan Khan, as a cop, must also capture.

Is this Hollywood or Bollywood?

|TOP|

---
Angry Aish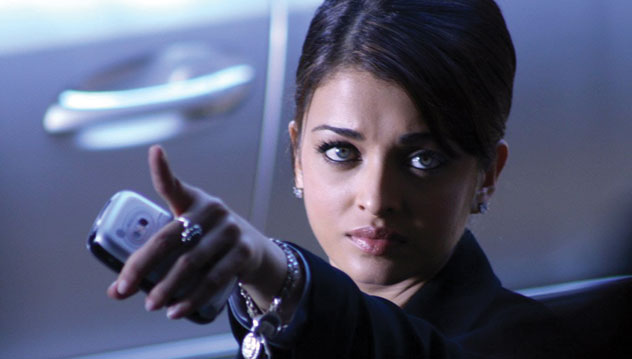 Aishwarya in "Sarkar Raj."

Calm and serene no more. Our pretty Aishwarya Rai Bachchan has developed quite a  penchant for temper tantrums, a little bird tells us.

Recently Ash refused to share the red carpet with newcomer Sonam Kapoor at the Cannes film festival.

She played the diva again on the sets of Vipul Shah's Action Replay, where Ash refused to comply with the international make-up artists who were hired for the film and insisted on using her personal make-up man, Ojas Rajani.

Shah had engaged the best make-up professionals to work with the film's cast, including the film's male lead, Akshay Kumar. Our source said, "The cast was requested to get their make-up done in the make-up artists' vanity van before the shoot. This is exactly how it's done in Hollywood."

While the rest of the cast complied, Ash balked. The source added, "Ash was completely averse to the idea of going to the make-up staffs' trailer to get her make-up done, given her international star status. She refused to work with the firang artists and insisted on working with her personal make-up artist."

Vipul shuddered at the thought of Aishwarya stalling the shoot, so he simply succumbed to Ash's whims by bringing in make-up artist Ojas Rajani.

|TOP|

---
Nervous Aamir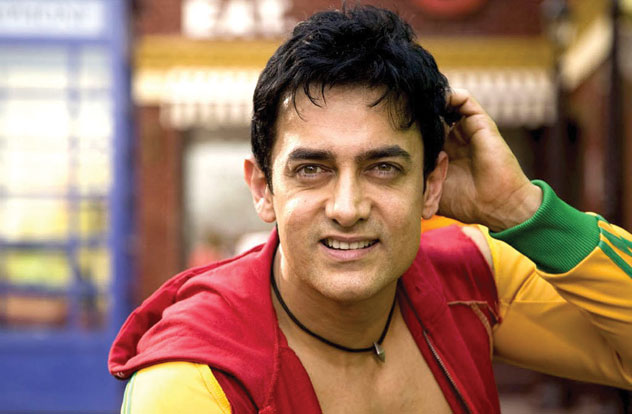 Aamir Khan in "Ghajini."

This is a first for Bollywood's Mr Perfectionist Aamir Khan, and no wonder he is nervous. Aamir has confirmed that he plays a full-fledged part in his wife Kiran Rao's directorial debut Dhobi Ghaat.

"The cat is finally out of the bag. I'm playing one of the leads in Kiran's film Dhobi Ghaat," Aamir posted on his blog.

The confirmation came after the media began speculating over the length of his role in the film. Earlier it was reported that Aamir is just doing a cameo.

Aamir says the details about his role were kept secret because his wife didn't want to attract unnecessary attention to her film.

"The reason we kept this under wraps is that she didn't want to attract much attention to her film. She wanted to make this film on real locations with a tiny crew, very guerrilla style. So we had to do it very quietly. And for once we managed to keep a secret from the media, at least until we finished the shoot," he wrote.

The 44-year-old actor has also disclosed that the shooting of his much-awaited 3 Idiots has come to an end. Directed by Rajkumar Hirani, the film is based on Chetan Bhagat's bestseller Five Point Someone.

"The principal photography on 3 Idiots is complete. We have one song left which Raju wants to shoot in September. Yesterday, he began work on the post (production). Good god, I'm getting butterflies in my stomach already," wrote Aamir.

|TOP|

---
Halwa for Jawans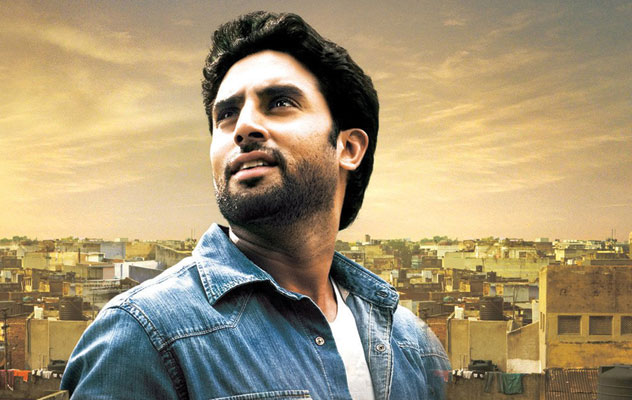 Abhishek in "Delhi 6."

Talk about a class act. Abhishek Bachchan recently paid tribute to the heroes of the Kargil War on Vijay Diwas in a special episode of Jai Jawan.

Abhishek responded to the hospitality by the jawans by offering gajar ka halwa and aam ras especially made by Aishwarya Rai and Jaya Bachchan. The day ended on an emotional note as Abhishek read out a poem written by his grandfather Harivansh Rai Bachchan along with a message from his father.

In this special episode of Jai Jawan on NDTV, Abhishek visited a bunker at Sando top, and even tries his hand at firing a few rounds with them at the training centre and recounts his experiences while shooting for LOC Kargil. He also visited Vijay Gallery and met two people associated with the Kargil War.

July 26 is Kargil Vijay Diwas, the day Indian jawans defeated Pakistani infiltrators after fighting for over 40 days at the heights of Kargil and Drass, with many sacrificing their lives. After 10 years the war is over but for the soldiers who are guarding these borders, the battle is still on. Living in harsh climates and inhospitable conditions, their lives are hard, lonely and cut off from the outside world as they guard India's borders.

|TOP|

---
Forced Memento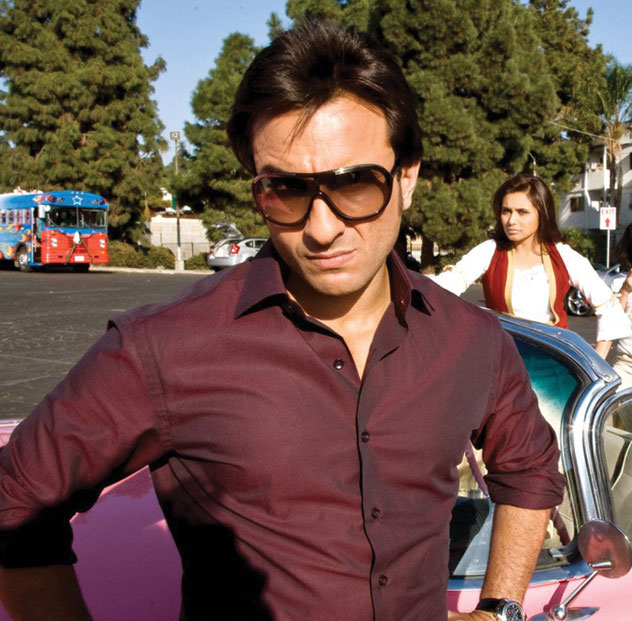 Saif in "Thoda Pyaar Thoda Magic."

Sometimes you leave more than your heart at a place that gives you love.

Take the case of Saif Ali Khan.  When he showed up at a local multiplex in Ahmedabad, fans gathered to meet their favorite star.

One of them had something else in mind, because soon Saif realized that his presence and love wasn't enough for everybody.

Somebody also wanted his Dolce Gabbana sunglasses, and so they were gone.

Saif, who had walked in to the venue wearing sunglasses, tucked them onto his T-shirt when the lights dimmed. Soon, Saif got comfortable and kept his glasses on the table. That was the last he saw them. Just as he was making a hasty exit, he remembered his sunglasses and came back to pick them up from the dais.

But he wasn't quick enough.

"I was quite fond of the Dolce & Gabbana shades that were picked up during a crowded press conference but I console myself with the thought that a fan wanted it as a memento, which he managed to get," Saif said. "Actually I am happy for the fan. It's okay, it's not the end of the world, life goes on."

Saif wasn't the only victim. Director Imtiaz Ali lost his wallet with all his important cards. He said, "The worst part is that I had my driving license in the wallet and now, I'm left with no identity proof." A dignified Imtiaz didn't create a scene but went about blocking all his cards.

|TOP|

---
Malaria after Shower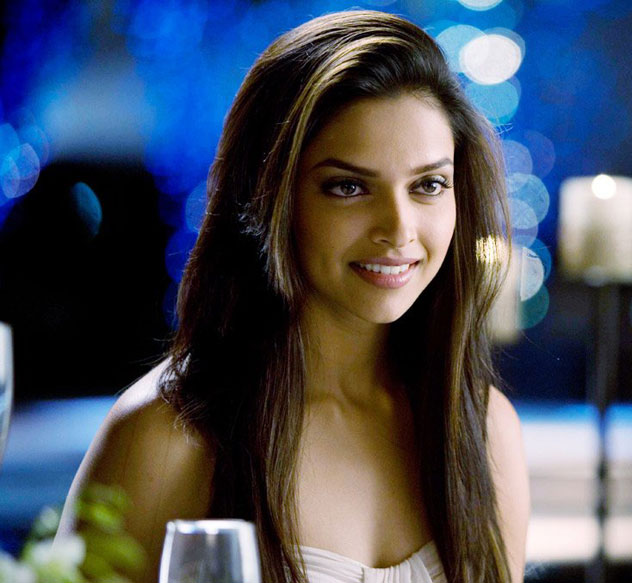 Deepika Padukone in "Love Aaj Kal."

There is sad news for all Deepika Padukone fans. The pretty actress, who is currently in London shooting for Sajid Khan's Housefull, has been down with malaria for four days.

While she continued shooting for some time, she couldn't help but cancel the shoot due to her frail health.

A source from the unit of Housefull said, "Deepika recently shot for a soap ad with Pradeep Sarkar, in which she had to be under the shower for a long duration. She's been feeling under the weather since a few days. She visited a nearby hospital to get her medical reports and she was diagnosed with malaria. She was feeling so weak that she did not shoot for the film at all. She's making it a point to get adequate rest because she has a long shoot schedule ahead and she also has to be in Mumbai for a couple of days to promote Love Aaj Kal."

Deepika was upset that the shoot was called off because of her but Sajid and the rest of the crew insisted that she take rest. Earlier, too, she had shot for Om Shanti Om when she was seriously ill and she did the same this time.

|TOP|

---
Hollywood Calls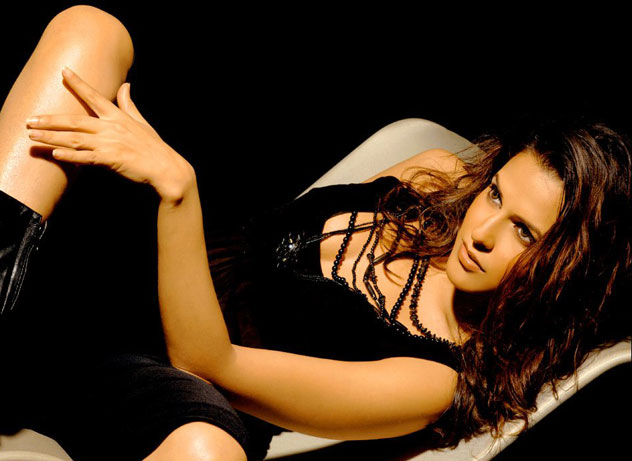 Neha Dhupia

You might not have seen the actress for a while on the big screen, but she is ready with five releases, which includes one international project.

Neha Dhupia is ready to leave for the U.S. Aug. 1 for the premiere of the movie Bollywood Hero in which she plays the role of an Indian actress called Lalima. "It's a nice and funny movie. And mine's a very funny role. I play a typical Bollywood actress and it's a spoof on Indian cinema the way it is known. Chris Kattan plays the lead in the movie," says Neha, who is very excited about this project.

"My friends called me a couple of days ago and said that they've seen billboards of my pictures all over New York. I didn't have to go out of my way for this movie and it was a very interesting script," she adds.

Apart from movies, Neha hasn't had time to do anything for herself lately. "There's just so much work that trust me, I'm trying to catch up on sleep on board flights as well." However, she's happy that she's in a relationship with someone who understands all this . "We have known each other for as long as I can remember and have been in a relationship for a while now. We have a very mature relationship and thankfully I have someone in my life who understands my space, my time and my profession. If not an actress I would have loved to be a sportsperson. However, I don't really think Ritwik would like to exchange his profession with me!" she smiles.

|TOP|

---
To Suzanne with Love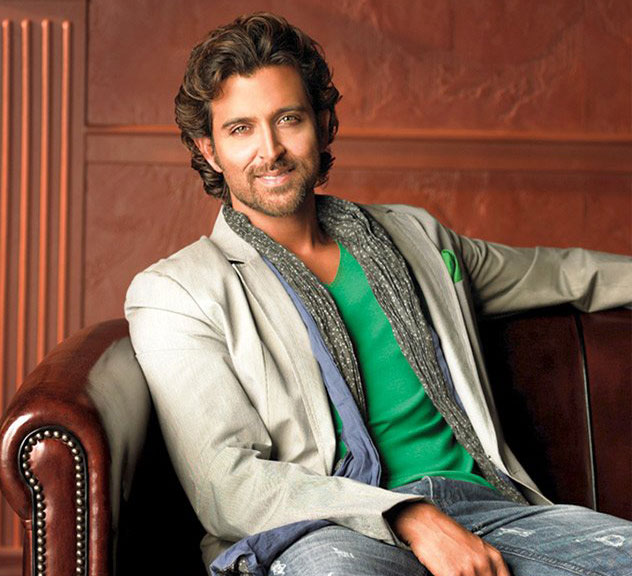 Hrithik Roshan in a campaign for Reliance Mobile.

Everyone knows that Hrithik Roshan's latest addition to his right wrist is a tattoo bearing wife Suzanne's name.

Hrithik wanted to surprise Suzanne, who is holidaying in London with her good friend Gauri Khan and a few others. So he waited for Suzanne and his sons, Hrehaan and Hridhan, to fly off to London and then called tattoo artist Sameer Patange home.

The perfectionist that he is, he discussed the tattoo in great detail. Patange says, "He chose an Elvish font that was made famous with the Lord of the Rings franchise." Hrithik, who didn't wish to spoil the surprise for Suzanne, then made sure that none of the papers nor channels got to see the tattoo before his wife did.

|TOP|