EDITORIAL: Rebel with a Cause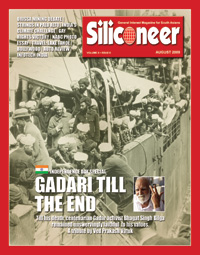 There was no 21-gun salute or a flurry of condolences when Bhagat Singh Bilga, the last living member of the Gadar Party, died this year.

This is more an indictment of the political and cultural ethos about India rather than any verdict on Bilga, who lived the life of an idealist and a patriot, his moral scruples as finely honed as his rigorously Spartan lifestyle.

Bilga was the last living member of the Gadar Party, founded in California's San Francisco in the early part of the 20th century to spearhead a movement for India's independence from the British. He joined the party while he was in Argentina, and then spent the rest of his life in the cause of serving his country.

In this special month of the year, when millions of Indian around the world will join citizens of India in celebrating its independence Aug. 15, it is a good time to reflect on how the nation has remembered its freedom fighters and heroes.

Poet, folklorist and activist Ved Prakash Vatuk takes a very dim view of government's penchant for ignoring the real heroes of India's independence, and presents a telling contrast with what real patriots did.

In the 1950s, when the Indian consulate here was allowing the historic building that launched the Gadar Party to fall apart, halfway around the world in the Punjab city of Jalandhar, Bilga led a campaign to set up an enduring memorial to the revolutionary freedom fighters of India's independence movement.

Not a single government paisa went into that campaign—yet the Desh Bhagat Yadgar Committee succeeded in founding a formidable archive of books and documents, along with a facility that included conference rooms and a hall, which became an annual center of remembrance during the marvelous Gadari Melas during which people from all walks of life came to join in.

Vatuk's proud yet poignant tribute to Bilga and his work is our cover story this month.

What's a tribal community in Orissa have to do with the Church of England? How about $4.1 million?

Critics say that the lives of indigenous people in India are under threat because of a mining project involving a U.K. company, in which the Church of England has a $4.1 million stake.

The Dongria Kondh in Orissa survive by gathering fruit, growing small crops of millet and selling jungle plants in the towns at the foot of the hills. The modern world has yet to reach the Niyamgiri hills - there's no electricity, no school, no television, no telephones.

Threatened by proposed mining, the Kondh community living on the ecologically sensitive mountain has sent a representative to the U.K. to appeal to the shareholders to stop the mining plan.

"We cannot live without our God Mountain and the forest and we will continue our peaceful struggle. It is a life and death battle and Kondh people are united on this," said Sitaram Kulisika before taking a flight to London supported by ActionAid.

We carry a detailed article on the debate of mining in Orissa's environmentally sensitive areas in this issue.

As concern over climate change grows, India is beginning to feel the heat. Buffeted by a global economic downturn, Western nations, faced with the economic challenge of cutting emissions, are casting a jaundiced eye on emerging economies like India and China.

Countries like India, China, Brazil, South Africa and Mexico are pitted against the concerns of the developed nations.

India has said that given its minimal share in global emissions any commitment will not happen soon.

Developing countries are seeking a climate adaptation fund in the range of $200 billion from the West, but the West is putting its foot down as well.

At a recent summit in Italy, Italian Prime Minister Silvio Berlusconi, said: "It would not be productive if European countries, Japan, the United States and Canada accepted cuts that are economically damaging while more than five billion people in other countries carried on as before."

Indian Prime Minister Manmohan Singh has countered, "There is a lot of pressure on India and China on the issue of climate change. We have to resist it."

As the debate heats up, India and China are expected to continue to highlight the dichotomy between economic growth, poverty alleviation and mandatory carbon emission targets, while agreeing to sustainable development that the industrialized nations did not follow in the past.

Our India correspondent Siddharth Srivastava has a detailed report in this month's issue.