SUBCONTINENT:
Unholy Row: Orissa Tribals Protest Mining


India's Kondh community, threatened by proposed mining of Orissa's Niyamgiri Mountain by a global mining giant, is raising hell and the Church of England is beginning to feel the heat. A Siliconeer report.

---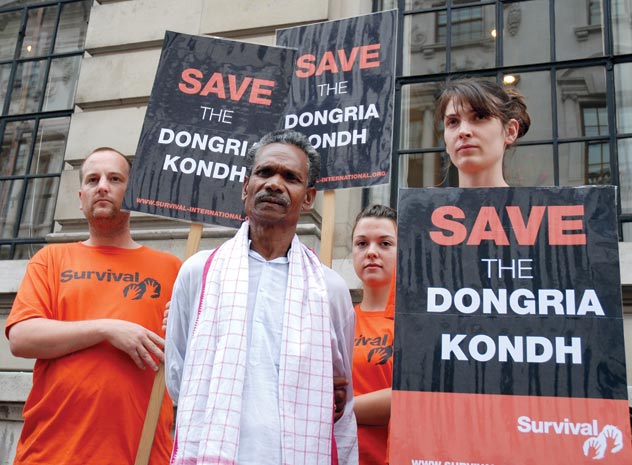 (Above): A Kondh tribal is joined by campaigners from Survival International in a demonstration against the British company Vedanta's plan to mine bauxite in Orissa's Niyamgiri hills.

---
A young Kondh tribal from Orissa is in London to appeal to annual general body meeting of shareholders of Vedanta Plc scheduled July 27. The company is set to mine Niyamgiri Mountain.

The Church of England is beginning to feel the heat as well.

"The idea that there could be any connection between one of India's most remote and inaccessible areas and the Church of England seems improbable, at first glance," Alastair Dawson reported to the BBC.

"High in the monsoon mists in eastern India, witch doctors in the Niyamgiri hills still make sacrifices to the gods and tribes believe the hills are sacred.

"It is a world away from the quiet corridors of Church House - the headquarters of the Church of England in London."

Campaigners say that the lives of indigenous people in India are under threat because of a mining project involving a U.K. company, in which the Church of England has a $4.1 million stake.

Threatened by proposed mining, the Kondh community living on the ecologically sensitive mountain has sent a representative to the U.K. to appeal to the shareholders to stop the mining plan.

"We cannot live without our God Mountain and the forest and we will continue our peaceful struggle. It is a life and death battle and Kondh people are united on this," said Sitaram Kulisika before taking a flight to London supported by ActionAid.

---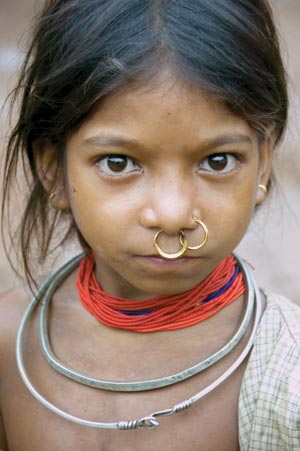 (Right): A Kondh tribal in Orissa. The tribal community is accusing a British mining company of threatening their way of life with a proposed bauxite mining plant.
---
Vedanta Resources plc, a British-listed mining company, is about to start building an open-pit mine for bauxite (a raw form of aluminum) in the pristine Niyamgiri Hills. The bauxite will be transported by conveyor belt to a refinery at the foot of the hills.

The Niyamgiri hills are the ancestral home of thousands of tribal people whose distinctive way of life and culture makes them one of India's most vulnerable indigenous groups.

According to a report by Centrally Empowered Committee of the Supreme Court, the mine will lead to massive deforestation, threaten key water sources and destroy local ecosystems, home to endangered animals such as tigers, leopards and elephants.

In the past appeal to shareholders of the company, international scrutiny of Vedanta's activities in Lanjigarh and elsewhere led the Norway Pension Fund to withdraw its investment of $15.6 million from the company.

The Ethics Committee had stated: "Allegations levelled at Vedanta regarding environmental damage and complicity in human rights violations, including abuse and forced eviction of tribal people, are well founded."

Another delegation of Kondh people will be hosting a candlelight vigil in Indian capital to draw attention of Prime Minister Manmohan Singh and seek support from citizens to stop mining and destruction of their very way of life.

The Church of England has been condemned by campaign groups such as ActionAid and Survival International for investing in the Vedanta company.

"We don't need a foreign multinational to move into our area and promise jobs and development that are not required, " said Kulisika.

The company is also accused of forcing tribal people off the land, damaging the environment and destroying wildlife.

All this on the face of it is highly embarrassing for the Church, which is why its Ethical Investment Advisory Group spokesman Edward Mason chooses his words carefully as he explains that there are no plans at present to withdraw the investment in Vedanta.

"For certain sensitive industries such as mining companies we have a three-year monitoring and engagement process," he said.

"Where we have concerns that standards do not conform to norms of corporate behaviour we prefer to talk to them and bring about change that way."

The church acknowledges that the allegations are "serious."

ActionAid has brought over Kulisika, and a single share has been bought to enable hm to speak at the meeting.

The Dongria Kondh survive by gathering fruit, growing small crops of millet and selling jungle plants in the towns at the foot of the hills. The modern world has yet to reach the Niyamgiri hills - there's no electricity, no school, no television, no telephones.

Kulisika is accompanied by ActionAid's head of indigenous people's rights, Bratindi Jena, who is equally passionate about the damage she says is being caused by the mining project.

"If you assess the cost benefit analysis of this project there are few benefits," she says.

"Companies like Vedanta want to make tribal people servants in their own homeland. [These people] know what they want out of their relationship with Mother Earth - not foreign-backed companies."

Several U.K.-based aid agencies are campaigning against the project, as well as the prominent environmentalist Bianca Jagger.

But Vedanta says it has the support of the Orissa state government and the law on its side.
"Before we went ahead with this project we consulted exhaustively to assess its environmental and social impact," a spokesman said.

"The campaigners seem to have conveniently forgotten that this is a joint venture with the Orissa government and that it was approved by the country's Supreme Court last year - the highest judicial body in the land.

"They also seem to forget that we are talking about a part of India urgently in need of investment. This is one of the poorest parts of the country where maternal and infant mortalities are too high and where illnesses such as malaria are rampant. This project offers people a much brighter economic future."