PHILANTHROPY
From Pakistan, With Love: Strings Concert


Top Pakistani pop band Strings performed recently in Palo Alto, Calif., in support of the efforts of a Pakistani American non-profit to promote female literacy in Pakistan, writes Ras H. Siddiqui.
---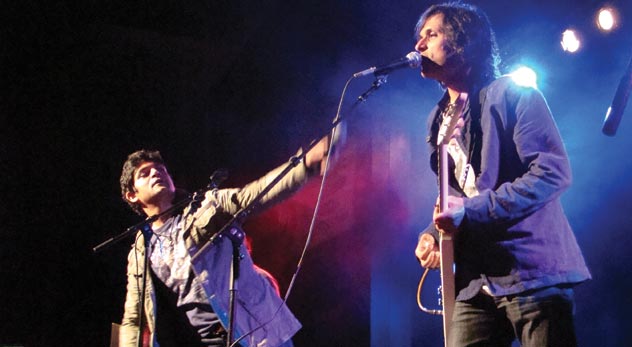 (Above): Faisal Kapadia and Bilal Maqsood of the Pakistani band 'Strings' performing at a concert.
---
The Developments In Literacy organization's San Francisco Chapter and their junior partners, Your DIL, collectively hosted a fundraising event in the San Francisco Bay area city of Palo Alto at the Spangenberg Theatre June 27. Over 500 people from all walks of life, predominantly of Pakistani descent but with a sizable Indian community presence, gathered here for a good cause; raising funds for DIL Schools in Pakistan which specifically target education for girls in remote areas of the country. And with the inclusion of a performance by Strings, one of the premier musical bands from Pakistan today, this effort also was a great deal of fun.

Strings have recently accompanied Cricket legend Imran Khan on his latest quest in the U.S. towards raising funds for the Shaukat Khanum Memorial Cancer Hospital & Research Centre. After performances in New York, Washington and Texas, this Strings appearance in California was the end of this tour. And California Pakistanis and South Asian fans were more than happy to receive them since their last appearance here was in 2006.

Representatives from the Your DIL organizations welcomed everyone to the event. Singer, composer (and filmmaker) Fahad Ahmad from New York and his brother Faraz entertained the crowd as the opening act. A short video was also shown (Books Not Bombs) prepared by Nicholas Kristof of the New York Times on education in Pakistan which focused in part on DIL schools. But ultimately the stage belonged to Strings.

Faisal Kapadia and Bilal Maqsood who make up the Strings core are two individuals that audiences have grown to take seriously (musically speaking). After Vital Signs and Junoon, few Pakistani origin Bands have caught our attention as Strings have. Their theme song for the 2006 Indian Movie "Zinda" ruled the charts in South Asia and our hearts here in America for quite some time, bringing them some much deserved fame (albeit none from Pakistan have yet surpassed the recognition that the late Nusrat Fateh Ali Khan had earned in America).

---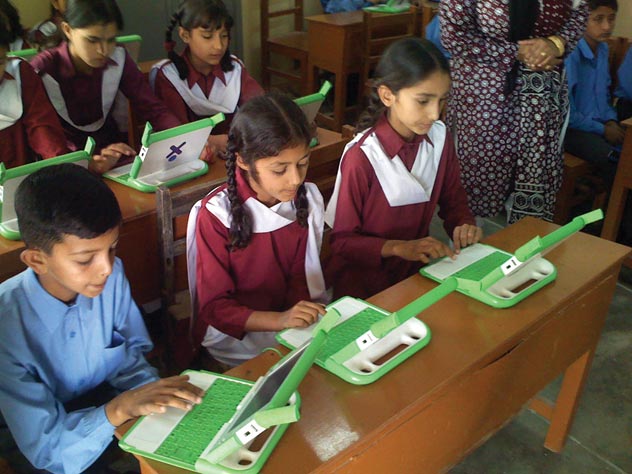 (Above): Children in Pakistan studying in a school supported by DIL, an acronym for Developments in Literacy.
---
Strings put on quite a show. In the midst of dry ice induced smoke Bilal was commanding on guitar and Faisal on vocals kept everyone including himself moving for over two hours. They started off with "Akhri Alvida" and journeyed through all their favorite numbers including "Anjane/Na Janay Kiyoon," "Yeh Hai Meri Kahani" ("Zinda Hoon" for which there were several requests), "Sir Kiye," and "Durr," a special remembrance for the late Michael Jackson who had an incredible fan following in India and Pakistan. "Koi Aanay Wala Hai" was also played extremely well.

Strings did two other interesting things of note. Their tribute to the history of Pakistani pop music (from Nazia Hassan, Alamgir Sajjad Ali, Vital Signs, Junoon etc.) through short presentations took listeners through quite a bit of memory lane. The other effort they made was a message of peace—"shanti"— for all people of the world especially Indians and Pakistanis.

It was quite hot in the theatre and Strings must have felt as if some kind of load shedding had been arranged for everyone present who may be missing the back home ambiance. A nice thought which without the gannay ka ras (cold sugar-cane juice) was not easy to overlook amidst all the excitement of young people having fun. But for us old folks, the musical salute to Pakistan's cricket team which was had been recently crowned Twenty20 Cricket World Champions, was just as sweet. To the show sponsors, the Pakistan cricket team in absentia and to Strings, a well deserved thanks from all of us here for keeping that old "DIL" (heart) lit.



DIL's Heart is in the Right Place

Developments in Literacy — DIL — is a U.S.-based nonprofit launched in 1997 by Pakistani-Americans with a desire to improve the dismal state of education in Pakistan's underdeveloped areas. DIL currently operates and manages 150 schools with an enrollment of nearly 15,000 students.

DIL is dedicated to providing quality education to disadvantaged children, especially girls, by establishing and operating schools in the underdeveloped regions of Pakistan, with a strong focus on gender equality and community participation.

DIL establishes, adopts and manages primary and secondary schools for underprivileged children in partnership with non-governmental organizations in all four provinces of Pakistan. In addition, DIL directly operates community schools in Punjab and Sindh. DIL has developed an educational approach that incorporates the following elements:

DIL runs schools in close partnership with regional NGOs and local communities.

DIL recently opened the Teacher Development Center in Islamabad to provide ongoing in-service training as well as pre-service training for its teachers.

DIL enhances the standard government curriculum to prepare students for future success.

DIL actively engages in student-centered teaching at its schools. This approach is an alternative to the traditional system of repetitive memorization and has been shown to improve student achievement. Child-centered education emphasizes creativity as well as social skills and critical thinking skills.