ENVIRONMENT:
Battling Toxics: Rizwana Hasan


Environmental attorney Syeda Rizwana Hasan's pathbreaking legal battle to reduce the impact of Bangladesh's exploitative and environmentally-devastating ship breaking industry has won her the 2009 Goldman Prize for the Asia region. A Siliconeer report.
---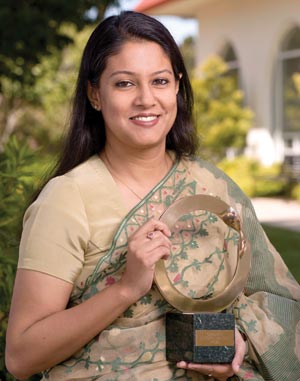 (Left): Environental attorney Rizwana Hasan in San Francisco holding a bronze sculpture called the Ouroboros. In addition to a monetary prize, every year each of the six Goldman Prize winners receives a bronze sculpture called the Ouroboros. Common to many cultures around the world, the Ouroboros, which depicts a serpent biting its tail, is a symbol of nature's power of renewal. [Goldman Environmental Prize photo]


---
Bangladeshi environmental attorney Syeda Rizwana Hasan was conferred the $150,000 Goldman Environmental Prize for her groundbreaking work to reduce the impact of Bangladesh's exploitative and environmentally-devastating ship breaking industry.

The Goldman Prize is considered one of the most prestigious environmental awards in the world. It recognizes people who have overcome great odds to make a difference. Six people are recognized from six continents. Hasan, the first Bangladeshi to win the award, was the recipient from Asia.
"Rizwana Hasan spearheaded a legal battle resulting in increased government regulation and heightened public awareness about the dangers of ship breaking," the Goldman Prize Web site said in its profile of Hasan.

Bangladesh is one of only a few countries in the world with a thriving ship breaking industry. Decommissioned ships from around the world are sent to Bangladesh and dismantled by hand on the beaches by unskilled workers who are often paid less than one dollar per day. Coveted for their valuable steel and other scrap metals, aging vessels are sold to ship breaking yards and taken apart piece by piece with torches and other small tools, resulting in toxic contamination of the coastal waters and serious health hazards for the 20,000 workers. The ships, laden with asbestos, polychlorinated biphenyls (PCBs), lead, arsenic and other substances, leach toxic chemicals into the environment. Ecosystems have been heavily polluted and hundreds of workers have been maimed or killed in the process, as they dismantle the ships with little or no protective equipment. Although Bangladesh has laws for labor welfare and environmentally-appropriate waste management, they are rarely enforced.



The Man Behind BELA

Dr. Mohiuddin Farooque established BELA — an acronym for Bangladesh Environmental Lawyer's Association — in 1992 and devoted his career to the cause of protecting the environment.

A freedom fighter in his teens, he unveiled a new field for activism and chose environmental law as the focus of his advocacy. He fought for establishing the right of the downtrodden and within a very short period set made an exceptional mark in protecting the interest of the common people.

Farooque got his master' degree in law from the University of Dhaka and his doctoral degree from the University of Manchester on international river law.

A bright academic, Farooque had a long list of publication on environment and environmental law including 69 articles and seven books. He died in December 1997.

In his absence, his colleagues are pursuing his mission.


The 20,000 workers are mostly young men, some as young as 14, who come from the northern parts of Bangladesh where food is scarce for much of the year. They are paid very little, housed in the most basic of shelters, and provided with little or no medical care. It is estimated that, on average, one ship breaking worker dies at the yards in Bangladesh every week and every day one worker is injured.

From 2005 to 2007, more than 250 ships, with a total weight in excess of 2.5 million tons, were broken on the shores of Bangladesh. Ninety-five percent of each ship was comprised of steel coated with between 10 and 100 tons of paint containing lead, cadmium, arsenic, zinc and chromium. Many ships also contained a wide range of other hazardous materials - PCBs, asbestos, and several thousands liters of oil and grease - defined as hazardous under the 1995 Basel Convention, which bans the export of toxic waste. These chemicals have inflicted serious damage on the environment, polluting beaches, coastal waters and seaside ecosystems.

Hasan, 40, is a lawyer and Executive Director of the Bangladesh Environmental Lawyers Association — BELA — a public interest law firm. Growing up in a politically-engaged family, Hasan committed herself to public service and, after receiving her master's degree in law at age 24, joined BELA. She soon became one of the country's leading voices for the environment. Today, Hasan manages six offices with nearly 60 staff and is one of the leading young lawyers enrolled with the Supreme Court of Bangladesh.

Recognizing the significant environmental and labor violations within the ship breaking industry, Hasan began her advocacy on behalf of the workers. In 2003, she filed a petition with the Supreme Court seeking an order to prevent aging ships from entering Bangladesh unless they were certified to be free of toxic substances as required by the Basel Convention, and to prohibit further ship breaking activities unless the relevant government agencies enacted and enforced standards for protection of the environment and workers.

---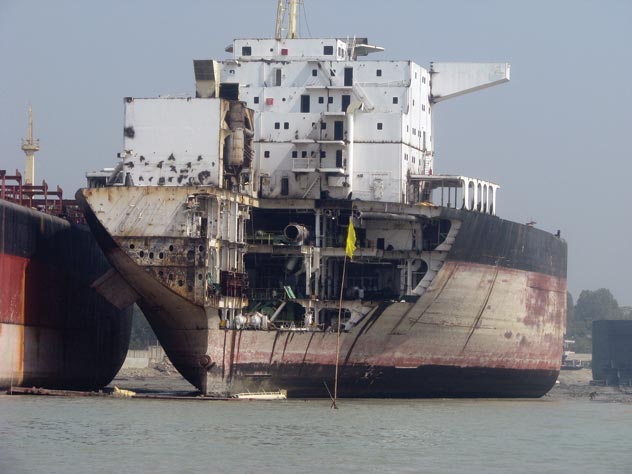 (Above): A shipbreaking yard in Bangladesh. [Tom Dusenbery photo]

---
Subsequently, Hasan initiated a legal battle against the import of ships listed as hazardous by Greenpeace. In January 2006, she filed petitions seeking to deny the entry of two toxin-laden ships, the MT Alfaship and the SS Norway. In February 2006, the Ministry of Environment banned the entry of SS Norway into Bangladesh and in May 2006, due to the stay order of the court, the MT Alfaship had to leave the territorial waters. In the case filed against the entry of MT Alfaship, the High Court of Bangladesh observed that the government should frame rules to prevent the entry of such hazardous ships to Bangladesh.

Hasan and BELA continue to monitor the workers' health and safety, serving as advocates when workers are injured and require compensation.