BOOKS
South Asian Storyteller: Nafisa Haji


Debutante author Nafisa Haji's novel "The Writing on My Forehead" weaves a colorful tale that begins in Mumbai and Karachi, and plays itself out in America and Britain. Siliconeer correspondent Ras H. Siddiqui attended a book reading in Sacramento, and interviewed the author, who was raised in Los Angeles and educated at Berkeley.
---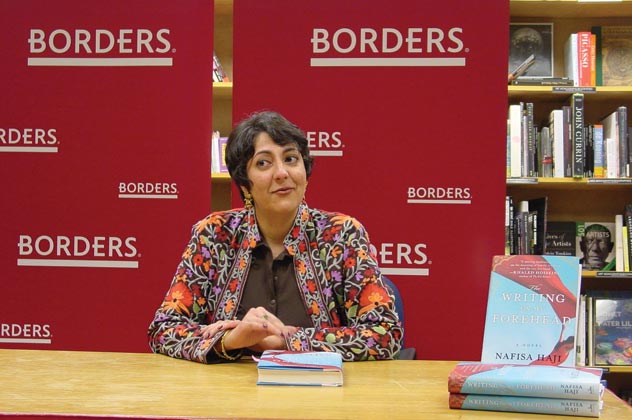 (Above): Author Nafisa Haji at a book reading event at the Border's store in Sacramento. She read from "The Writing on My Forehead," her first published novel.
---
First-time author Nafisa Haji is a relative unknown on the South Asian literary scene, but with the publication of her novel "The Writing on My Forehead" (William Morrow- HarperCollins publishers) that anonymity could change rapidly. Nafisa brings a refreshing presence both in person (when this writer caught up with her at Borders Books in Sacramento) and via her book to readers in this country with a colorful tale about a family from Mumbai and Karachi, a true India-Pakistan family saga which plays itself out in America and Britain. Nafisa has been inspired by Khushwant Singh's "Train to Pakistan" and Qurratulain Hyder's "River of Fire" ("Aag Ka Darya" translated) and her own attempt here certainly reflect such absorbing reading.

"The Writing on My Forehead" offers a strong feminine perspective. The narrator and focus of the book is Saira Qader, a rebellious young woman whose interaction with her sister Ameena, her mother and Big Nanima (Grand Aunt) along with their own relationships with sisters and other women dominate the story. Men play a more secondary role here but are certainly not absent. And if one adds to that mix, a backdrop of South Asian history which includes Gandhi, the Partition of 1947, the flight of immigrants to Pakistan and then to the West, the problems faced by their children growing up, breaking tradition and last but not least, the tragic events of 9/11, the novel certainly does not lack potency.

Our interest in Nafisa Haji the writer increased to the point where some questions just had to be asked (her answers are included below) before even having had a chance to read her book. Thus far I can vouch for the fact that the first hundred pages have been excellent!

Q: What motivated you to become a writer?

A: The answer, I am afraid, is the typical cliché. I always wanted to be a writer — mostly because I love to read. Books have entertained me and shaped me and been my ticket to the world and time-travel all of my life. So naturally, the people who write them have always been my heroes. Who doesn't want to grow up and be like their hero?

Q: You have roots both in India and Pakistan but were born and brought up here in the U.S. How much of that cultural mixture is in your novel?

A: I think the subject of the whole novel is that cultural mix. There are a lot of old family stories in the novel — with references to Partition, for example — that reflect this and the main character wrestles with the theme of individual choice versus family obligation through the exploration of family history, the kind of dichotomy that is often oversimplified into the West vs. East paradigm.

Q: "The Writing on My Forehead" is your first work. Is it purely fiction or somehow vaguely autobiographical?

A: All of the details of the plot are purely fictional, as in the events that occur. But the attitudes and viewpoints of the main characters reflect my own experiences growing up. There is a contrast in personality between the two sisters in the book, one of which is the narrator. But I see myself reflected in both characters, in spite of that contrast.

Q: Did you have a target readership in mind when you wrote this book?

A: This is a good question, because it's a tough one. On the one hand, I'm not among those writers who say they write for themselves. To me, writing is a form of expression and communication and it would seem a little strange to claim I was merely writing for myself. While I didn't have specific faces or an audience in mind — the nice thing about writing is that you don't have to be nervous about your audience because while you're writing it's an anonymous process — I know that making specific cultural references clear to those who might be unfamiliar with them was important. But it was also important — and a challenge — to not play the role of cultural tour guide. The novel is the story of very specific people, not meant to represent a culture or a religion as a whole.

Q: Where does Nafisa Haji the writer go from here?

A: I'm currently working on a second novel — though lately it's been hard to stay focused with all of the excitement involved in having my first novel out there.
• • •
It was great to meet Nafisa. Her novel "The Writing on My Forehead" is certainly about fate or kismet. But if one digs a bit deeper, it also appears to be a voice of first or second generation immigrant motherhood, trying desperately to be protective by passing on fading family traditions. It is a story about making difficult choices that many readers will appreciate.

Nafisa was born and mostly raised in Los Angeles — mostly, because there were years also spent in Chicago, Karachi, Manila, and London. Her family migrated from Mumbai to Karachi in 1947 during Partition. In the late 1960s, Nafisa's parents came to the United States, shortly before she was born, in order for her father to study engineering at Stanford. When she was six years old, they stuck with their original plan of "going back home" and moved to Karachi. In less than a year, they knew that they had become more American than they realized and came back to Los Angeles.

Nafisa studied American history at the University of California at Berkeley, taught elementary school in downtown Los Angeles for seven years in a bilingual Spanish program (she speaks Spanish fluently), and earned a doctorate in education from the University of California at Los Angeles.

With an unfinished novel left long behind, she seized upon the birth of her son — when she decided to stay home fulltime — as an excuse to go back to writing, learning to use nap times and weekends very efficiently. She started writing short stories at first, which then developed into an idea for a novel. She now lives in northern California with her husband and son and is currently working on her second novel. Nafisa maintains close ties in Pakistan, traveling there regularly to visit family.