TAMIL CINEMA:
Flawed Screenplay: Ananda Thandavam

Cast: Siddharth, Tamannaah, Ruckmini, Kitty, Charlie, Mohanram and others Director: A.R. Gandhikrishna
Music: G.V. Prakash Kumar

---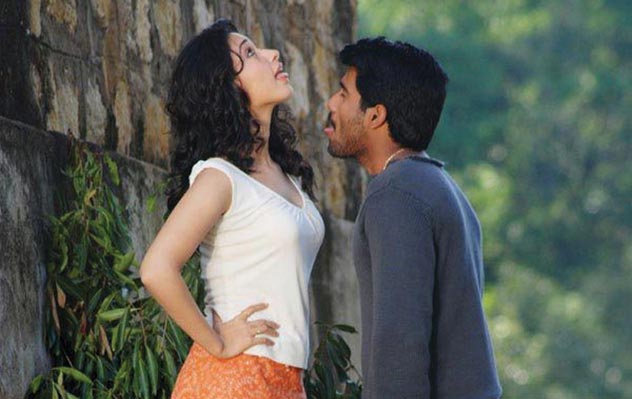 ---
The much-awaited film, based on the late legendary writer Sujatha's Pirivom Sandhippom, has finally arrived. The film takes off from picturesque Banatheertham on the foothills of Kutralam Falls, then it moves to the U.S.

Raghu (newcomer Siddharth), an educated unemployed youth, arrives in Banatheertham in search of a job. He has his father to take care of. Even before he reaches his father's house, he meets a mischievous girl, Madhumita (Tamannaah). Soon Raghu falls madly in love.

The girl and her affluent family accept Raghu. Raghu's father, a practical man, somehow feels something is missing. Madhu is married off to a someone from a more solid economic background. Madhu leaves for her dream nation U.S. with hubby Radhakrishnan.

Raghu is sent to America for higher studies by his father. Raghu meets the dancer Rathna (Ruckmani), who falls for him. Meanwhile, Raghu accidentally meets Madhu. Old memories are revived but things don't go anywhere. Rathna's love deepens and she marries Raghu. Madhu has a harrowing story of her own to narrate to Raghu. The rest of the film resolves the complicated tangle.

Director Gandhikrishna is given on a platter an enviable combination of a successful story, scenic locations, an excellent cinematographer, two heroines full of enthusiasm, beauty and talent, G.V. Prakashkumar's music and Vairamuthu's lyrics. However the screenplay lets him down badly, and fails to narrate a compelling, emotional tale.

The director makes a hash of the characterization of Madhumita, played by Tamannaah.

The romance between Raghu and Madhu is unconvincing. Before you blink an eyelid, they are in love. The romance between Raghu and Rathna is a foregone conclusion; so is the dramatic story that Madhu narrates to Raghu.

Tamannaah as Madhu suits the character perfectly, and Siddharth doesn't look like a newcomer at all. Ruckmani fits the bill perfectly as the dancer in America. G.V. Prakashkumar's score is solid.
But it's all in vain, as the poor screenplay ruins the film.

— Courtesy Chennai Online.