SUBCONTINENT:
Red Alert: Naxal Offensive in the Hinterland


Radical Naxalites are giving voice to India's dispossessed and waging a bloody battle in the hinterlands of eastern India — Andhra Pradesh, Madhya Pradesh, Bihar, Jharkhand, Chhatisgarh, Orissa, writes Siddharth Srivastava.

---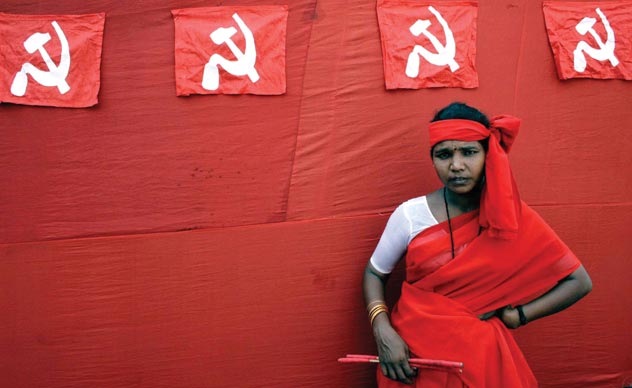 (Above): A woman Naxalite waits before her performance during a protest rally to mark 40 years of the Naxalbari movement in Kolkata in 2007. Leftist radical Naxalites are waging a bloody battle in eastern India. [REUTERS/UNI photo]
---
While security forces in India have been focusing on the threat of terror attacks during the ongoing general elections, the violence has been from another front — Naxalites, India's indigenous brand of leftist radicals.

While the global focus is on jihadi militancy, Indian Kashmir and strife in the northeastern states, a bloodier battle is being waged in the hinterlands of eastern India — Andhra Pradesh, Madhya Pradesh, Bihar, Jharkhand, Chhatisgarh, Orissa, India's coal and mineral rich states.

Maoists and Naxalites rule with the gun and their writ runs large, particularly in areas where a total lack of governance has unleashed pent up frustration by India's dispossessed.

Recent incidents, with intentions to disrupt India's general elections, have highlighted the predicament. Clearly the idea is to create a fear in the minds of people not step out of their homes to vote.

Areas attacked had gone to the polls in the first phase (April 16), in which over 20 security personnel have been killed.

In Jharkhand, 200 Maoists hijacked a passenger train which was later released. Luckily, the passengers were not harmed.

In Bihar, the Naxalites bombed a district office and shot dead a truck driver after setting eight trucks ablaze.

On April 14, at least 10 men were killed in a clash security forces and Naxalites in Bihar's Sasaram. The deceased were all Naxalites.

About 70 Naxals targeted paramilitary forces at a polling centre. The Naxalites targeted the camp with rocket launchers.

On April 12, Maoists attacked Nalco's bauxite mine in Orissa and fled after a nearly eight-hour long gun battle with security forces.

Eight paramilitary personnel have been reportedly killed and 13 others injured when more than 200 Naxalites, including women, stormed Panchpatmali mine at Damonjodi in Koraput district.

On April 10, nine paramilitary personnel, including a deputy commandant, and three suspected Naxalites were killed in a fierce encounter in Chattisgarh, an attack barely a week ahead of the general elections.

A study by the Home Ministry says murders of police personnel by guerrillas jumped 53 percent to 153 in 2006, while 516 civilians were killed, an 11 percent increase on the previous year.

In 2007, while the number of civilian casualties went down, security personnel killed have increased alarmingly from 157 in 2006 to 236.

Chhatisgarh and Jharkhand are the two worst affected states.

In the early 1990s, the number of districts affected by Maoist violence stood at just 15 in four states. It has now risen to nearly 200 districts out over 600.

Naxals are today well trained in guerilla warfare tactics and armed with latest weapons and rocket launchers, procured illegally or snatched away from state security personnel.

Although there are several causes for the Naxalite violence, one main reason is the absence of land reform and persistence of extreme poverty.

The Maoists feed on the cadres of tribals and dalits who have been dispossessed of their lands, due to activities such as mining and mineral extraction, coupled with state governments who are at best indifferent or at worst complicit in attempts of vested interests to dispossess the poor.

India's mining activity is concentrated in the eastern and central Indian states which have large tribal concentrations of about 90 million, according to the 2001 census.

Ironically these states rich in natural resources score very low on human development indices; the HDI of Orissa, the richest mineral-resource state, is an abysmal 0.404.

The report "Rich Lands, Poor People" by the Center for Science and Environment says mining in these areas has displaced 2.6 million people between 1950 and 1991, while only 25 percent have been rehabilitated.

It is no surprise then that 40 percent of the top 50 mineral rich districts in India are today affected by Naxalite violence, with repeated attacks on any symbol of authority, private or public.

There is also a growing nexus between sections of the armed Naxalites and the coal mafia that makes operations extremely dangerous.

These powerful elements control the coal mines and other mineral activities and are used to making big money and using muscle power.

While energy blocks are granted in auctions by the federal government to domestic and international firms, the state-level plays means that major contracts, whether for transport, construction, even hiring of personnel (both trained and-lower level drivers, labor) has to be routed via the political-business nexus that controls all such hires.

Another reason for alienation of the population has been New Delhi's land acquisition policies due to setting up of Special Economic Zones.

There have been violent protests against land acquisition, for example, at Nandigram in West Bengal for the Tata Nano project and in Orissa by South Korean Posco.

Although security personnel, landlords, mining sites remain the biggest targets of the Maoists, the communist rebels have sometimes gone beyond their usual targets. They captured a train with more 250 passengers in a remote part of Jharkhand in 2006.

In February 2006, Maoists attacked a truck convoy in Chhattisgarh, killing 24 people and injuring 32.

In one of the biggest attacks staged in November 2005, over 1,000 rebels meticulously planned and then executed the release of 350 of their comrades lodged in the Jehanabad jail in Bihar.

The government response, whether at the state or federal level, has been anything but encouraging. Apathy to genuine grievances, and a tendency to back local vested interests, and an overt reliance on strong-arm state-sponsored violence through law enforcement forces has tended to make matters worse. Sometimes government policy has crossed the line into the egregious, like in Chhattisgarh, where it has sponsored a thuggish rightwing vigilante group called the Salwa Judum, and incarcerated human rights activist and pediatrician Binayak Sen.

If they know what's good for them, the government better wake up to the fact that inclusive development, right education and economic mobility are the only ways to root out the Maoist challenge and bring back the alienated tribal population into the mainstream.