PHILANTRHOPY:
Helping Bangladesh: SpaandanB Open House


San Francisco Bay Area-based SpaandanB put together an event full of family fun that including a competition of traditional pithas and colorful performances by children—all for the lofty cause of supporting projects that assist the less privileged in Bangladesh. A Siliconeer report.

---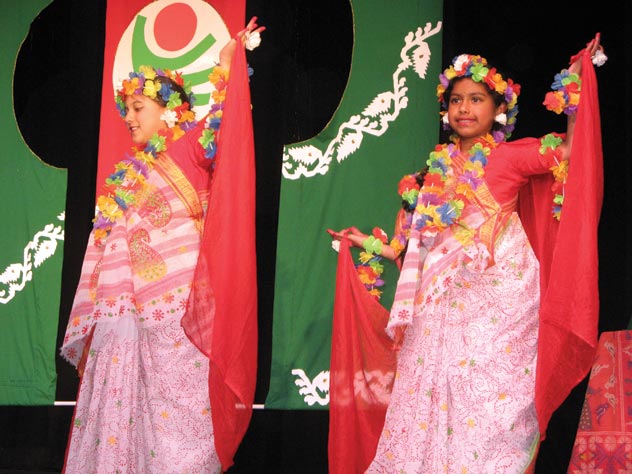 (Above): Children presenting a dance performance at the SpaandanB open house.
---
A pitha in the Silicon Valley? How cool is that? It's enough to make the mouth of any Bengali water with gastronomic anticipation.

For the uninitiated, an explanation is in order. Pithas are snacks, often sweet, less frequently savory, that Bengalis love to tuck into during the mellow, pleasant months of the mild tropical winter. These are very traditional food items made from local foodstuffs — rice flour, milk, coconut, molasses, sometimes steamed, sometimes fried, sometimes made into a crepe — and universally adored by Bengalis, whether they are in Dhaka, Kolkata or Silicon Valley.

So you can well imagine the pleasure of several hundred Bangladeshis who milled around at the Fremont High School in Sunnyvale, Calif., as the bhabis strutted their stuff with a mouth-watering array of pithas.

The eating room was decorated with an array of posters drawn by children. It was part of a special poster presentation of boys and girls up to teens on the subject "On your trip to Bangladesh." Presentations could be painting, collage, cut-n-paste and within 20"x30.

---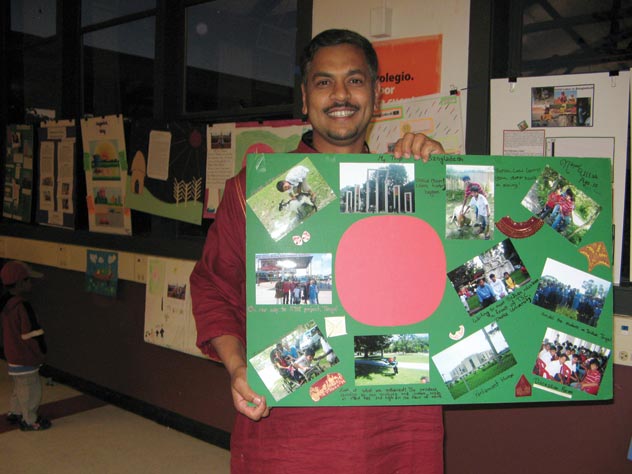 (Above): A proud father holds the poster designed by his child competing in the poster competition for children hosted by nonprofit SpaandanB at its open house.
---
All of this was for a lofty cause. SpaandanB, the preeminent philanthropic organization of San Francisco Bay Area Bangladeshis, had hosted this open house to raise funds and create awareness about the needs of the underprivileged.

The evening, which also included a keynote speech and cultural performances, ended with donations and pledges of $25,000 matched dollar for dollar by a generous anonymous donor – not bad at all for an evening's work.

Baishakhi stalls featured authentic Bengali food, jewelry, dresses and more.

Ekdin Bangalee Holam Re, was an informal Bangali fashion competition for boys and girls. Guests up to teen age were requested to come in authentic Bengali outfit. They were automatically entered into a silent competition and attractive prizes were given away for the best dressed boy and girl.

In the second phase, SpaandanB project presentations were made with video and slides. George S. Reppas, an organizer with the Stanford University Medical School Endowment Fund, delivered the keynote speech.

---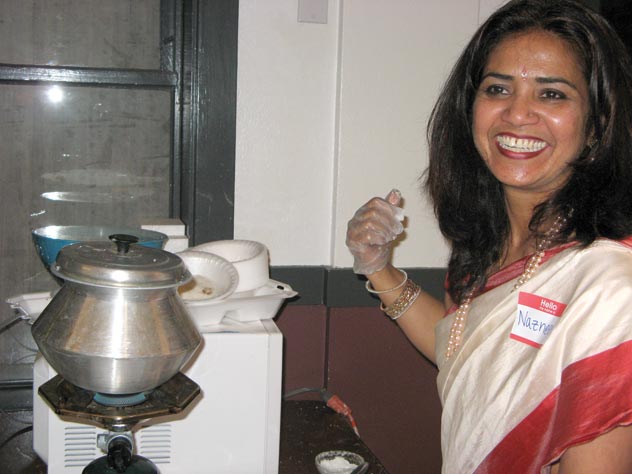 (Above): A delighted Bangladeshi woman shows her pride as she makes a traditional bhapa pitha, steamed rice-flour cakes with a filling of molasses and grated coconut at the SpaandanB open house.
---
Bay Area kids presented music, and Mayer Kachhe Shona, a special musical drama portraying the events spanning from language movement to fight for independence of Bangladesh, as presented by Bay Area kids.

SpaandanB, a registered U.S. nonprofit, "is dedicated to better the lives of the less advantaged people in Bangladesh," according to its Web site. "SpaandanB initiates and implements projects in the area of establishment of education, remedy for health needs, and promotion of sustained subsistence. The organization sprouted from the vision of a handful of expatriate Bangladeshis in 1998 and has since grown manifold in size and scope. The projects and operations of SpaandanB are funded by conscionable and generous donors from all over the world.

SpaandanB helps the underprivileged regardless of religion, color, age, disability or sex. More information is available on the Web at: www.spaandanb.org

Winning Contestants

Poster Competition
Group A (Pre-school - 5th grade):
21 participants
First place: Segufta Chowdhury (Namira)
Second place: Samiha Rahman
Third place: Mashia Mazumder & Anonna Hasan

Group B (6th - 12th Grade): 9 participants
First place: Sayed Saif Nizam
Second place: Sabah Rahman
Third place: Nowreen Chowdhury

Pitha Competition
First place: Lipi (pati pitha)
Second place Lita (moog pakon)