HINDI FILM REVIEW:
Mysterious Mystery: 'Aa Dekhen Zara'

Rating: ** (Mediocre)
'Aa Dekhen Zara'

Directed by: Jehangir Surti
Music: Pritam
Starring: Bipasha Basu, Neil Nitin Mukesh, Rahul Dev, Biswajeet, Sophie Chaudhary, Bobby Vats, Sameer Siddiqui.
---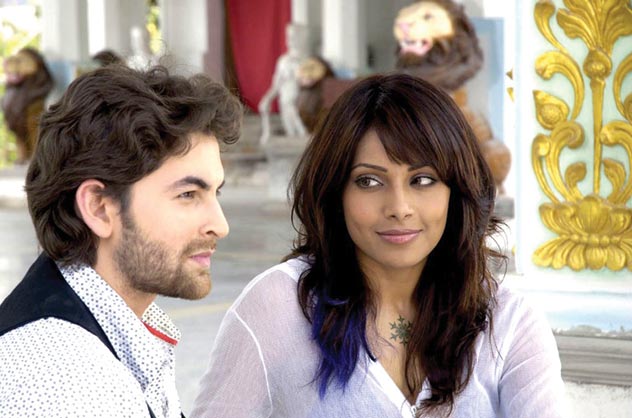 (Above): Neil Nitin Mukesh and Bipasha Basu in "Aa Dekhen Zara."

---
Sometimes you simply throw up your hands in despair. Of course the bulk of stuff that comes out of the Bollywood film factory can be safely be sent straight to the junk yard — and not a tear needs to be shed about that, but it's when you see films like this that you begin to feel bad, because technically, the film definitely had possibilities, but the entire edifice comes crashing down because of the lack of one critical element essential to make a film work. We are not talking about a masterpiece, just a film that passes muster. That critical element is an overarching sensibility that can detect and deter silliness in a story before it proves to be the undoing of the entire enterprise.

It's not rocket science, really, or any highfalutin' esthetic skill, just a garden variety, common-sense ability to realize what will work in a story and what won't.

Like the slender green shoots that U.S. President Barack Obama has been talking about when referring to the economic crisis in the U.S., there are similar signs in Bollywood that a filmmaker here and a filmmaker there is willing to push the envelope when it comes to filmmaking, jettisoning the hoary old formula where the hero chases the heroine who dances around trees, where with one blink of an eye they can move from Switzerland to the Fiji Islands, where the mother's job description includes an inordinate amount of weeping, and the villain sports a hairpiece unknown to man or beast, and all is (Twenty years ago. . . )

---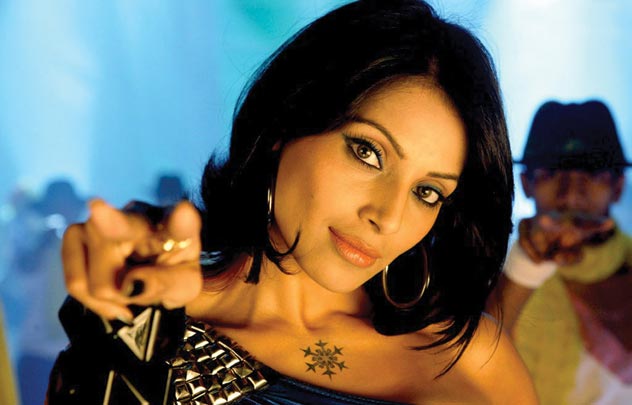 (Above): Bipasha Basu in "Aa Dekhen Zara."

---
Young filmmakers are willing to try fresh approaches, do unusual stories. Unfortunately, sometimes they tend to throw the baby with the bathwater, as this film shows.

See, you can try all kinds of fancy tricks, but give the devil its due — the older Bollywood films, however slender their relationship to reality, packed a rollicking story when they were well made.

What's the point if your work is all style and no substance? The essential rules of storytelling have held true for millennia, and new filmmakers with avant garde pretensions ignore it at their peril.

Anyway, let's get to the story of the film.

---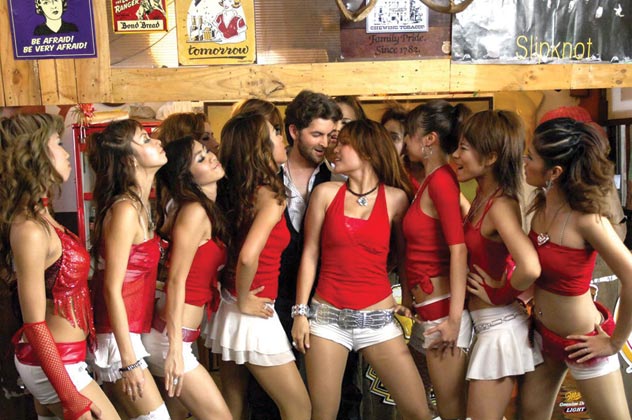 (Above): Neil Nitin Mukesh (c) in "Aa Dekhen Zara."

---
Ray Acharya (Neil Nitin Mukesh) is a down-and-out photographer in dire financial straits. His grandfather, now dead, has left him with a camera with magical abilities. It can take photographs of future events, no less.

Now any attempt to keep a meaningful connection with realism has been severed (what's new, Bollywood?), the story begins to lurch from one edge to another.

Ray seemed like a nice enough guy, and initially he does try to do nice deeds. But soon greed raises its ugly face. Neil uses the camera to make a killing at lotteries, the races and the stock exchange.

But there is a catch. His own photograph shows that he will die in five days. The photograph of his girlfriend, a sultry DJ (Bipasha Basu), shows something similarly sinister lurking in the future — Bipasha is fated to die in a shootout.

---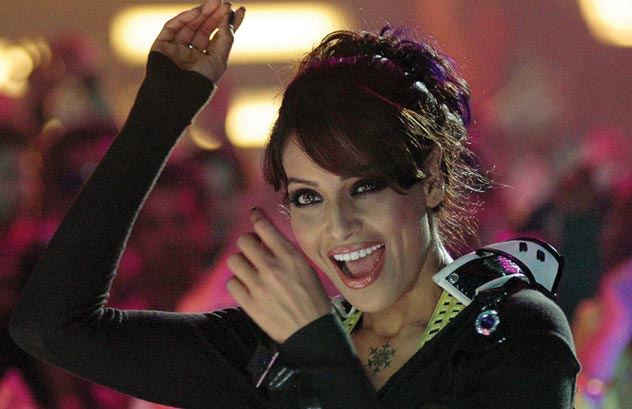 (Above): Bipasha Basu in "Aa Dekhen Zara."

---
Word gets around, and before you know it, a gaggle of sinister characters are baying for Ray's blood, so Ray and his main squeeze run away to Bangkok. But life's too short, so even as they dodge bullets, they find time for a hot item song or two.

The premise is intriguing even if not wholly believable. But that's nothing new — Bollywood buffs have learned to park all their logical faculties outside with their cars before they enter a cinema to see a Hindi film. What's particularly aggravating is the film doesn't stick even to its own nonsensical Alice-in-Wonderland variety of logic, either.

The camera with special qualities — and why all this pretension of science fiction, when it's merely science fantasy — it only takes pictures 24 hours into the future, we are told. Before you know it, it's taking photographs of events five days into the future.

At another point, a photo warns Ray he will be stalked by his enemy on a flight. A day later when that actually happens, Ray is utterly unprepared.

I mean, come on, guys, if you are going to bull shit, at least do it with some panache.

Loosely scripted, and riddled with inconsistencies, you begin to wonder if the film could get worse.

This is about the only area where debutant director Jehangir Surti shows some consistency — it gets worse.

---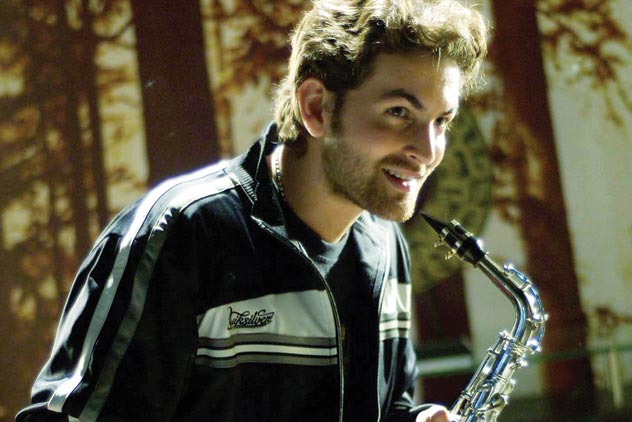 (Above): Neil Nitin Mukesh in "Aa Dekhen Zara."

---
A mysterious and sexy woman, Bindiya (Sophie Chaudhary), shows up with too much makeup and cleavage, but that's perhaps because she has nothing much else to show. The dialogues are insipid, the twists and turns are utterly predictable, and for all the slick technical values — stylish photography, solid background score — the film falls flat because it fails a very simple test of a good whodunit.

Mr Surti, pay careful attention. Here's how a whodunit works. You create a mystery in the beginning of the story, throw a few red herrings along the way, tie the story up in knots here and there, and then in one or more grand denouements at the end, untie the knots in a simple plausible way that satisfies a logical mind (fat chance if it's Bollywood) and voila! The mystery is solved and the viewer experiences a satisfactory cathartic release.

That's not what happens in this film at all. It's all huffing and puffing and a lot of pretentious camerawork and scenes that try to mimic a thriller, but when it comes to the nitty gritty, the film fails to fulfill the basic requirements of a thriller as noted above.

So here's the problem with the film in short: It starts as a mystery, and after two hours of frantic and uneven storytelling which has more holes than a slice of Swiss cheese, in the end it's still a mystery.

What is not a mystery is the fate of the film itself. The janta have made their verdict know loud and clear—with a smart kick on the backside Aa Dekhen Zara has been dispatched to the junkyard to share space with its many, many siblings churned out with such depressing regularity by Bollywood.