EDITORIAL:
Making Change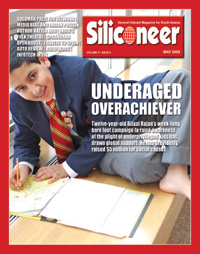 It is easy to get cynical about philanthropy and social work. In fact, leftists have consistently taken a dim view of the whole idea of the privileged making a big splash about supporting their less privileged brethren, making the pointed observation that long-term and substantive changes in the lot of those at the bottom of the socioeconomic ladder come from struggle and political change, not from charity balls and fundraisers, which are often a sop to the conscience of the wealthy.

Nonetheless, only the really jaded cynic could remain unmoved by the efforts of a 12-year-old kid in Toronto, Canada.

Get this—to date, Bilaal Rajan has raised over $5 million for various philanthropic causes, traveled far and wide, and says he firmly believes in the individual to make a difference.

You could say he had a head start. Deeply moved after learning the suffering in the wake of the 2001 Gujarat earthquake, he decided to sell Clementine oranges. He was all of four years then. His skeptical parents agreed, and he raised $350.

That first fundraising effort has put this young gentleman on a remarkable path where he has raised millions of dollars, given lectures, and crisscrossed the world to see how the less privileged actually live.

Rajan has just finished a week-long "barefoot campaign," his way of trying to understand what underprivileged kids go through and create more awareness about it, and his campaign has drawn responses from many young people from around the world.

In this month's cover story, this remarkable young man writes about his passion for helping others, and the message he wants to bring for all other people.

The folks who run Bangladesh's shipwrecking industry aren't exactly charm school graduates. In fact, they seem right out of the dark scenes of a Charles Dickens novel—their disregard for workers' welfare and safety has a chilling, callous edge, their avarice seems to have no bounds, and mendacity comes to them as easily as breathing.

These are not folks you would expect a woman to take on, but that's exactly what Bangladeshi environmental attorney Syeda Rizwana Hasan did

The Bangladesh Environmental Lawyer's Association was established by a visionary environmental lawyer, Dr. Mohiuddin Farooque, in 1992.

After his death, Hasan, his handpicked deputy, picked up the battle.

In 2003, Hasan filed a petition with the Supreme Court seeking an order to prevent aging ships from entering Bangladesh unless they were certified to be free of toxic substances as required by the Basel Convention. The ship breakers did not sit back and applaud

But Hasan fought on. Bangladesh slapped a ban on a ship, and for the first time, fined a polluter.

Hasan's work has won her this year's Goldman Environmental Prize, one of the most prestigious environmental awards in the world. She is the first Bangladeshi to win this prize.

"Rizwana Hasan spearheaded a legal battle resulting in increased government regulation and heightened public awareness about the dangers of ship breaking," the Goldman Prize Web site said in its profile of Hasan.

In this month's issue we pay tribute to this remarkable Bangladeshi activist lawyer.

India prides itself on being the world's largest democracy, but how effectively does that democracy function? The cornerstone of a well-functioning democracy is a probing, honest media—if the electorate is not well informed, then the exercise of the franchise can be a hollow victory.

How well has the Indian media acquitted itself over the years? Human rights activist Partha Banerjee is not terribly impressed. The Indian national media, he laments, simple seems to lose it when it comes to the Nehru-Gandhi family. In addition to kowtowing to the powers that be, it is this particularly egregious supine obeisance to India's first political family gives that compromises its news coverage.

Banerjee finds the notion of a political dynasty particularly offensive—yet there it is for everybody to see. Four leaders of what is now a billion-strong nation have come from one family that includes three prime ministers—Jawaharlal Nehru, Indira Gandhi, Rajiv Gandhi—and one ruling party leader—Congress Party leader Sonia Gandhi. Then there is the very strong suggestion that a fifth leader isn't too far behind—Rahul Gandhi, Rajiv's son, is being groomed for the top position.

In this month's issue, Partha Banerjee reflects on the dreadful mix of a party with lopsided supremacy and a pliant press.