HINDI FILM REVIEW:
Style without Substance: Raavan


Rating: ** (Mediocre)
Raavan

Directed by: Mani Ratnam
Music: A.R. Rahman
Starring: Aishwarya Rai, Abhishek Bachchan, Vikram, Priyamani and Govinda.

---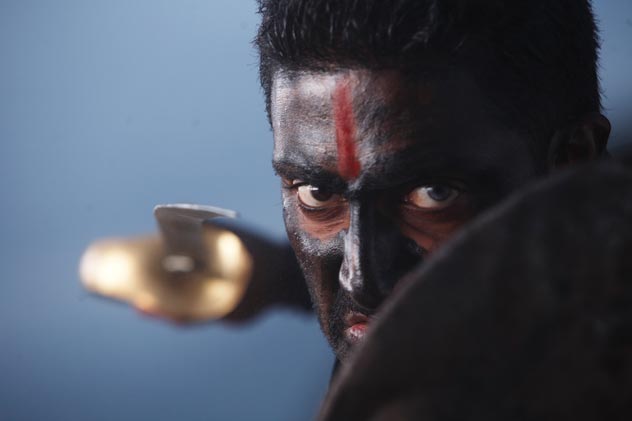 (Above): Abhishek Bachchan in "Raavan."

---
What to make of Southern filmmaking dynamo Mani Ratnam? He is, of course, unabashedly commercial, but he definitely has got talent. On the other hand, you get the feeling that in choosing between an artistic flourish and remaining commercially safe, he would choose the latter any time. And yet, his films are compelling examples of his instinctive understanding of the language of cinema.

So it goes on and on: the Mani Ratnam puzzle. One is reminded of Bombay, his blockbuster extravaganza which was visually lush, gripping as a movie, and yet seemed time and again to succumb to commercial imperatives. At the heart of the film was the searing communal fratricide that had enormous artistic potential, but at the end all we got was a slick movie that was well made, but somehow just a little bit too glib.

---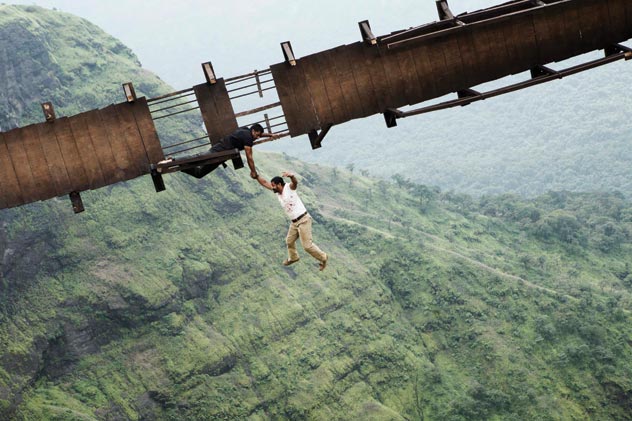 (Above): A scene from "Raavan."

---
Raavan, one could argue, is even more ambitious.(Like Bombay, it is also the Hindi version of a Tamil original.) It takes up the epic Ramayana.

As Raja Sen observes scathingly in Rediff.com: "Ratnam's latest takes a big chunk of larger-than-life Indian mythology, sloppily swaps antagonist with protagonist, and ends up giving an earnest Bachchan far too much scenery to chew in far too much spotlight. Oh yeah, this new Raavan is clearly Mani Ratnam Ki Aag.

"Not that Raavan, starring ace cinematographer Santosh Sivan, is bad to look at. Not at all, and there are some frames that positively glisten. It's just ill-conceived, amateurishly adapted, and often too lamentably literal in its desperate attempts to reference the epic, trying recklessly but daftly to be contrary for the heck of it."

Very loosely inspired by the Hindu epic Ramayana, the movie could be called a contemporary version of the popular Indian epic.

---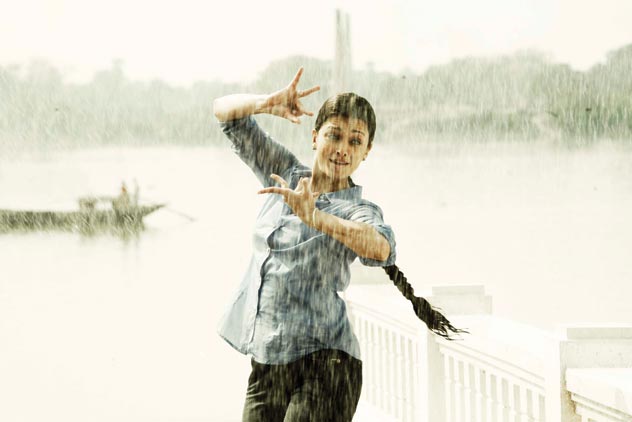 (Above): Aishwarya Rai Bachchan in "Raavan."

---
Ragini (Aishwarya Rai) is a classical dancer who is the soul of innocence: playful, happy, full of joy, she virtually worships the ground her husband Dev Pratap Sharma (Vikram), a police inspector, walks on.

However, in classical Bollywood mode, bad things are about to happen to someone indescribably good.

Beera Munda (Abhishek Bachchan), is seething with resentment over a long-ago family tragedy that Dev had orchestrated, and is determined to exact revenge.

One day, Beera kidnaps Ragini.

As each day passes in the forest, Ragini changes in front of our eyes as she grapples with the brutal kidnapping. She fights her captors tooth and nail, and looks for every chance to escape. Amidst all this, she changes and evolves, no longer the innocent, carefree woman but someone with grit and determination.

The film is a visually haunting, richly evocative feast for the eyes, and full credit to talented filmmaker Santosh Sivan.

---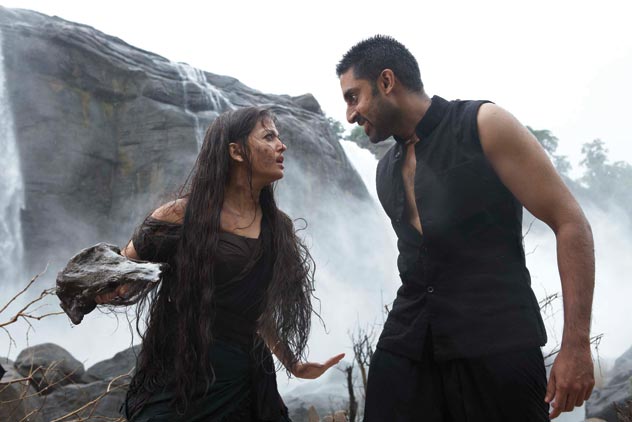 (Above): Aishwarya and Abhishek in "Raavan."

---
But characters are not fully developed, and even in the one case where it is—Ragini—it is all undone by the painful histrionic limitations of Aishwarya Rai.

Aishwarya's eye makeup is immaculate. If only one could say the same about her acting. No wonder the New York Times called her "dramatically challenged." She screeches her way through the proceedings in the vain hope that facial contortion can substitute for acting. It does not.

Abhishek is given to screaming interminable overwrought monologues from treetops — one feels for viewers who have to sit through it.

---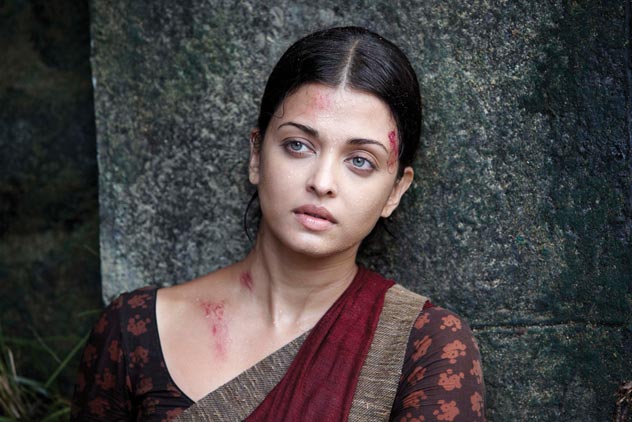 (Above): Aishwarya in "Raavan."

---
At the end of the day, the film is much, much less than the sum of (some of) its parts, and one is inclined to say that here is another case of style triumphing over substance. Though triumph is perhaps not quite the right word in the circumstances.

The Texans have a colorful term for situations like this: All hat and no cattle.

With Mani Ratnam, then, here's another case of a promise betrayed. And Bollywood aficionados are voting with their feet—despite all the hype, the box office returns have been underwhelming.

Mani Ratnam , listen up. We know you have got talent, but style alone will not cut it. Get your act together. Bollywood fans, and you, deserve better.