RECIPE:
Great Hot Snack: Cheese Veggie Pan Cake


There's something nostalgic about Chinese food the way it's served in India. Chef Sanjay Patel offers a recipe to rekindle those memories.
---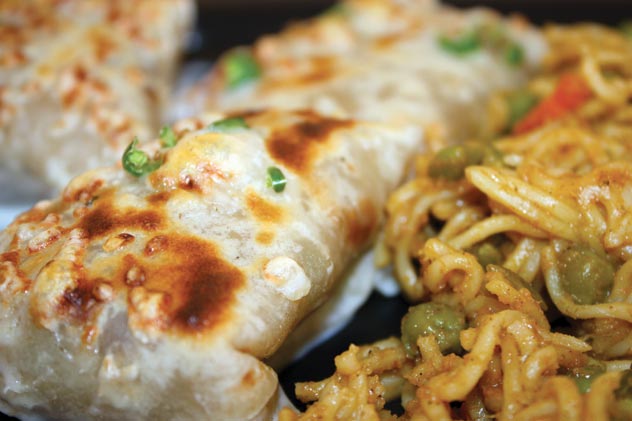 (Above): Cheese Veggie Pan Cake shown with the noodle stuffing that goes inside it. [SILICONEER photo]

---
Ingredients

4 cups flour (maida)

2 cups milk

Black pepper

Vinegar

Soy sauce

Ketchup

Hot sauce

Salt to taste

4 packets Maggie Masala

2 cups mixed vegetables consisting of green beans, carrots, onions, bell peppers (finely chopped), peas

Warm water

1 cup cooking oil

1 cup grated cheese (Amul)

4-5 green chillies, finely chopped

Method:

Crepes. Make dough for the crepes as follows: Take 2 cups of flour, add salt and warm water and mix well to make a dough. Cut an inch thick piece of the dough and using a roller, make a flat crepe. Heat oil in a pan and grill flattened dough to make thin lightly toasted crepes.

Noodles. In another pan boil Maggi noodles for two minutes and sieve the noodles. Wash it in cold water. Gather all vegetables (chopped). Heat oil in a pan and add ½ tsp black pepper, vinegar, soy sauce, ketchup, hot sauce, Maggi masala mix and salt to taste. Add the vegetables and stir fry for about two minutes. Add the noodles and mix well.

White sauce. Take 2 cups of flour and 1 tsp oil in a pan. Mix well and heat for about 2 minutes or till it shows a light cream shade. Add two cups of milk while stirring it. Add ½ tsp black pepper and salt to taste and stir well. Cook and stir till it becomes thick smooth textured sauce.

Pan cakes. Place noodles on the lightly toasted crepe flats then fold the crepe from the four ends to close it into a stuffed rectangle. Then pour the white sauce and sprinkle green chili and grated cheese. Bake in oven preheated to 450 degrees till it shows a light brown shade.

Serve hot.