CULTURE
Mesmerizing Qawwali: Amjad Sabri

A high-octane entertainer, Amjad Sabri Qawwal is full of energy with blessed with a gifted voice. Sabri recently performed in Los Angeles, San Francisco Bay Area and Sacramento. Our correspondent Ras H. Siddiqui caught up with him in Sacramento and filed this report.
---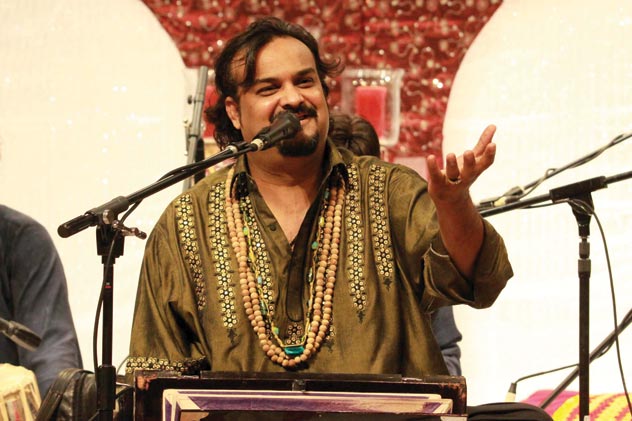 (Above): Amjad Farid Sabri [SURENDRA PRAKASH photo]

---
Amjad Farid Sabri comes from a famous family of qawwals or practitioners of the vocal art of qawwali that has enchanted and spiritually inspired people from southern Asia for centuries. He was recently in California, bringing his message of peace through music to the India Community Center in Milpitas May 13, the Heritage Forum in Anaheim in the Los Angeles June 12 and to Sacramento at the Luther Burbank High School June 18 where this scribe was able to finally catch up with him.

An amalgam of Indian-Pakistani and Middle Eastern musical traditions, the term qawwali comes from the Arabic word qaul or religious utterance. Acquired and effectively utilized originally by Amir Khusrow of the Chishti order of the Sufi traditions in Islam and borrowing from a range of geographical musical and cultural sources including Turkey, Afghanistan and Persia, the current center of qawwali's inspirational schools are located at two shrines in northern India, namely at the Dargah of Nizamuddin Auliya in Delhi and at Ajmer Sharif in the state of Rajasthan where Khwaja Moinuddin Chishti is buried. Today, some would add Faisalabad, Lahore and Karachi in Pakistan to this list, of cities which have produced famous qawwali singers such as the late Nusrat Fateh Ali Khan, Aziz Mian and Ghulam Farid Sabri (both were born in India and are buried in Pakistan). Currently the greats of qawwali include Rahat Fateh Ali Khan, Chand Nizami and party, Fareed Ayaz, Tabrez and Imran Aziz Mian and Amjad Sabri (just to name a few).

Qawwali musical tools include the use of the traditional harmonium, tabla, dhol (drum) and last but not least the rhythmic clapping of the hands of the supporting members of the group. The content of the songs, sung in the Urdu, Hindi, Punjabi, Seraiki and on rare occasions Bengali and Pashto languages, can be broken down into the following categories: 1) The hamd sung in the praise of God. 2) The naat sung in the praise of the Prophet and 3) The manqabat sung in praise of Imam Ali or the Sufi saints. In addition the poetic ghazal, the marsiya, rang, and lately the Punjabi/Sindhi/Seraiki soul-searching kafi have been added to the qawwali repertoire with a great deal of success.

---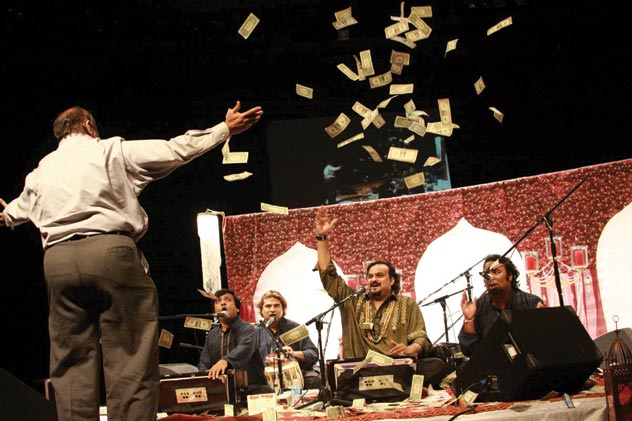 (Above): An exuberant fan showers a confetti of dollar bills during Amjad Farid Sabri's qawwali performance as the artist acknowledges the gesture with a wave. [SURENDRA PRAKASH photo]

---
Now back to the event itself. This scribe arrived fashionably late and with low expectations since Sacramento has not been known as a successful entertainment venue lately, especially for qawwali. But one had to be pleasantly surprised with the almost full hall. A restaurant was busy selling food and the makeup of the audience included a sizable representation from the local Indian community, especially the Sikhs.

Amjad Sabri is what one might call a "high octane" entertainer. Full of energy and a gifted voice his rendition of "Khwaja Ki Deewani" moved one to Ajmer and the addition of a multi-religious (Christian-Hindu-Muslim-Sikh) message within the song appealed to the diverse audience. Like his deceased father Ghulam Farid Sabri, Amjad takes his time and his voice-stretching talent developed by years of training really captivates the audience.

Joking that just about everyone in Sacramento has a connection to Faisalabad, the next song was a Punjabi number called "Mahi." And not following the usual order of songs during which the next number is usually presented last, the ode to the Qalandar was sung midway through the segment (for good reason as we learnt later), during which members of the audience got up to dance the bhangra or any other moves to a superb "Ho Laal Meri Pat…Mast Qalandar."

Getting back to the spiritual side "Koi had hai un ke urooj ki, Balaghal ula be Kamalehi.." really moved this scribe and many other now silent listeners. South Asian Islamic practice from the Barelvi School often involves frequent references to the love of God and his Prophet as well as all human beings irrespective of their beliefs with Sufi Saints helping to bridge existing divides. This song proved to be quite a fine example of this fact with the beautiful lyrics by Hakim Mirza Madani sung by Amjad Sabri.

---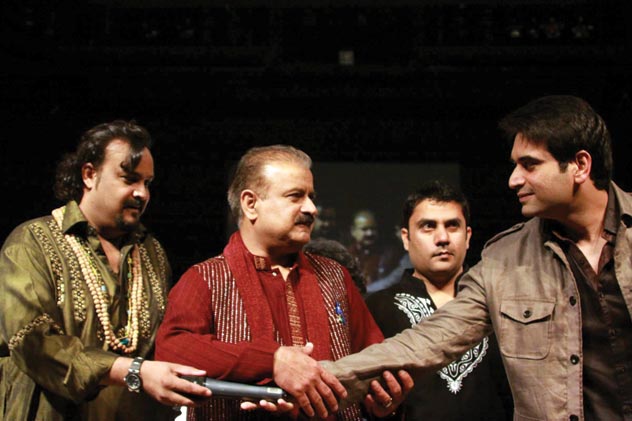 (Above): Amjad Sabri (l) with (l-r) Asif Mansuri, Nasir Rao and Humayun Saeed. [SURENDRA PRAKASH photo]

---
"Naina Milai Ke" changed the mood back from the spiritually contemplative to the rudimentary melodic as a medley of sorts was created to lighten things up. But the next number "Tajdar-e-Haram, Ho Nigah-e-Karam" redirected us to spirituality. Possibly amongst the best known qawwalis sung by the Sabris, with lyrics such as "Koi Apna Nahin Ghum Key Maaray Hein Hum, Aap Ke Dar Pey Faryaad Laayen Hein Hum, Ho Nigah E Karam Warna Chowkhat Pey Hum, Aap Ka Naam Le Le Ke Mar Jain Gey, Ho Nigah E Karam...," a really moving experience for those that can understand its Urdu words.

Next all were requested to stand because a "Rang," a song usually performed at an urs or death anniversary of a Sufi saint was performed, this one a poem (by Amir Khusrow?) dedicated to the memory of Nizamuddin Auliya.

The final performance was a "dua" (Prayer) which captivated all with many teary eyed faces in the audience attesting to its impact. Amjad Sabri and his vocal partner took their evening performance to the next level of communication with this lament: "Karam Maangta Hoon, Ata Mangta Hoon, Illahi Mein Tujh Se Dua Mangta Hoon.." Without the help of music, this rendition had the full power of Amjad Sahib's vocals and the emotions of titanic proportions behind it. This scribe believes that Amjad Sabri has separated himself from his competition with this finale.

In closing congratulations are in order to all of the organizers and sponsors of this grand qawwali concert in Sacramento. Too bad for the people who missed it, but this performance was certainly a good one which brought our diverse desi people together.