U.S. POLITICS
Political Sunrise?
Indian Americans in U.S. Politics

A record number of Indian Americans are in high-profile U.S. political races with South Carolina's Nikki Haley poised to become the second Indian American governor of a U.S. state. Have Indian Americans finally arrived? A Siliconeer analysis.
---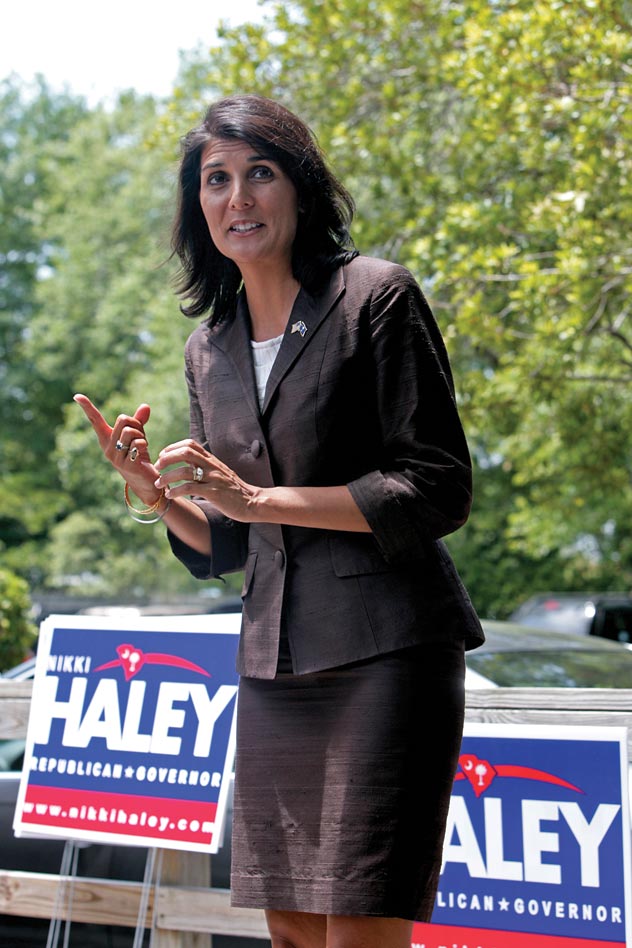 Nikki Haley is poised to become the first female governor of South Carolina.
---
Have Indian Americans finally arrived in U.S. politics? The Associated Press reports that at least eight children of Indian immigrants are running for Congress or statewide office, the most ever.

"The star of this trend is Nikki Haley, born Nimrata Nikki Randhawa, who is favored to win the election for governor of South Carolina," reports AP's Jesse Washington. "Indian heritage is where Haley's similarity with the other candidates seems to end. She is the only Republican, the only one who has been widely mistaken for a white woman, the only one who has been accused of abandoning her heritage for converting from the Sikh faith to Christianity.

"Yet when Haley's motives are questioned and some suggest Indians must become less 'foreign' to get elected, many of these new candidates are quick to ask: Who are we to judge the mashup of American ambition with an ancient culture?"

Who are we indeed.

The fact of the matter is the most spectacular Indian American success has come in some of the most insular parts of the United States, lending their success a delicious irony. We shall return to this point presently.

---
Rep. Joe Sestak, D-Pa., and Dr. Manan Trivedi join OFA volunteers in Phoenixville to launch Vote 2010. June 5. Trivedi is the Democratic candidate for U.S. House from Pennsylvania.
---
To be sure, expatriate Indian success in politics is not unheard of. In regions as far apart as the Caribbean and Fiji, Indians have excelled in politics. From Fiji's fiery deposed Prime Minister Mahendra Chaudhry to Guyana's President Cheddi Jagan of yesteryear, Indians have made a mark in politics all over the world. Success, however, has been more elusive in predominantly Caucasian states. Just up north, Ujjal Dossanjh had a short stint as premier of the province of British Columbia, and Keith Vaz is a fairly prominent MP in Britain.

In the U.S., Rep. Dalip Singh Saund, R-Calif., was the sole Indian American elected in federal office until Louisiana Gov. Bobby Jindal's brief stint in the U.S. House of Representatives. Federal office still eludes Indian-Americans, but will this year change that?

But first, let's return for a moment, to the delicious irony of Indian Americans reaching for the summit in state office in the Deep South. Bobby Jindal, of course, is already governor of Louisiana, and Nikki Haley is considered by political analysts an almost sure bet to become the first ever female governor of South Carolina.

Political analysts are reluctant to make the impolitic but incontrovertible observation that neither Jindal nor Haley could have been where they are if they had not jettisoned their religious tradition of their parents. Both are devout Christians, and In the Deep South, religion is often a profoundly political issue, especially in Louisiana and South Carolina.

---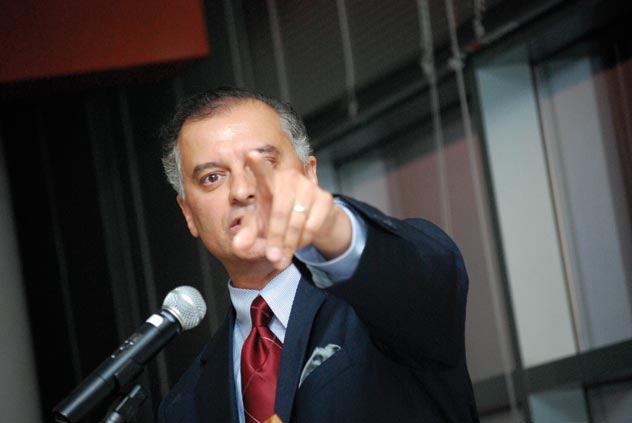 Majority Leader Kumar Barve, Maryland House of Delegates, is a big player in state politics.
---
Vidya Pradhan, editor of India Currents magazine, told the Associated Press that Haley and Jindal "were really ambitious about their politics, and they could not do it being Hindu or their old religion," Pradhan said. "I do think it was a political move. They felt that not being a Christian would hurt them."

It's admittedly a bit unfair to second-guess the motivation of Jindal and Haley's change of faith—suffice it to say that the fact that it happened has made their political ascendancy possible.

However, traditionally the Republican Party has not been the natural home of non-white immigrants, and though Jindal and Haley are Republicans, that remains the case for the Indian American community as well.

In fact, Haley is the exception; all seven other Indian Americans running for federal office are Democrats.

Manan Trivedi, a doctor and Iraq war veteran, won a Democratic primary for Congress in eastern Pennsylvania.

Raj Goyle is battling for the Democratic congressional nomination in his hometown of Wichita, Kansas.

Ami Bera in California, Ravi Sangisetty in Louisiana and Reshma Saujani in New York face upcoming primaries, and Surya Yalamanchili won a primary in Ohio. All are Democrats.

Also, it is not entirely coincidental that Democratic Indian American candidates appear to have a freer rein in terms of faith.

---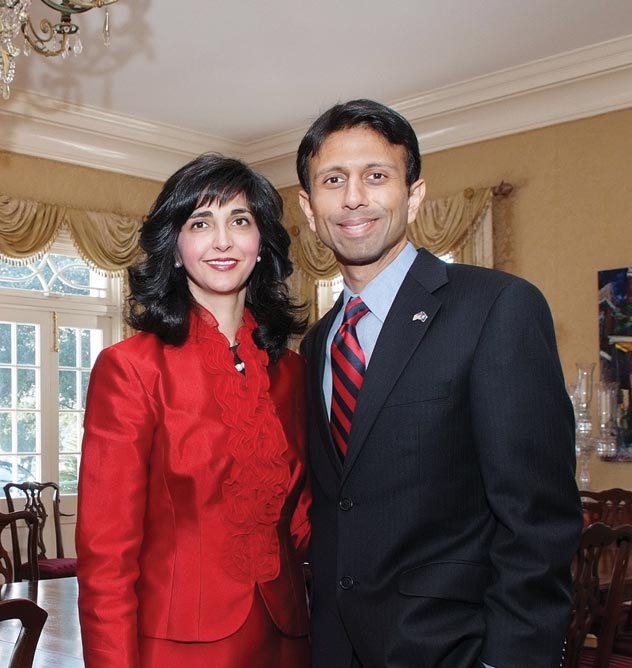 Louisiana Gov. Bobby Jindal with wife.
---
According to AP: "Goyle worships at an Indian temple. His first name is Rajeev, but he has gone by Raj since childhood. In 2006, he became the first Indian-American elected to the Kansas Legislature and the first Democrat to hold his statehouse district.

He said he doesn't worry about appearing more American or more Indian. 'I am who I am, I'm proud of my background and what I've accomplished and my family. Kansas voters absolutely will choose the best candidate based on the merits.'"

America is a diverse country; the huge distance between South Carolina and California is not just geographical, it's also a quantum leap in temperament and outlook.

Which is why Kamala Harris celebrates her diversity with a gusto that is easier in California than in the South.

According to the AP: "The child of an Indian mother and black father, (Harris) won the Democratic nomination for state attorney general and is favored to win the election this fall. Harris was raised in a black neighborhood, attended black churches and graduated from historically black Howard University. She also worshipped in her mother's Hindu temple and has made many visits to her family in India."

---
State Rep. Raj Goyle with Cregg Hansen, co-founder of the Patriot Guard. Memorial Day, May 31. Goyle, a Democrat, is running for Congress.
---
Some Indian American candidates are uncomfortable with too much being made of their ethnic origin.

It is a healthy and encouraging sign. Maybe the whole approach of Indian Americans bears reconsideration. While some degree of ethnic pride is understandable, it mustn't cloud judgement.

Perhaps the rise of Indian Americans in U.S. politics is the simple result of growing assimilation, and all of these are American candidates, first and foremost, and the fact that they are of Indian descent is incidental.

Perhaps a better way of looking at the phenomenon is to consider their growing visibility at once a testament to their own political skills as well as a tribute to the openness of the U.S. political system that is adjusting for the browning of the United States as its demographics become more diverse. Republicans, notwithstanding Bobby Jindal and Nikki Randhawa, should take note.