DIPLOMACY
Strategic Dialogue: Indo-U.S. Ties

While the United States has given special importance to India with a high-profile bilateral dialogue, many Indian analysts have express skepticism, saying there is very little substance beneath the hype. A Siliconeer report.
---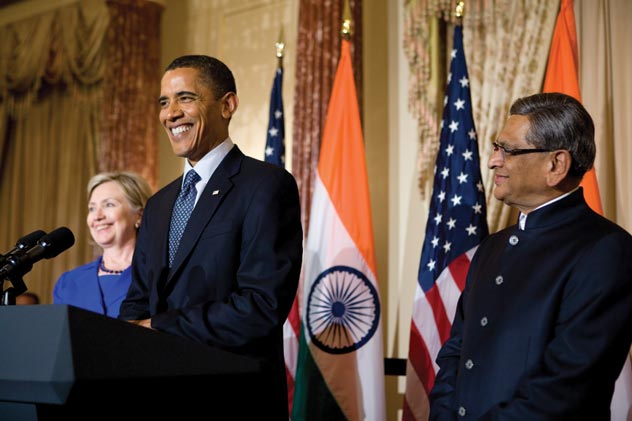 U.S. President Barack Obama delivers remarks with U.S. Secretary of State Hillary Rodham Clinton, and Indian Minister of External Affairs S.M. Krishna (r), at the U.S.-India Strategic Dialogue reception at the the U.S. Department of State in Washington, D.C., June 3. [Photo: THE WHITE HOUSE]
---
India and the U.S. ended their first cabinet-level Strategic Dialogue and vowed to consult each other closely on issues like Afghanistan and terrorism, remaining "sensitive" to each other's interests as U.S. President Barack Obama announced that he will visit India in November.

"Minister Krishna and Secretary Clinton reiterated their shared goal of advancing security and stability across Asia, in particular, through the emergence of an open, balanced and inclusive architecture of cooperation in the region," said a joint statement issued at the end of the Strategic Dialogue.

Obama, who ignored protocol to attend a reception for Indian External Affairs Minister S.M. Krishna by Secretary of State Hillary Clinton at the Foggy Bottom headquarters of the State Department, said U.S. relations with India were at the highest of priorities for his administration and for "me personally" as president.

"So I look forward to advancing our partnership, to experiencing all that India and its people and its incredible ancient culture have to offer," Obama said.

---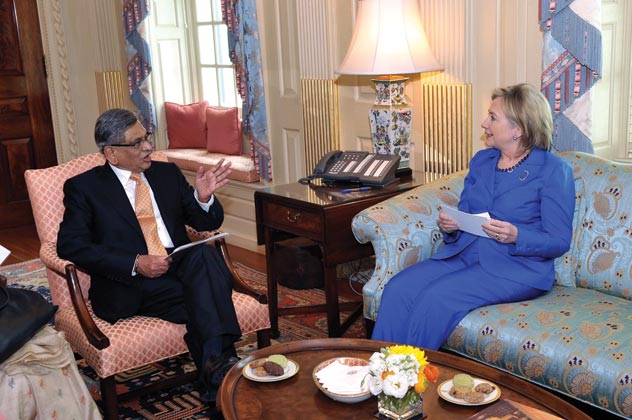 U.S. Secretary of State Hillary Rodham Clinton hosts a bilateral meeting with Indian Minister of External Affairs S.M. Krishna at the U.S. Department of State in Washington, D.C., June 3. [U.S. DEPARTMENT OF STATE photo]
---
At the start of the dialogue, Clinton called India a "rising global power" and that her country was "definitely committed" to considering it for a permanent membership in an expanded UN Security Council and pitched for its greater role in meeting challenges in the region like securing Afghanistan.

The joint statement pledged that as strategic partners, India and U.S. would "continue to consult each other closely on regional and global developments and remain sensitive to each other's interests."

The Associated Press reported that the Obama administration worked hard "to reassure India because the nuclear-armed country is an important player in many of the global issues the United States wants solved. India is seen as crucial to the U.S.-led fight against extremists in Pakistan and Afghanistan, as a counterweight to powerful China and as a big part of settling world trade and climate change deals."

The United States, Obama said, values India not merely for its crucial geographic position in South Asia but because of the deep social, political and strategic values the countries share. "India is indispensable to the future that we seek," he said.

U.S.-India ties were transformed after decades of mistrust when the administration of Obama's predecessor, George W. Bush, pushed through a landmark 2008 accord to establish civilian nuclear trade with formerly shunned India. Since then, however, India has watched with wariness as Washington forged deep bonds with Indian neighbors China and Pakistan.

---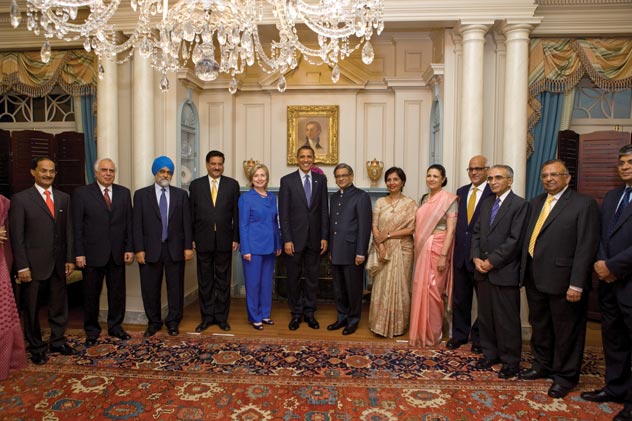 U.S. President Barack Obama, U.S. Secretary of State Hillary Rodham Clinton, and the Indian delegation pose for a photo at the U.S.-India Strategic Dialogue reception at the U.S. Department of State in Washington, D.C., June 3. [Photo: THE WHITE HOUSE]
---
The genesis of the strategic dialogue can be traced all the way back to 2001, when the U.S.-based Aspen Strategy Group conceived of a major Track II effort to take what was then a fledgling strategic relationship between the world's oldest and largest democracies to the next level. With an inaugural trip to India in January 2002, the "U.S.-India Strategic Dialogue" was born.

In India, there has been some frustration about the recent strategic dialogue, with some analysts going so far as to dismiss the exercise as all hype with little substance.

Such analysts are barking up the wrong tree, according to Columbia economist Arvind Panagariya.

"Outside of the highly complex security area, there is very little beyond the atmospherics that the governments can do to promote partnerships ," Panagariya wrote recently in The Economic Times.

"While the governments can make some contribution in areas of mutual interest such as research in agriculture and clean energy, cooperation in science and technology and higher education and possibly dialogue on trade and climate change issues, the bulk of the long-term relationship will be built on business-to-business and individual-to-individual contacts outside of the government sector, as has been the case to-date.

"The outsourcing relationship between the two countries did not have its origins in any U.S. government decision to promote it. Nor did the American investors in India or Indian investors in America end up in their respective destinations because their governments placed them there.

The ultimate key to achieving a true partnership remains sustained rapid growth that turns India into a $5 trillion economy in no more than 15 years."