TRAVEL:
Tryst with A Bandido: A Guaymas Vacation


Guaymas, Mexico, has it all — lovely seaside, mountains, and a lot of character. But what really made the vacation memorable was an intriguing character who embodied the classic Mexican caballero archetype, writes Al Auger.

---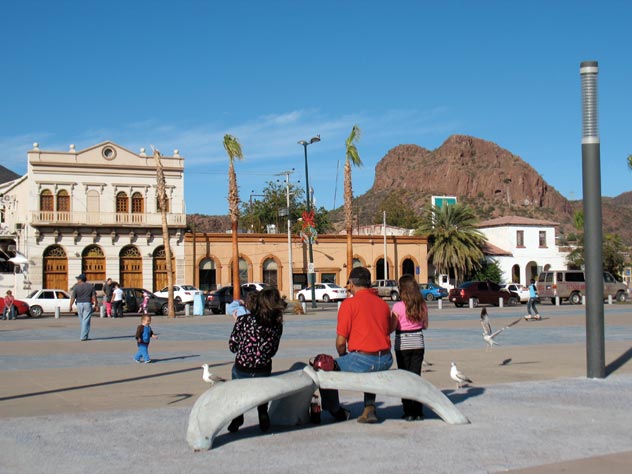 (Above): Downtown Guaymas still retains a lot of old-world charm despite continuous new development.

---
The night was pitch dark, the only light our fire on the beach, the only sounds the surf schlepping on the sand and the crackle of the flames. We sat in its glow, savoring the aftertaste of a dinner of fresh caught fish broiled over its flames. Then a new sound interrupted this silence — the clip-clop of a horse on the hard packed sand. Into the small circle of firelight rode a real and living caballero: cowboy hat, droopy black moustache, leather chaps, spurs and high-heeled boots, tall and gaunt on the handsome roan horse, on his hip a long-barreled, mean-looking pistol and holster. In the glow of the fire, his leather-like skin radiated a copper hue, enhanced by his opaque, almost black eyes. "Hola, mi amigos, como esta?" "Good lord," we thought together, "bandido!" And so it was we met and befriended Fernando, the local Narc.

We were camped out on the beach at San Carlos, just north of the city of Guaymas. It was our final camp on a two-month beachcombing sojourn down the spine of Baja California and up the West Coast of the Mexican mainland. Our adventures were many, but nothing seemingly so personal as our relationship with Fernando. He embodied all the good and bad elements so ingrained in the Mexican persona: machismo, pride, hubris, a nature that was both gentle and hard — and funny.

Guaymas was now a burgeoning sophisticated city, grown quickly from a fishing hamlet. Even so, it still retained its charm from the past. The people friendly, the restaurants eclectic and, by and large, very good. Naturally, seafood monopolized the menus and the pungent aroma of the street vendors.

---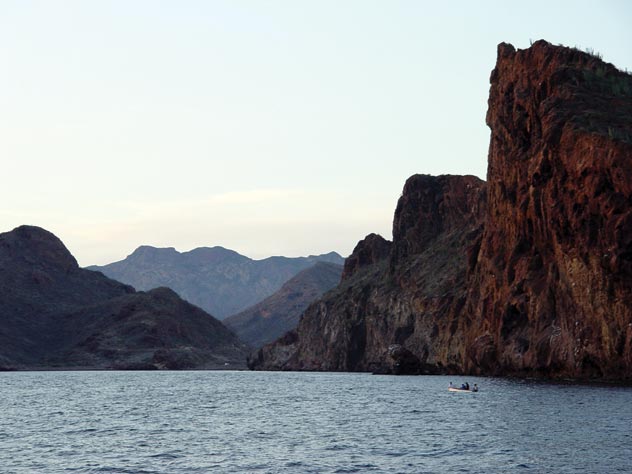 (Above): San Carlos Bay in Guaymas offers some breathtaking vistas.

---
San Carlos Bay, during our first visit some five years ago, had as its only mark of fame its being chosen as the filming location for the movie Catch 22. In fact, the set stood like a ghost town, unpopulated and eerie. The landing strip and false front buildings with their World War II camouflage exteriors were still there on both visits. On our second visit, we found the bayfront property across from our campsite a series of frenzied developments of condominiums standing large on the edge of the bay. Large vacation and retirement homes for the Norte Americanos were an ever-increasing presence. Also one of the reasons for people such as Fernando to make his presence on the bay.

Fernando swung off the large horse with a loud groan of leather and squatted down next to the fire. To say Fernando was a singular person is an understatement. For the next half-hour he regaled us with stories of sweeping the beaches for drug deals among the hundreds of Arizona college students that migrated to Guaymas during the school year, the beaches and bay being a perfect party time scene.

---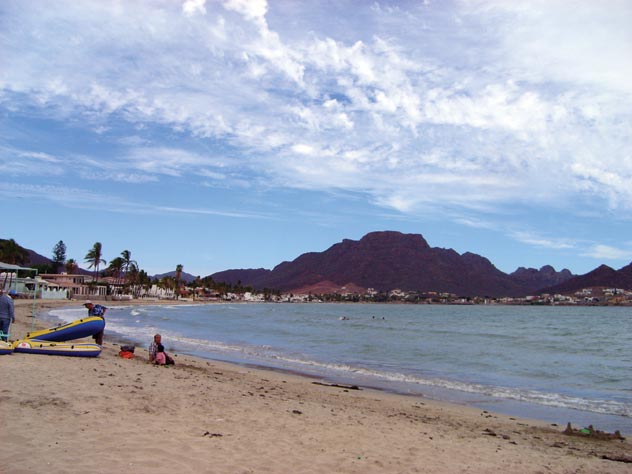 (Above): Beaches like this one in Miramar, Guaymas with a serene seaside ambiance are a magnet for students from the U.S.

---
Fernando was neither a shrinking violet nor self-effacing. His stories of narcotic police adventures were rife with highlights of the number of nubile college co-eds who seemed to constantly fall in love with him. It was easy to believe these heroic stories of nightly romances with the moonlit the beach, its reflection off the murmuring bay, our Latino hero with his seductive black eyes, sharply etched cheekbones and aquiline nose. But, we learned as time passed, Fernando's stories were to be taken with a large dose of salt — and tequila. Salt or no, he was a definite highlight of our sojourn.

All of a sudden, Fernando stood up, swung into the saddle and rode off, sand sprayed over us from the horse's hoofs. Not a goodbye, a by-your-leave, none of the almost inborn concern with the social graces the Mexican people are so well known for. Strange, we thought. Strange, too, thought a beach neighbor, a German engineer who had been camping at San Carlos for some time and had formed a long-time friendship with Fernando.

"But, did you offer him one of your beers, because that is why he really stopped by," he said. No, we had to admit, as we had just run out before he rode up. "Well, there you are," he added.

---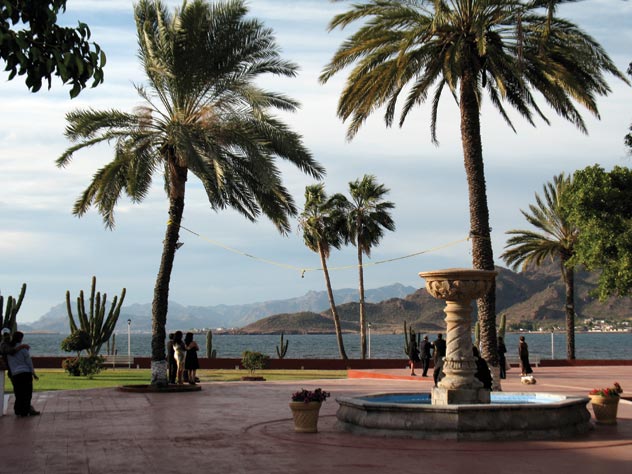 (Above): A seaside hotel, the Hotel Playa de Cortes in Guaymas, is reminiscent of the older, historic section of the Rosarito Beach Hotel in Baja California. Nestled at the end of a Guaymas road, the place is full of hand-carved wooden furniture, Spanish colonial architecture and old black-and-white photos. The temptation to sip a margarita in a lounge chair can be irresistible.

---
Amusement was a simple thing to find. For a touch of the civilization we had eschewed, all it took was a quick drive to Guaymas to cruise the marketplace or enjoy a sit-down lunch, etc. Other times we would visit the abandoned movie site that was once the focal point of the movie Catch 22. A runway had been laid down and on all sides were those eerie false front buildings of a movie set. The facade of camouflage green, ochre and yellow canvas, behind the door nothing but support poles. So real on the screen and totally unreal in life — as our life at that time seemed.

Needless to say, the next time Fernando dropped by — a couple of nights later — we were well stocked with Dos Equis. As Fernando's visits became an almost nightly ritual our inventory of Dos Equis was always ready and we found ourselves looking forward to them as the sun began its wane each day. The conversations flowed back and forth between Fernando's life as a part-time Narc and ranch owner in the nearby foothills and our life in the United States of America. One evening we were in a rather dramatic conversation about the wild boars that held us hostage the night before.

---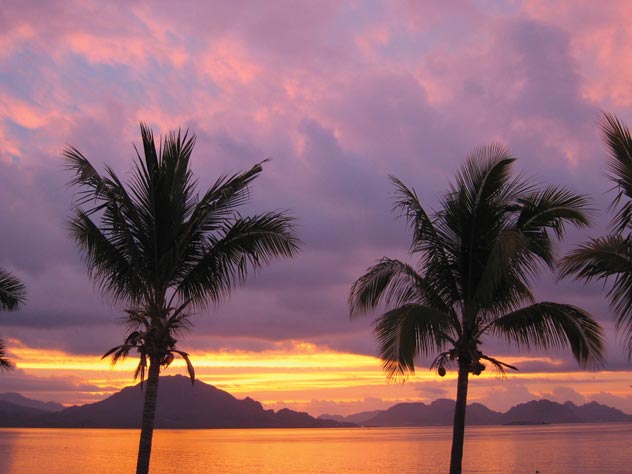 (Above): Palm trees sway in the foreground in a multi-colored sunset at San Carlos.

---
It seemed we became rather drowsy after cooking up some fresh broiled fish and stayed up later than usual toasting our rather unique life with Tequila. Instead of burying the fish bones, we decided to do it the next morning and fell into our sleeping bags and a deep sleep. About midnight I awoke with the sound of dogs snuffling around, obviously rooting through all the leftovers.

Suddenly, their tone changed from a dinner sound to the whine of fear. The next sounds were the snort of what could have only been that of the wild boars I knew lived in the low foothills, though the next morning, when we found all the remains we had so carefully bagged, strewn everywhere, my wife still doubted they may have been boars but the small brown bears that populated the area.

As if to verify my theory, a young couple camped nearby in a Volkswagen camper bus, showed us a large dent in the sliding side door. The man, Don, said they were awakened in the middle of the night by a large bang and a swaying of the bus body. The next morning they found the dent and, when told them of the nightly visit to our camp, Don theorized it had to be a boar that head-butted their van.

Later that day we asked Fernando about the existence of boars, he answered in his usual thespian style, "Ah, si, si. There are the little ones we call apaches and the big ones called Geronimos!" My wife and I looked at each other and nodded: "Si, Geronimos!"

---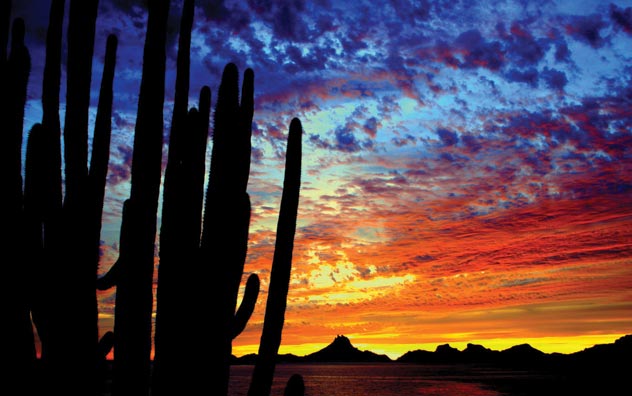 (Above): A brilliant sunset in San Carlos. The photograph says it all.

---
When all of a sudden, Fernando said, "Shush, hide your beers, quickly!" Out of the blackness rode three riders, all dressed in the manner of our friend Fernando — sans pistols. The riders dismounted and joined us at the fire. Fernando introduced us to the three as his cousins from Guaymas. The conversation, short and in high-speed Spanish beyond our talents, ended abruptly when the three stood up and disappeared into the blackness. As we heard then ride off, Fernando picked up his beer from behind the rock where he had cached it, took a sip and muttered, "Bad people. All they wanted was to beg some free beers from you. No pride."

The last memory we had of Fernando was when we had finally accepted the real world once again, and were packing to head for home and say adios to Fernando. Fernando, as usual, suddenly appeared over a hillock without notice. It looked as if Fernando, probably in the company of his "cousins," had had a hard and long night.

We said our good-byes, embraced and offered Fernando a bottle of wine in friendship. To this day, I can still see Fernando, the bright noonday sun giving the scene a metallic glare and his long, whip-like body bending with each of his horse's steps, swigging from the wine bottle and singing a bawdy song with something to do about "mil putas."

---

(Above): A panoramic view of San Carlos harbor in Guaymas, Mexico.