CULTURE
Esho He Boishakh: Bengali New Year

Children presented a vibrant performance at the Bengali New Year celebrations hosted by the expatriate Bangladeshi community in Davis, Calif. Writes Ras H. Siddiqui.
---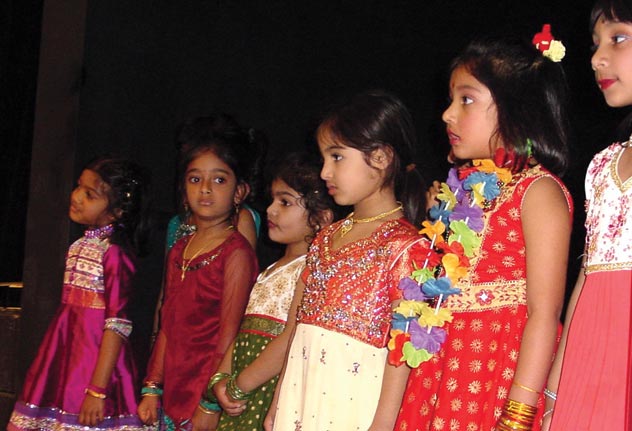 (Above): Children perform on stage at the Bangladeshi community's celebration of the Bengali New Year in Davis, Calif. [RAS SIDDIQUI photo]

---
When we received an email from the local Bangladeshi community to come and celebrate Boishakhi Mela (New Year Festival) with them in Davis, California, the first thing that came to mind was the huge traffic problem faced last year because "Earth Day" or "Picnic Day" in this college town was on the same day as this event. The traffic to Davis from Sacramento was so bad that many including us had to turn back. Thankfully this year the same event was held April 10 and Earth Day was on the following weekend, so this time we made it there. The area Bangladeshi community including a group called the Anandamela Team had put together this event.

The aroma of fine foods and the colors of Bengal dominated the packed hall of a local school as the celebration of Bengali New Year 1417 was going on in full swing with children performing a wonderful dance on stage to familiar music. The program was broken up into various segments such as Rabindranath Tagore's "Esho He Boishakh" (Welcome New Year), Banglar Mukh Ami Dekhiachhi (Kids Show), Kori O Komol (Children's performance), Nithua Pathare (Songs), Pagla Hawa (Dance) and E Shudhu Ganer Din (Today is for Songs). Guided by the adults, the children did a wonderful job and the spirit of the event was well represented in their performance.


---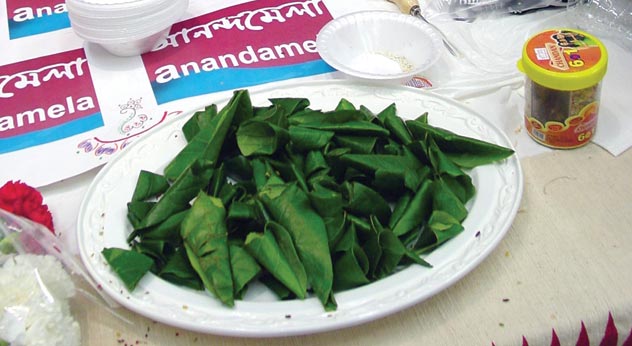 (Above): Which South Asian social gathering would be complete without a 'paan' (betel leaf)? [RAS SIDDIQUI photo]

---
The other attraction is always the food, and this time again the jhal muri (a delicious savory snack of puffed rice with chopped onions and chopped green chillies), authentic Dhaka chomchom (not the common imitations) along with rosogolla, Bangla Paan and Ilish maachh and bhat were as delicious as ever. The only thing missing was the Bogra style doi or date palm yogurt, but nevertheless the cuisine available was excellent.

The Bangladeshi community is emerging in this part of California and events like this one are a welcome sign of that fact. Davis is famous for its University of California campus and the surrounding area has a century of history involving south-Asians (Indians and Pakistanis) who arrived here from Punjab and the frontier area in the very early 1900's. The Bangladeshi community here is smaller but well represented in technology companies like Intel in nearby Folsom.

---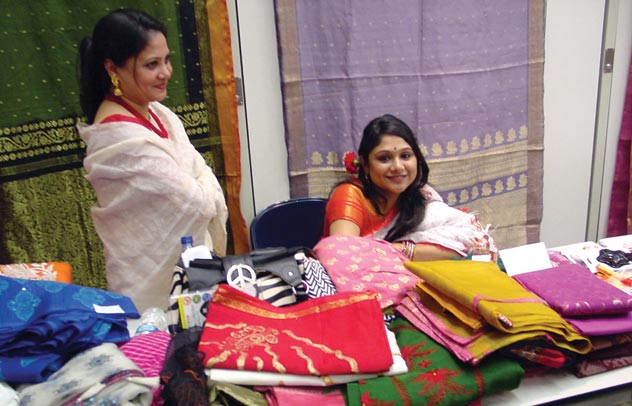 (Above): Sarees are to Bengali women as honey is to bees. A saree stall at the Bengali new year celebration in Davis, Calif. [RAS SIDDIQUI photo]

---
The finale of the program included a raffle prize drawing for a Dhaka Jamdani Sari. Congratulations are in order to the winner of the raffle along with the organizers of this program and the children who performed. The event was conducted exclusively in Bangla and next year with hopefully a bigger venue and more locals attending, some inclusion of English may help those whose Bangla skills are weak or non-existent. Happy Bengali New Year to all readers from Sacramento, California's capital city and from the college town of Davis. Shuvo Nabo Barsho.

---

Ras Hafiz Siddiqui is a South Asian American writer who lives in Sacramento, Calif.
---