SUBCONTINENT:
Indo-Pak Romance: The Sania-Shoaib Wedding


Siliconeer India correspondent Siddharth Srivastava casts an acerbic eye on the huge media tamasha over the marriage of Indian tennis star Sania Mirza and Pakistani cricketer Shoaib Malik.

---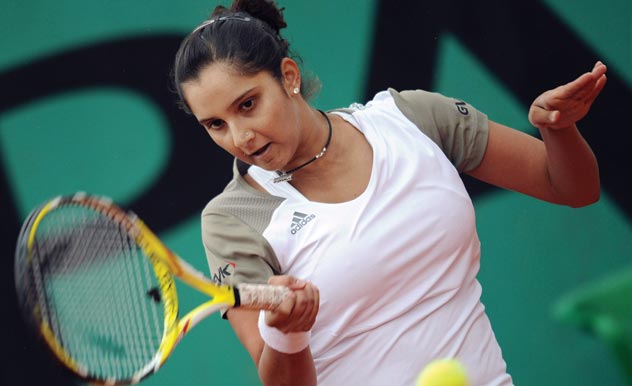 Indian tennis star Sania Mirza has a huge fan following in India, and so her marriage to Pakistani cricketer Shoaib Malik has created a ferocious media frenzy in both countries, stoked by juicy stories of an alleged previous marriage by Shoaib.
---
The saga of Sania Mirza, India's top tennis player, and Shoaib Malik, Pakistan's former cricket captain, has finally been put to rest with the couple married.

In the recent past, the duo has dominated media and mind space in India, and expectedly, in Pakistan as well.

The two subcontinent stars will undoubtedly remain in public consciousness due to their good looks and celebrity status and eyeball-catching ability that translates into stratospheric TV ratings.

Here's one post-mortem, dubbed the Shonia episode, though there surely will be more to follow:

Indo-Pak relations. Observers (read doves, not hawks) have found a quick connection between an India-Pakistan courtship and the diplomatic language that accompanies such occurrences — confidence building measure (CBMs), people-to-people contacts and a passionate undercurrent that actually unites the two populations.

Big-budget Bollywood movies such as Veer-Zaara have delved into such cross-country relationships, emphasizing the victory of the human spirit over an artificially and politically motivated divide between the two countries.

Yet, powerful and deep-rooted institutions such as the Pakistan Army or the ISI, with vicious and vested strategic agendas will require much more than such matters of the heart to change their profiles.

So will relations between the two countries, given such vexed issues as terror, Kashmir, water sharing and building hydro dams along each other's borders.

In the past debonair cricketers such as Imran Khan and Mohsin Khan have been linked to Indian women, yet the two countries have squabbled and fought.

There was much talk about comfort levels between former Prime Ministers Rajiv Gandhi and Benazir Bhutto, belonging to similar backgrounds and legacies.

Connections are today drawn between Congress Party scion Rahul Gandhi and Bilawal Bhutto Zardari.

---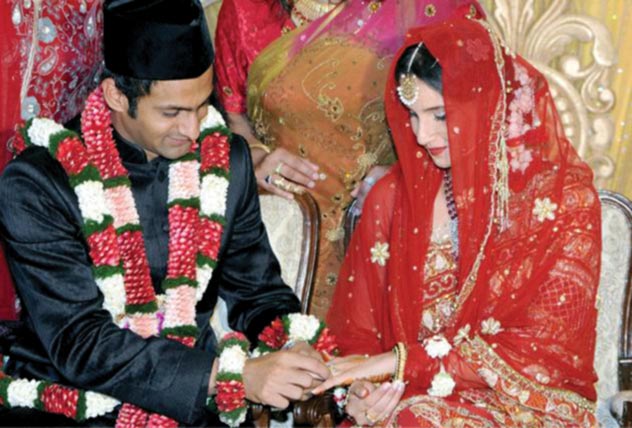 Pakistani cricketer Shoaib Malik and Indian tennis star Sania Mirza at their wedding.
---
Yet it cannot be forgotten that politically the two countries continue to be on diverse planes, with influence over Afghanistan a new strategic playground, alongside America.

The differences cannot be glossed over so quickly.

Important as CBMs are in building a constituency of peace between the two countries, it is unlikely that Shonia gave much thought to such issues when they saw each other.

Traversing the globe due to their sporting commitments, they bumped into each other a few times, got along and kept in touch, courtesy technology, the Internet and cellular phone. Shoaib could very well have been an American star.

The Shonia connection is purely personal, though the consequent talk about building bridges between the two countries would certainly have crossed their minds.

Their matrimony does add a sense of bonhomie and distracts from all the serious Indo-Pak talks that have failed to re-start following the Mumbai terror attacks November 2008.

But that is about all.

Why did she marry him? Many Indian men have not figured out why she chose him and perhaps never will.

Some consider their egos personally bruised as the aura of debonair Pakistani men who attract the best women across the border stands validated.

Many here have counted other eligible bachelors with considerable distinction, even within a sporting sample.

Indian cricketers of course remain the most pampered and highly paid stars in the country, not to speak of Bollywood achievers such as Shahid Kapoor, considered a "close friend" of Sania, whatever that means.

A delectable rich and single cricketer selection for Sania has included Zaheer Khan, Yusuf Pathan, Gautam Gambir, M.S. Dhoni, Suresh Raina, Irfan Pathan, Rohit Sharma, Harbhajan Singh, Robin Uthappa

. . . the list of such successful men is endless, given the proliferation of various forms of cricket (one day internationals, T20 and Test matches), all money spinners.

---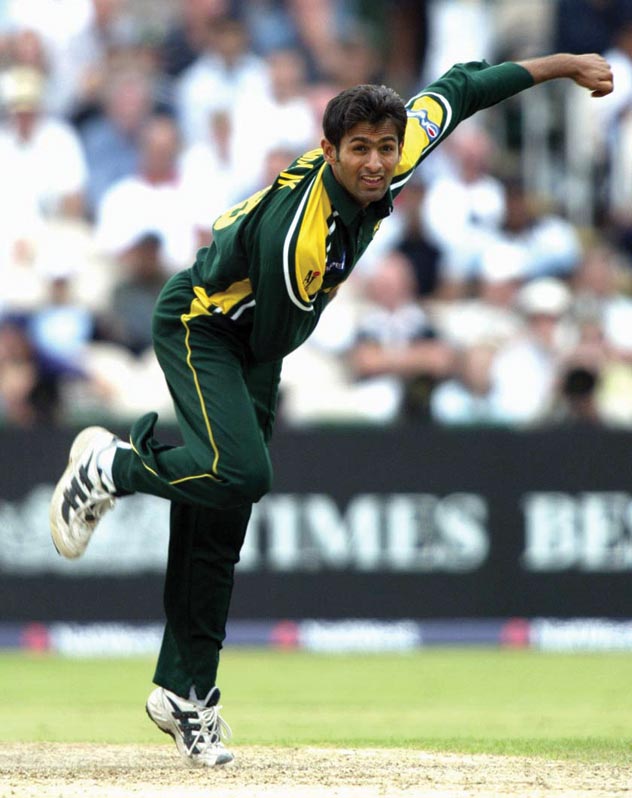 Former Pakistan Test captain Shoaib Malik had to go to the drama of allegations of a cover-up of a marriage, confiscation of his passport, but in the end, he prevailed and married Indian tennis star Sania Mirza.
---
Shoaib remains a moderately successful international cricketer no doubt, but grey areas continue to sprout — match fixing allegations, a supposed previous marriage, though such qualification nowadays seems to only work favorably given the entourage of Indian Bollywood actresses and other beauties settling for men who enter into matrimony with their wife number two or three.

Sania, her very moderate career plagued by injuries, must have her reasons to pitch for Shoaib. Such is life and the inscrutable mind of a woman in love.

Tailoring faith. Sania has had a fair share of attention from Indian clerics and ulemas who have protested her skimpy sporting attire in the past, declaring it un-Islamic.

Politically motivated right-wing Hindu radicals, who revel in anti-Muslim, anti-Pakistan speak, have again raised their ugly heads, especially in Maharashtra.

They have already labeled Sania a "traitor" due to her decision to marry a Pakistani. Indian society, however, is fairly liberal in large pockets and many more have protested such foolish and silly dictates.

The Shonia events, however, did throw some light on the complicated Hindu and Muslim personal laws.

It seems that Shoaib married his first wife (Indian and residing in Hyderabad, the same city as Sania) over phone from Pakistan, but had to sign divorce papers in India due to the intervention of clerics and also pay a hefty alimony.

All does not seem very transparent here.

Across the border, Sania bhabhi (sister-in-law), as she is being referred to there, may not find the going easy, given the ultra-conservative environment as British heiress Jemima Khan, ex-wife of cricketer-politician Imran Khan, found out quite fast.

Sania has grown up in cosmopolitan Hyderabad, a global software hub, attended an expensive private school, surrounded by frills of India's new consumerist growth — malls, discos, pubs, movie multiplexes, flashy cars, gadgets and more.

As the wife of a Pakistani player, Sania will certainly be in focus of those who measure faith by clothing or the lack of it. Pakistani sports women are known to cover themselves from head to toe, even during swimming events.

Sania has said that she would continue to represent India, with the Commonwealth Games this year and Olympics later being the big goals. Shoaib has backed her intentions.

Wisely, Shonia have chosen to live in Dubai for now. As has been said, Shoaib could shift to India and try his hand at the lucrative T20 private cricket league.

Right now only one thing is certain: The couple will be watched and followed closely, given the intense public interest and the voyeuristic tabloid predisposition of that hydra-headed monster, the subcontinental audio-visual media.

Here's to hoping that the newly-wed couple will be able to withstand the media glare and for once, fiction trumps reality and love, indeed, conquers all.