ENVIRONMENT
Stop Running Start Cleaning Up!
Bhopal and Dow


It is both absurd and appalling that a global mobilization effort for clean water was supported by Dow Chemical, one of the world's worst polluters which still refuses to take full responsibility for the world's greatest industrial disaster in Bhopal in 1984, writes Sudarshan Suresh.
---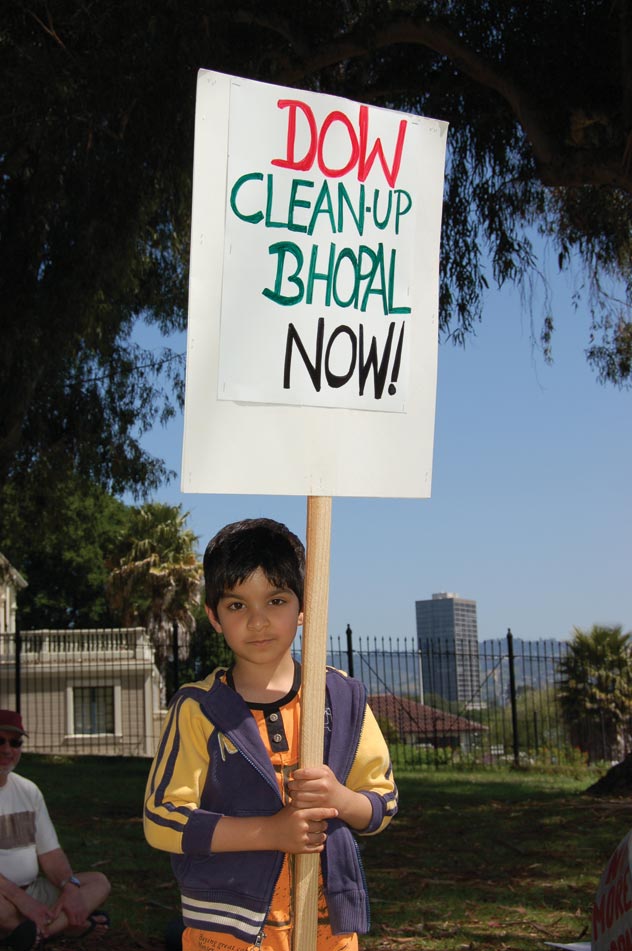 A young protester demonstrating against Dow Chemical's attempt to greenwash its refusal to be accountable for its many acts of pollution gives some hope that the fight for corporate accountability will endure. [ANU MANDAVILLI photo]
---
It is estimated that currently 13 percent of the world's population does not have access to clean water. An important reason for such an acute crisis is the water pollution caused by corrupt industries that flout environmental rules and regulations. Therefore, it is both absurd and appalling that a recent worldwide mobilization effort for clean water, organized on April 18, was supported by Dow Chemical Company, one of the world's worst polluters of water resources.

These events were organized for Dow by Live Earth, a for-profit company co-founded by Al Gore, and whose stated aim is to solve the pressing environmental issues of our time. The looming water crisis threatens future generations, and so it is even more ironic that Live Earth chose Dow, given that some of the worst effects of Dow's products and practices are in fact observed in the health of children.

In 2001, Dow withdrew a pesticide called Dursban from residential and many commercial markets in the U.S. after the Environmental Protection Agency found that Dursban was toxic to infants and children. However, Dow still markets Dursban in the developing world as a pesticide with "an established record of safety regarding humans and pets," as if lives in those countries are not as valuable as American lives.  Furthermore, in 2007, Dow was fined by the Securities and Exchanges Commission for bribing Indian officials in order to be allowed to sell Dursban in India. It must be noted that this is hardly the only time that Dow has been charged with a cover-up, or has resorted to corruption in order to make additional profits. 

---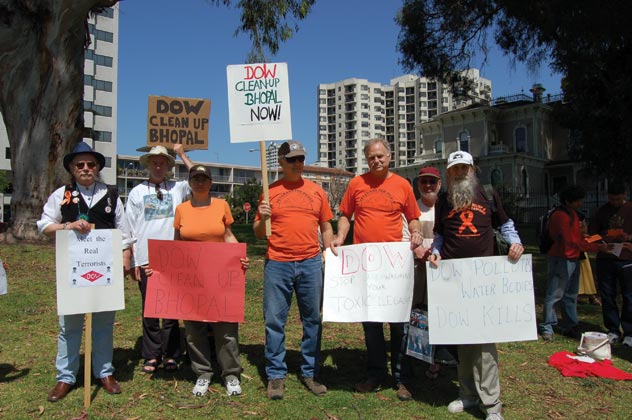 A diverse group of demonstrators gathered in the Lake Merritt area of Oakland, Calif., to protest the group Live Earth's association with Dow Chemical, which they said gave environmental legitimacy to an organization notorious for polluting and evading accountability. [ANU MANDAVILLI photo]
---
In one of the better-known cases of corporate malfeasance, Dow did not reveal the dangers of Agent Orange, one of the herbicides it sold to the U.S. military during the U.S. war against Vietnam.  U.S. Forces sprayed Agent Orange over the jungles in Vietnam to deny forest cover to the North Vietnamese and Viet Cong troops. Dow, which was one of the manufacturers of Agent Orange, was very well aware that Agent Orange was heavily contaminated with dioxin which is one of the most dangerous chemicals ever studied. Many have lost their lives to cancer, birth defects and organ dysfunction as a result of exposure to agent orange. The dioxin from agent orange stays in the soil and water for decades, and continues to contaminate the food chain. Thanks to its single-minded devotion to profits, Dow has thus denied the health, and even the lives of thousands of people in Vietnam. 

While in Vietnam, Dow's dioxin has affected the well-being of at least three generations, in some Central American countries, Dow has been responsible for knowingly causing profound and irreversible harm to the sexual and reproductive health of male and female workers that came into contact with Dow's products. Dow used to sell a pesticide under the name of Fumazone that was used in the banana plantations of Nicaragua, Panama, Ecuador, Guatemala and Costa Rica, with the full knowledge that it retarded growth, reduced testicles and caused major lesions on the kidneys and lungs. However, the impact of exposure to Fumazone was not advertised in the product labels. Today, it is estimated that 67 percent of banana workers in Nicaragua have become sterile, and 33 percent of women working on banana plantations have uterine or breast cancer. In 1997, following legal actions, 20,000 affected workers accepted $2,000 as severance pay for the damage caused to their health. In contrast, Dow agreed to pay a $2 million court-ordered penalty to the state of New York for illegal safety claims in the advertising of its pesticides. This is yet another instance where Dow put a lesser price on lives in developing countries compared to lives in the U.S., and was allowed to escape without serious punishment, thanks to weak regulations in the developing world. 

Even when strong laws and regulations exist, Dow pays very little respect to them. In Bhopal, India, Dow now owns the factory site where the world's worst industrial disaster happened in 1984. It has been 25 years since the accident, and toxic wastes are not only still lying in the factory, but have also entered the groundwater system, affecting nearly 30,000 people. However, Dow refuses to take any responsibility for the cleanup, arguing that since the factory belonged to Union Carbide when the disaster happened, Dow need not accept liability. However, this is not accurate as Dow did in fact accept liability for Union Carbide in the U.S. (in Texas). Further, according to the internationally accepted principle of "polluter pays," Dow is responsible for the cleaning up of this site. 

---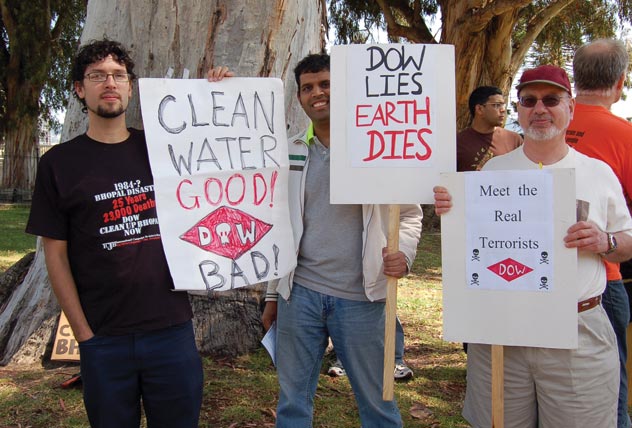 Protesters in Lake Merritt, Oakland, hold placards protesting Dow Chemical's involvement in an event to promote environmental awareness. [ANU MANDAVILLI photo]
---
Instead of doing the right thing by cleaning up their mess in all the different places across the world, Dow has decided to mask its toxic legacy by sponsoring events like the Live Earth Run. By turning a deaf ear to Dow's egregious behavior, and allowing it to hijack the platform for clean water, Live Earth has become a willing partner in Dow's attempts to rebrand itself as a green, sustainable and humane corporation. 

The mad rush for profits at all costs, and then hiding their dirty deeds through so-called "corporate social responsibility" efforts is not unique to Dow. In fact, it is the leitmotif of the manner in which most corporations do business. The involvement of corporations in such good deeds appears to be designed to distract the public from their records of human and environmental violations. It is appropriate here perhaps to quote Amnesty International whose statement of April 16 says "Companies must understand that they cannot escape responsibility for human rights abuses in one area by engaging in positive action elsewhere. Human rights abuses cannot be 'offset' by corporate good works. Given such active engineering of their images by corporations, it becomes important that people keep themselves well-informed, and demand that their governments safeguard their rights, and protect them from corporate predators." 

But, unfortunately, in their desire to attract industrial investment, governments across the world, especially in developing countries, are relaxing the need for rules and regulations. They have become weak enforcers, and rarely punish delinquent corporations. For instance, courts in India had charged Warren Anderson, the CEO of Union Carbide Corporation during the Bhopal GAS TRAGEDY, with culpable homicide, and issued an arrest warrant for him. It is public knowledge that Warren Anderson has been living in the United States, and is a fugitive from justice for the last 25 years. Yet, neither  the Government of India has forcefully asked for his extradition, nor has the United States handed over a criminal who is responsible for killing thousands of people. The United States and other developed countries have done very little to put processes in place to hold American corporations and executives responsible for their wrongdoings in the developing world.  

One of the most important lessons to be learnt from disasters like the Bhopal gas tragedy is that a strong set of global regulations for corporations need to emerge. These regulations need to become international law and should be applicable across borders. It is critical to have enforceable standards that can hold Corporations accountable. 

It is also imperative that civil society is actively involved in making sure that the corporations are held accountable such that environmental resources are preserved, and passed on to future generations. We all need to be more responsible while shopping, investing and choosing to work for corporations. People must engage with their government at various levels, and bring to the fore the issue of corporate accountability. Alliances like the one between the survivors of the Bhopal gas tragedy and the victims of Agent Orange need to be built by people across the world in order to further the fight against corporate misbehavior.