COMMUNITY
Bangla Philanthropy: SpaandanB Open House

The SpaandanB Open House and Boishakhi Mela April 17 in Sunnyvale, Calif., was a community event par excellance, with delectable ethnic Bengali food and a cultural soiree, but the organization's greatest success lies in raising well over $200,000 the previous year, a stellar testament of the confidence of the expatriate Bay Area Bangladeshi community in the organization's commitment and integrity in its mission to support development and aid programs in Bangladesh. A Siliconeer report.
---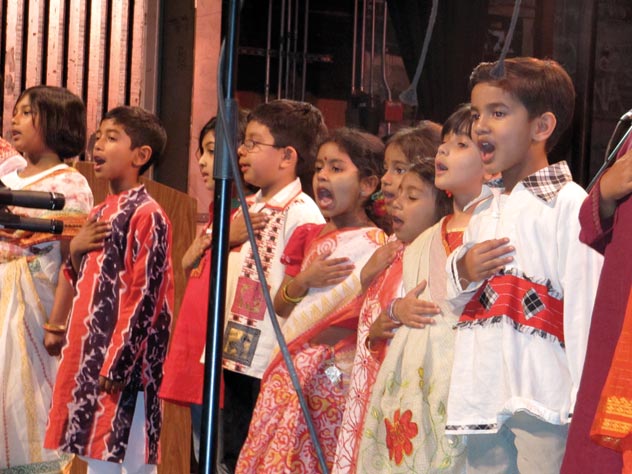 Children sing "Esho He Boishakh," Rabindranath Tagore's ode to the Bengali new year, at the SpandaanB Open House at Sunnyvale, Calif.
---
A slew of kiosks hawking wares ranging from savory Bengali delicacies to ethnic apparel resulted in a boisterous mela atmosphere, with kids competing in a poster exhibit at the SpaandanB Open House and Boishakhi Mela April 17 at Fremont High School in Sunnyvale, Calif.

The Bangladeshi community in the San Francisco Bay Area is not as big as the Indian American community, but over the years the area has seen an influx of a sizeable number of professionals, overwhelmingly engineers.

The usual accoutrements of middle-class suburban life have followed — kids, schools, homes in leafy suburbia and the occasional desi event.

This event was rather more than that.

Sandwiched between the bonhomie of the mela and the cultural soiree later in the evening was a series of presentations (mercifully brief, thank goodness) which were substantive enough to impress the around 400-strong audience.

Last year, SpaandanB raised a whopping $230,000 from the expatriate community. It administers the largest privately-funded scholarships in Bangladesh for meritorious but financially needy students.

If a key theme emerged at the event, it was a focus on children. This should not come as a surprise. South Asians dote on their children, sometimes to the point of obsession.

Children sang the Star-spangled Banner, the Bangladeshi national anthem Amar Sonar Bangla, and Rabindranath Tagore's ode to the Bengali new year, Esho he boishakh. To the credit of the organizers, the engagement of children went further: A poster exhibit highlighted their creativity, and in this age of multimedia savvy, a video competition by kids dwelt on various issues of Bangladesh.

---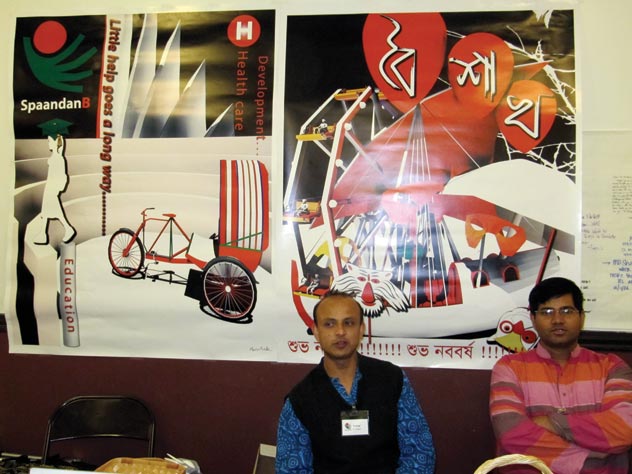 Volunteers at the welcoming desk sit in front of a colorful poster highlighting the Bengali new year at the SpandaanB Open House at Sunnyvale, Calif.
---
One youth made an affecting presentation of her trip to Bangladesh to distribute quilts and toys to a Bangladeshi pediatric ward. Another youth presented her concerns about the environmental threat to the river that drains Dhaka, the Buriganga.

SpandaanB attempts to channel the goodwill and affection of expatriate Bangladeshis into intelligent and substantive programs that have more enduring value than just providing a sop to the consciences of successful expats.

Of course, it raises funds for emergency relief work too, but its longer-term projects are in the area of self-sustenance, education and health.

Its cow-rearing project or the rickshaw program in the northern Bangladesh district of Rangpur provides loans to villagers to build a self-sustaining source of income. Repaid proceeds are pumped back in its entirety into the program.

The Medha rural merit program selects 50 students for scholarship on the basis of merit alone. A free Friday clinic in Comilla provides free basic medical service to the underprivileged. A blood transfusion center in Dhaka promotes voluntary blood donation.

---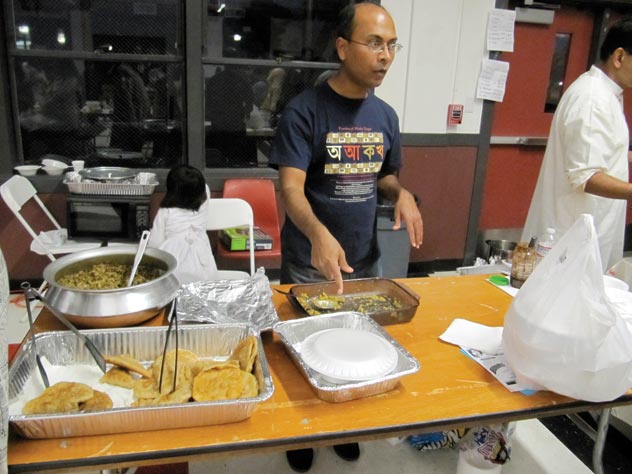 A Bangladeshi engineer turns food vendor for a day at the SpandaanB Open House mela at Sunnyvale, Calif.
---
South Asian expatriate communities present a mixed picture. There are areas in which they excel, like the academic and career success of themselves and their progeny, for instance. Then there are areas where they could do with some improvement, say community organizing.

Community organizations are a dime a dozen, to be sure, but all too often they tend to be plagued by personal feuds and a general listless lack of direction.

It is in the field of philanthropy and social work that the community seems to shine. One thinks of the stunning India Community Center at Milpitas, Calif. Then there is the excellent work done by the India-based group Pratham on basic literacy in India, the Pakistani group DIL's commendable efforts in female literacy, and the extensive social and cultural engagement of the Swaminarayan Sanstha, who never fail to impress with the gargantuan scale, precision and passion of their work.

You may well wonder why these organizations do such great work when other organizations from the same South Asian communities tend to be at best moribund or at worse, dysfunctional because of the clashing of oversize egos.

It could well be because there's a natural screening process that rids these organizations of the detritus of self-seekers who tend to clog the functioning of an organization — after all, there is no name and fame here, no moolah, no rubbing shoulders with politicians or pooh-bahs, desi or otherwise.

Consequently organizations like these tend to deter the self-promoters and attract people of a different sort — who are passionate about doing something for the old country, and who are least bothered about hierarchical niceties or the pecking order.

---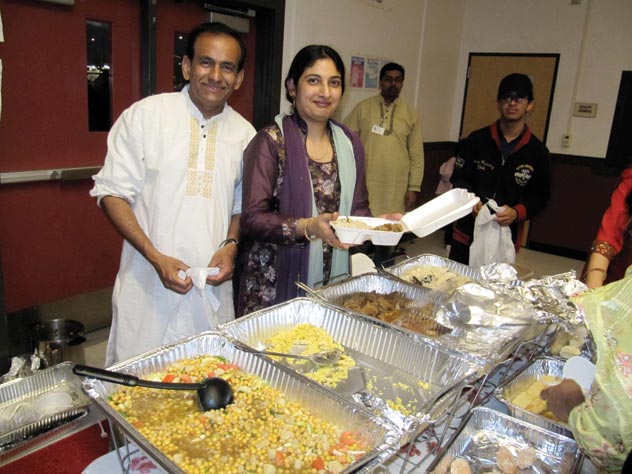 A smiling Bangladeshi couple at their food kiosk at the SpandaanB Open House mela at Sunnyvale, Calif.
---
SpaandanB epitomizes this principle well. Its leadership works seamlessly like a well-oiled machine.

"SpaandanB is dedicated to better the lives of the less advantaged people in Bangladesh," the organization announces in its Web site. "SpaandanB initiates and implements projects in the area of establishment of education, remedy for health needs, and promotion of sustained subsistence. The organization sprouted from the vision of a handful of expatriate Bangladeshi in year 1998 and has since grown manifold in size and scope. The projects and operations of SpaandanB are funded by conscionable and generous donors from all over the world. Expatriate Bangladeshis living in the U.S. constitute a major portion of the donors.

"SpaandanB helps the under-privileged people regardless of their religion, color, age, disability or sex. Its donors do not receive any goods or services in return of their contributions.

"Bangladesh is in passage through some trying times. Economic hardships loom large and the common man is under siege. For so many, for so long, life had stalled, future became null, and a generation looked bleak. It is their untold story that we narrate to all our respected and generous donors- a story not always of profound misery, but sometimes of utmost hope, worthy accomplishments, and sheer will and grit to win. We believed it is our moral responsibility, and not merely a tender call of charity, to act on their behalf and in their cause and act with passion, conviction, and strength. But we can't act alone without creating an active partnership among SpaandanB, the donors, and the beneficiaries. Together, with creativity of thoughts and tenacity in action, we can hold the line and beat back the iron clasp of poverty and haplessness."

Interested readers can find more information at www.spaandanb.org