SUBCONTINENT
Maoist Bloodbath in India


In the deadliest Leftist attack on security forces in India, Maoist rebels have killed 75 personnel of the CRPF, a central paramilitary force involved in flushing out operations in the region, writes Siddharth Siddharth Srivastava.
---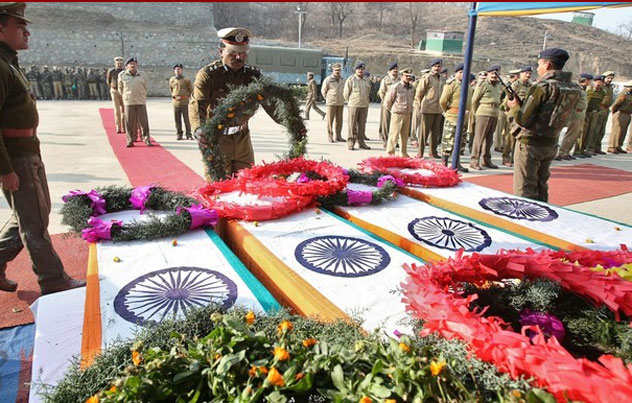 (Above): Bodies of Indian jawans who were killed fighting the Naxals, wrapped in the Indian flags.
---
In the deadliest Leftist attack on security forces in India, Maoist rebels killed 75 personnel of the CRPF, a central paramilitary force involved in flushing out operations in the region.

The brutal attack took place in the Maoist-infested state Chhasttisgarh within the thick forests of Dantewada last month, near the remote village of Chintalnar-Tarmetla.

Reports suggest that the attack was carried out by several hundreds of armed rebels, including women (estimates range from 200-1000), as has been the pattern in the past, when large scale damage has been the purpose.

Prime Minister Manmohan Singh has called it a ``horrific'' incident.

A rattled Home Minister P Chidambaram, who has been spearheading the strong arm actions against the Naxal rebels, said that the casualties were "very high" and something went "drastically wrong" as the security personnel seemed to have walked into a trap.

"This shows the savage nature of CPI (Maoist) and their brutality and the savagery they are capable of," Chidambaram said, even as New Delhi has begun re-assessing its claim that it has managed to rein a bit of the armed rebels in the recent past due to action by security forces.

Given such reversals there is also little hope that New Delhi will be able to negotiate any kind of truce or surrender from emboldened Maoist cadres.

Federal home secretary G K Pillai said the New Delhi's "resolve" was "further strengthened" and "retreating" was not an option. "In the coming days and months, we will give a much firmer and fitting reply to the murderers (Maoists)," Pillai said.

Pillai, however, ruled out the use of air power (armored helicopters) against the Maoists, for the moment. "Our strategy is unfolding and we should be able to manage without air power."

It may be recalled that the Leftist rebels have been involved in some of the most lethal attacks on security forces in India, much worse than those in terror-infested Kashmir or north east states -- Bijapur, Chhattisgarh (Mar 15, 2007, 55 killed), Malkangiri, Orissa (June 29, 2008, 31 killed), Chaibasa, Jharkhand (Apr 8, 2004, 19 killed), Dantewada, Chhattisgarh (Jul 9, 2007, 16 killed), Silda, West Bengal (Feb 15, 2010, 24 killed).

The latest attack, by far the worst, however, calls into question New Delhi's approach of using sheer force in quelling the Maoist rebels that are spread over the northeastern and central eastern states of Jharkhand, Chhattisgarh and Orissa, Bihar, Madhya Pradesh, West Bengal and Andhra Pradesh.

India's valuable coal and mineral industry is focused in these states, which have large tribal concentrations.

The provinces are endowed with natural resources, but score very poorly on human development charts as the local population has not benefited from the riches that have instead filled state coffers, politicians, the bureaucracy and few "outsider" businessmen.

According to official estimates, Naxalite violence has affected 2,000 police stations spread over 223 districts across 20 states in India. In the early 1990s, the number of districts affected by Maoist violence stood at just 15 in four states.

Maoist-linked violence has killed 10,000 people in India over the past two decades, with New Delhi calling it the biggest threat to India's internal security.

Today, 40% of the top 50 mineral-rich districts in India are affected by Naxalite violence, with repeated attacks on any symbol of authority, both private and public, including mining sites. Jharkhand and Chhattisgarh are the worst-affected states.

Over the last six months, New Delhi has involved more that 100,000 federal paramilitary forces in the campaign to flush out the Maoist rebels, with troops withdrawn from violence-wracked state of Indian-administered Kashmir.

The security action followed official assessment early last year that the Naxalites were "bent on violence and mayhem against the state and the people" and called for the government to "squarely meet" the threat.

New Delhi made the case that Maoists were not ideologically inspired to fight for the poor and killed foes in cold blood.

The Home Ministry estimates that up to 20-25% of India's coal production has been hampered by Maoist violence. Coal is India's primary energy source.

India also sought advice from American counter-insurgency personnel who have been involved in taking out Taliban and jihadi elements in Northwestern Pakistan and Afghanistan.

The defense forces have been used for logistical support even as the government has ruled out their direct involvement in taking on the Leftists, for now.

Observers, however, have been saying that New Delhi should be taking a more political and humane approach towards handling the Leftist rebels and focusing more economic and social aspects of a deprived population, rather than the using the might of the state. 

Chidambaram has been castigated for a tough, inflexible and hard line approach against the rebels.

The government has also been criticized for equating Maoists to terrorists and an unfair assessment as the leftist rebels are known to attack mostly symbols of state power (property and personnel) and not soft targets and civilians, as is the case of jihadi militants. 

In June last year, New Delhi labeled the Naxalite group, the Communist Party of India (Maoist), or CPI (M), a terrorist organization, putting it in the same league as other banned outfits such as the Lashkar-e-Toiba group - credited with the Mumbai attack in November - and the now-decimated Sri Lankan Liberation Tigers of Tamil Eelam (LTTE).

Indeed, the dimension of the Maoist insurgency is vast and a result of decades of exploitation of tribal populations across swathes of India's mineral rich states. It, thus, cannot be obliterated by use of just force.

The Naxals are known to be looking to form alliances with secessionists groups, especially northeast insurgents in Assam, Manipur, Nagaland and Mizoram in a bid to expand their influence and gain a pan-Indian presence.

They have established links with the Leftists in Nepal even as renegade LTTE terrorists are known to be involved in training cadres.

It is not an easy road ahead and New Delhi will need to re-calibrate its approach towards an issue that seems to require a more subtle handling than just the use of guns.