COVER STORY
Management Whiz: C.K. Prahalad (1941-2010)

Management guru C.K. Prahalad challenged dominant logic with provocative thinking that made him a deeply influential figure in global business. He had a habit for developing theories that became so commonplace that it's hard to realize how revolutionary they were. In 1990, he argued about businesses focusing on "core competence." Today it's common sense. He urged companies to engage the billions of poor, who could be potential customers, at the "bottom of the pyramid." It was controversial in 2004. Today it's global economic conventional wisdom. His belief that customers want a greater voice in what they consume has gone "from cutting-edge to cliché in six years," writes Business Week. Siliconeer pays tribute to this great business thinker, who died April 16.
---
C.K. Prahalad, seen here, was a world class management guru.
---
C.K. Prahalad, who died April 16 at the age of 68, had built up a formidable worldwide reputation by combining two apparently paradoxical notions — he brought a dash of compassion for the underprivileged into the hard-boiled world of business where the balance sheet is God.

The global outpouring of praise for his talent was stratospheric.

The Washington Post called him "a University of Michigan professor whose provocative books about business management and global marketing made him one the world's most influential thinkers on corporate strategy."

The Financial Times put it more succinctly; it called him "one of the world's most influential management thinkers."

Recently Prahalad had been working with the Confederation of Indian Industry on the "India at 75" project, a plan to cement India's position as an economic powerhouse by its 75th Independence Day in 2022.

His father was a Sanskrit scholar and judge in Chennai. His first experience of the business world came as a young manager with Union Carbide. After four years he began his academic career, at the Indian Institute of Management, followed by a doctorate at Harvard Business School and his subsequent appointment in Michigan.

The last time he spoke to the Financial Times,  he was buzzing with intellectual energy. "Really, in all my career I have been interested in 'next practices', and not merely 'best practices'," he said.

"He was universally admired in the management guru fraternity," the Financial Times wrote. "His upside-down thinking inspired us all, and his friendliness charmed us. He is one of the few whose ideas will long resonate around the world of organizations," management writer Charles Handy told the Financial Times.

In an editorial for the Wall Street Journal,  Prahalad had criticized the tendency to throw money at the world's poor with an expectation to solve their problems.

"During the period 1955-2004, the West and multilateral institutions invested more than $1 trillion in aid and subsidies in emerging economies. But poverty persists. It would seem, therefore, that we need to challenge the role of aid and subsidies in promoting sustainable economic development. If poverty cannot be eradicated with humanitarian handouts alone, what is the alternative?

"The G-8, led by Tony Blair and supported by Jeffery Sachs and Bono, believe that debt relief and a doubling of aid from rich countries to poor, especially in Africa, is the way to go. A less popular alternative focuses on the involvement of the private sector in poverty alleviation through the development of market-based ecosystems. Irrespective of which route we take, we need to build an infrastructure to deal with poverty. There is an implicit aid overhead. According to Prof. Sachs, out of every dollar of aid given to Africa, an estimated 16 percent went to consultants from donor countries, 26% went into emergency aid and relief operations, and 14 percent went into debt servicing. How much of the remaining 40 percent escaped corrupt officials to benefit the intended recipients is not known.

---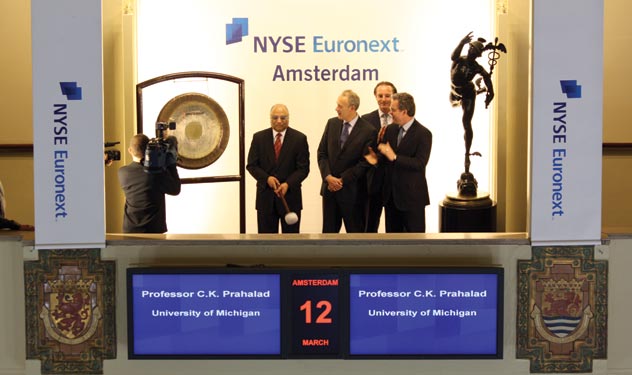 File photo of Professor C.K. Prahalad (seen here holding the gong), opening the trading day at the NYSE Euronext Amsterdam stock exchange, Mar. 12, 2009.
---
"We have to stop thinking of the poor as victims, or as a burden, and start recognizing them as resilient and creative entrepreneurs and value-conscious consumers to foster fundamental innovations—be it in financial services, personal-care products or healthcare."

"Unilever and P&G and a host of local firms sell world-class products — Sunsilk or Pantene shampoo — for less than $0.02 per mini-sachet in India. They had to build a whole new business model — manufacturing, packaging, distribution and market reach — to be profitable at these prices. And they are."

"Narayana Hrudayalaya (a cardiac-care facility) is experimenting with health insurance for less than $0.20 per person per month in southern India. They have signed up two million subscribers so far. Out of this pool, 85,000 have received medical consultations; and 25,200 surgeries have been performed, including 1,700 heart surgeries. The facility has also built an ecosystem for telemedicine. Last year, they helped 5,880 patients — including 1,925 who received consultation and treatment at remote sites using telemedicine. Similar telemedicine initiatives are cropping up in eye-care."

"Global firms increasingly realize that the bottom-of-the-pyramid markets are a source of innovation in business models — potentially, even, of  'breakthrough' innovation. Innovations in technology, capital intensity, delivery, governance (e.g. in collaboration with civil society organizations) and price-performance levels are all needed to create a market at the lowest-income level. To 'make poverty history,' leaders in private, public and civil-society organizations need to embrace entrepreneurship and innovation as antidotes to poverty. Wealth-substitution through aid must give way to wealth-creation through entrepreneurship."

It was this kind of thinking that prompted Marshall Goldsmith, a consultant to business executives whose books have sold millions of copies, to write: "Along with being a great thinker and consultant, C.K. was a humanitarian — in the best sense of the word. He didn't just have grand ideas about saving the world that would never get implemented. He actually got things done. He realized that for corporations to make lasting change that benefited the world, they also had to benefit their shareholders."

Goldsmith, who  helps leaders grow by achieving positive, lasting behavioral change in themselves, their people, and their teams, was ranked one of the field's 15 most influential business thinkers in a study published by The Times of London and Forbes.

"In The Fortune at the Bottom of the Pyramid, he showed how companies could provide inexpensive, beneficial products for low-income people — and still make money for their shareholders," Goldsmith wrote of Prahalad.

"One of C.K.'s passions was helping other thinkers develop. Each of his major books was co-authored with a different person. He was never threatened by his professional peers but always went out of his way to help them become better," Goldsmith added.

"C.K. was a great champion of entrepreneurs; among the causes he gave his time and energy to was The Indus Entrepreneurs (TiE), one of the world's largest organizations that support entrepreneurs and the development of the entrepreneurial spirit. He frequently spoke at their conferences and events.

C.K. Prahalad lived a life that mattered. I feel very blessed to have known him."

Prahalad began his career as an engineer in India. He "applied bold and original approaches to a wide range of business practices and economic issues, including corporate culture, consumerism, innovation, marketing and poverty," the Post wrote.  "In explaining his ideas, he coined such now-standard terms of the business lexicon as 'core competencies,' 'strategic intent' and 'the bottom of the pyramid,' which describes business opportunities among the world's poor."

The Times of London, in conjunction with Thinkers 50, a system of rating the world's top business strategists, called Dr. Prahalad "the No. 1 most influential management thinker in the world" in its two most recent rankings.

Prahalad was the Paul and Ruth McCracken Distinguished University Professor of Strategy at the University of Michigan's Stephen M. Ross School of Business.

He also served as distinguished fellow at the University's William Davidson Institute, where he played an important advisory role for the institute's Base of the Pyramid research initiative.

"It's impossible to exaggerate C.K.'s impact on business and business education around the world," said Robert J. Dolan, the Edward J. Frey Dean of Business at the Ross School. "His thinking was far-reaching and commanded the attention of business leaders. I expect it will continue to be influential for a very long time. The passion he had for connecting thought leadership to business practice exemplifies what we are all about as a business school. On a more local level, he was an invaluable advisor to me, as well as to previous deans."

Prahalad's work has been enormously influential since 1990, when he and Gary Hamel co-authored an article in the Harvard Business Review called "The Core Competence of the Corporation." A watershed in the field of strategic management, the article asserted that executives should "identify, cultivate and exploit the core competencies that make growth possible." Their thinking on core competencies encouraged executives at complex corporations to think of their organizations as a portfolio of competencies rather than merely as a portfolio of businesses. It influenced a wide array of business leaders grappling with the strategic implications of an ever more integrated global economy.

---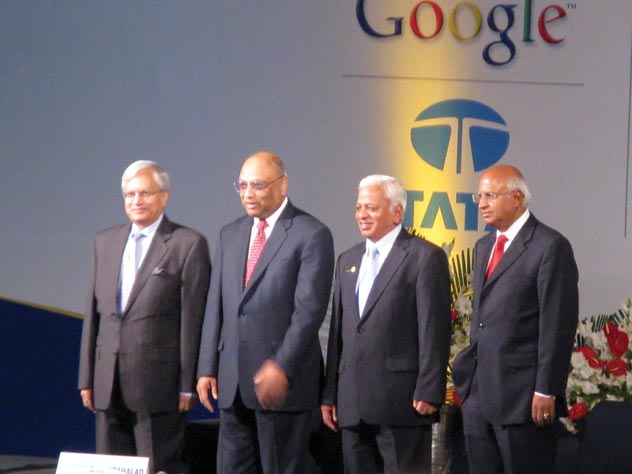 (Above): Tata CEOs with C.K. Prahalad (2nd from l) at the PAN IIT 2008 conference in Chennai. (Below): Cover of a book by C.K. Prahalad.
---
Prahalad and Hamel further developed their thinking in the 1994 book, Competing for the Future, which made a case for robust strategic thinking and analyzed how established market leaders tend to lose ground to innovative upstarts. The book famously looked at how IBM was blindsided by Apple, failing to see the future of the personal computer because it was too focused on maintaining its leadership in the mainframe business.

As the Internet took hold and the role of customer choice and customization grew more important, Prahalad focused much of his thought on how value is created. In 2004, he and Venkat Ramaswamy, professor of marketing and computer and information systems at the Ross School, published The Future of Competition. The book advanced the notion of "co-creation" and envisioned a world in which businesses and consumers collaborated in designing products and services characterized by greater customization than in the past.

In recent years, Prahalad had been a leader in Base of the Pyramid studies, an area of research that explores how businesses might pursue sustainable growth while playing a catalytic role in alleviating poverty in the world's poorest populations. His 2004 book, The Fortune at the Bottom of the Pyramid: Eradicating Poverty through Profits, is widely considered indispensible for executives and scholars who wish to understand emerging markets. The book presents 12 case studies, some of them co-authored by Ross MBA students, which illustrate how some companies are turning a profit while bringing enormous social and material improvements to people in emerging market countries.

Ted London, senior research fellow at the William Davidson Institute and director of its Base of the Pyramid research initiative, said Prahalad was "extraordinarily supportive of the work we were trying to do."

"He was always willing to offer his time and advice to help us achieve our goals and push us to do even better work," London said. "He helped us think about the direction of our work and gave great advice on next steps."
Robert Kennedy, executive director of the William Davidson Institute, said Prahalad was one of the top two or three management thinkers in the past 25 years.

"He opened up four different fields of inquiry: the concept of strategic intent; the concept of core competency; bottom of the pyramid; and innovation," he said. "Each was a big and important idea."

One of the students who worked closely with Prahalad was Praveen Suthrum, now co-founder and chief operating officer of NextServices, a health care solutions company with offices in Mumbai and Ann Arbor. Suthrum co-authored articles with Prahalad that appeared in The Fortune at the Bottom of the Pyramid.

"During my first month at school," recalled Suthrum, "A friend and I casually walked up to C.K.'s office to get him to speak to the Emerging Markets Club. We saw him working quietly in his office. We were too nervous to just walk in. After a minute of debate, we simply walked in and introduced ourselves, 'We are MBA1 students and we love your work. We want you to speak to our club.' He responded, 'I'm sure your club members would turn up if I come to speak, but why don't we do something more action-oriented?' Our casual conversation turned into a brainstorming session on how exciting it would be for students to write business cases instead. We walked out of his room with our heads reeling with excitement. That chance meeting became a lifelong engagement that transformed my life."

Prahalad's most recent book, The New Age of Innovation, co-authored with Ross professor M.S. Krishnan, examines how companies can build organizational capabilities that allow them to achieve and sustain continuous change and innovation.

"Whether working with faculty on new research ideas, engaging senior executives of companies through our executive education programs, or teaching his MBA classes, C.K. always had the passion for pushing us to realize our full potential," Krishnan said. "C.K. was a unique management scholar in contributing at least three or four big ideas that have had enormous impact on management thinking or policy making globally. He was a brilliant thinker and unique in his way of synthesizing complex management problems."

---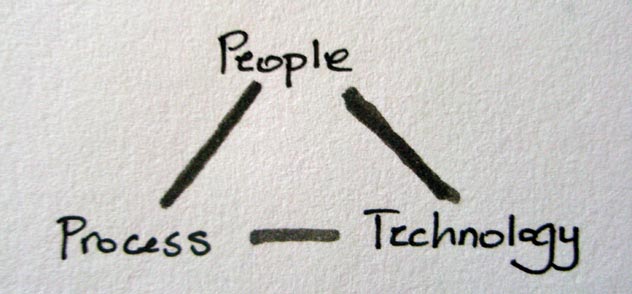 ---
Coimbatore Krishnarao Prahalad was born in 1941, in Coimbatore in the southern Indian state of Tamil Nadu. At the age of 19, he joined Union Carbide after obtaining a degree in physics from the University of Madras. He received a post-graduate diploma in business administration from the Indian Institute of Management, Ahmedabad, in 1966 and followed that with a doctor of business administration from Harvard Business School in 1975.

A professor at the University of Michigan since 1977, Prahalad earned the university's highest distinction, Distinguished University Professor, in 2005.

Despite his renown and dizzying array of commitments around the world, Prahalad was generous with his time and insight with students and colleagues. Suthrum recalled what happened when he and his business partners sought Prahalad's advice on their business plan for NextServices.

"He gently and systematically ripped it apart," he said. "I distinctly remember that night in Ann Arbor. He had returned from dinner with his wife, Gayatri. Then he looked at me and said, 'Can the entrepreneur arrange for some red wine?' He always made time."

Prahalad is survived by his wife, Gayatri Prahalad; son, Murali Prahalad; daughter, Deepa Prahalad; and three grandchildren.