SUBCONTINENT:
India Gets Touchy: Envoy Pat-down in U.S. Airport


The recent Indian annoyance at its envoy being put through a pat-down search at a U.S. airport in is in marked contrast to its apathy to the many inconveniences common Indians are subjected to, writes Siddharth Srivastava.

---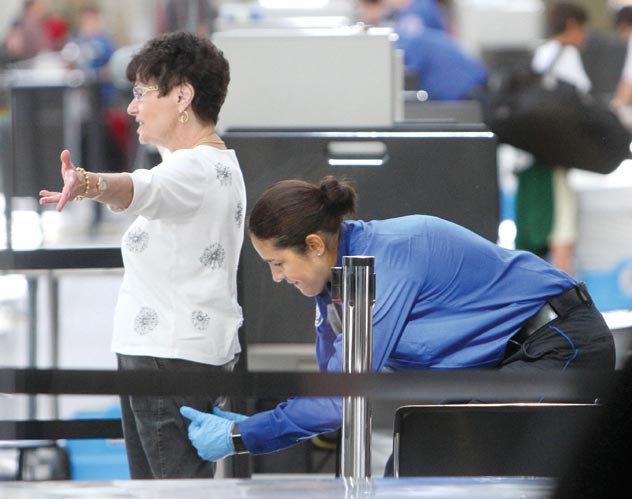 (Above): A U.S. Transportation Security Administration personnel conducts a "pat-down" search of an airport passenger. Recent news of two Indian diplomats being subjected to this kind of search has drawn criticism from India.
---
Though Indo-U.S. relations have improved to reach a new plane, strict American security rules, especially at airports, are a regular source of irritation to India, a country where important people like to make a point of differential and deferential treatment.

New Delhi has taken umbrage at the fact that Indian ambassador to the U.S. Meera Shankar was singled out at an airport security line and physically patted down by an American security agent in Mississippi despite being informed of her very important diplomatic status. The incident happened Dec. 4.

Shankar was "unfortunately" searched for bombs as she wore the traditional Indian sari, a loosely draped long dress that probably needs to be cross checked as per American security protocol, unlike, say, tight fitting jeans.

In sharp multiple reactions, New Delhi has made it apparent that it sees the "incident" as an assault on the country's dignity, even as thousands of pedestrians continue to be mowed down and die on Indian roads for want of adequate medical back up facilities that have been in the planning stage for years.

New Delhi has said that searching Shankar is an "unacceptable" event, a point put across by no less a person than the country's foreign minister, on national television.

India could have reacted differently — that New Delhi appreciates concerns about terrorism and foolproof systems that America has in place that has prevented another terror strike from happening in the country since September 11, 2001.

India has not managed such success after the 26/11 Mumbai attacks in 2008, given more terror strikes, including the most recent at Varanasi.

Conscious of the new paradigm that has emerged in Indo-U.S. relations, wherein American firms are seeking big business contracts in nuclear energy and defense, among other fields, Washington has quickly apologized about the Shankar episode.

U.S. Secretary of State Hillary Clinton has said, "We obviously are concerned about it. We will be looking into it."

In a statement, the Indian embassy, wanting to show that it has done its job well, has said, "The U.S. State Department has reached out to the ambassador and has regretted what all had happened."

It would have been nice if a fraction of such alacrity was apparent in innumerable cases of public suffering in the hands of many other arms of (non-existent) Indian government functioning in areas ranging from broader issues of health, education, infrastructure, policing to more micro matters of getting a passport or a driving license issued by the relevant authority.

There are reports this week that Indian India envoy to UN Hardeep Puri's turban was also patted down at a Texas airport.

---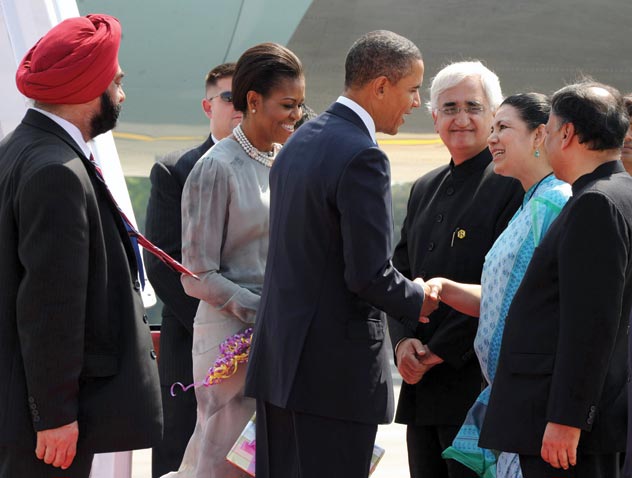 (Above): Indian Ambassador to the U.S. Meera Shankar (2nd from r) welcoming U.S. President Barack Obama and First Lady Michelle Obama on their arrival in Mumbai. A pat-down search of Shankar at a U.S. airport DREW criticism from the Indian government. [Photo: PRESS INFORMATION BUREAU]
---
New Delhi is angry with this development as a symbolic insult to the nation, notwithstanding the fact that many an Indian citizen living in a city such as Delhi could be physically patted at the entrance to a mall, movie theatre and metro station.

Indeed, India's tantrum and irritation is a reflection of how the country's elite, whether the rich or the powerful, are and expect to be treated within the country, where rules are broken at will at airports and roads. This sense of impunity can take more sinister forms, as manifested in the recent 2G telecom scam.

However, the unfair luxury of rules being bent or broken cannot be extended abroad where systems and regulations apply with much more fairness, with the possible exception of President Obama.

In India, anybody with a modicum of importance or access expects to be treated like a President Obama or a Manmohan Singh in transit, and gets away with it.

This is the Very Very Important Person (VVIP) syndrome, perhaps a colonial mindset, with the citizen and common man condemned to unending, queues, security drills and many more inefficiencies.

Incidentally, this is not the first time that a VVIP being bodily frisked has caught attention. Last year, officials of America's Continental Airlines searched India's former President A.P.J. Abdul Kalam that also touched raw nerves.

Kalam, known for his down to earth demeanor went through the security process without much ado. However, an-uproar followed in Parliament with demands that the concerned American carrier be banned.

In 2008, New Delhi took offense to Russian security officials insisting on searching then Foreign Minister Pranab Mukherjee, who was on a visit to the country.

In Mukherjee's case, it was apparent that Moscow wanted to convey its unhappiness with New Delhi's new found bonhomie with the US that has translated into more defense deals and the civil nuclear pact.

A feel-up was one way of conveying the irritation as Moscow does know a bit about Indian politicians' aversion to being body searched.

In the past, New Delhi reacted angrily to then federal Defense Minister George Fernandes being searched (he had to take off his shoes and socks) by security officials in America in a post-September 11 security check.

Fernandes, known for his anti-U.S. tirades, was apparently "disrobed", according to former U.S. Deputy Secretary of State Strobe Talbott, not once but twice. Talbott, in a book chronicling the events, says Fernandes was angered by the incidents.

Clearly, India's VVIP's do not like to be touched. They prefer to be uncommon except during election time when they pretend to be at one with everybody.