EDITORIAL: A Terrible Injustice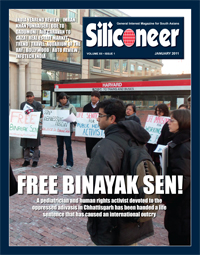 Seldom has India's claims to being a democratic state governed by the rule of law been undermined so egregiously as the prolonged incarceration, dubious trial and outrageous death sentence handed out to human rights activist Binayak Sen.

Sen, a gifted pediatrician, chose to eschew the trodden path of South Asian doctors of seeking a cozy affluent life and instead went to Chhattisgarh and helped set up an exemplary health care service for underprivileged adivasis, for which he drew richly deserved international acclaim.

Chhattisgarh, alas, has all the hallmarks of a banana republic gone particularly bad. Violent repression goes hand-in-hand with extrajudicial murder, and has in turn provoked an equally ferocious backlash in the form of a radical leftwing insurgency. One can justifiably question the methods of the insurgents, but then, neither has the government bear any resemblance with Mother Teresa—it has taken a page out of tactics of rightwing Latin American dictatorships and backed a vicious vigilante group, the Salwa Judum.

In a situation like this, human rights activists often get caught between a rock and a hard place. Having said that, the government has been unable to provide a shred of evidence of any violent intent on behalf of Sen, yet the court has deemed it fit to hand him a death sentence.

From Nobel laureate Amartya Sen to MIT professor and dissident intellectual Noam Chomsky, there has been an international outcry, with many noted Indian academics—Romila Thapar, Irfan Habib, Ashok Mitra, Mushirul Hasan, Sumit Sarkar, Tanika Sarkar—joining in.

They signed a statement made by 80 individuals that said: "Dr. Sen never resorted to violence against any other person, never incited anyone else to resort to violence, never entered into any conspiracy against the constitutional order of the country, and never entered into regular service of any organization that was involved in any such conspiracy, for furthering its cause. On the contrary, as a doctor he served the people with devotion and helped to save many lives; as a human rights activist he stood up in defense of the rights of the downtrodden. And yet he has been handed down this sentence whose savagery is unbelievable."

Journalist M.J. Akbar, editor of the weekly magazine India Today, wrote on his personal blog: "India has become a strange democracy where Binayak Sen gets life in jail and dacoits get a life in luxury."

Our cover story provides an in-depth report of the conviction of a human rights hero.

In his heyday, Imran Khan had it all. A world class cricketer and a World Cup-winning captain. An Oxford education. A modern-day Adonis who made women swoon.

His post-cricket career has been more remarkable in a way. While his political aspirations have hit a dead end, no one can question this Pakistani hero's tremendous zeal for public service. From setting up a cancer hospital in memory of his mother Shaukat Khanam to his manifold philanthropic activities, Imran Khan reminds us of another person of quite a different background but with similar proclivities —former U.S. President Jimmy Carter.

Just as Carter has carved out a meaningful and highly laudable niche for himself after leaving the presidency, working for democracy and peace on a global scale, Imran has not only proved that there is life after cricket, but that it can be in some ways even more worthwhile.

Imran was recently in Northern California to raise funds for victims of possibly the worst floods in Pakistan's history, and our San Francisco Bay Area correspondent Ras H. Siddiqui was at both the events in Pleasanton and Sacramento.
In this month's issue we carry a detailed report filed by Siddiqui.

From time to time — far less frequently than we would have liked, if truth be told — we have made the pages of this magazine available to younger minds to provide a window into the minds of a generation that will shape the future.

We have been richly rewarded — and so have the readers, we hope — with the many fascinating insights they provide.

This month we present an essay by a young Bangladeshi writer. Risana Nahreen Malik has just completed high school, but you wouldn't know it from her writing. She writes not only with a grace and sensitivity far beyond her years, but adds to it insight and wisdom. Her essay, a poignant remembrance of her recently deceased grandmother, is a particularly compelling read, and we not only present it with great pleasure, but welcome inquiries from other younger readers who are seeking to use this magazine as a forum to share their hopes, aspirations and doubts.