SUBCONTINENT:
In Retrospect: Year 2010

Priyanka Bhardwaj offers a summary of the major events in India in the year 2010.
---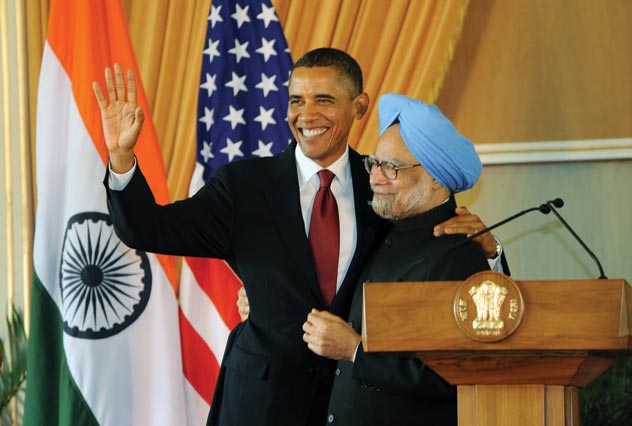 (Above): Indian Prime Minister Manmohan Singh with U.S. President Barack Obama at a press conference in New Delhi Nov. 8. Obama's visit underscored India's growing international stature, and his declaration of support for India's bid for a permanent seat in the UN Security Council was warmly received. [PRESS INFORMATION BUREAU photo]
---
Given India's vastness and diversity, it is never easy to encapsulate a year gone by in any entirety.
However, here are some defining highlights of the year 2010.

January. India embarked on 2010 on a rather somber note with six railway train accidents being reported in the very first month, attributed to fog. Then there was the news of Indians being attacked in Australia. On the 17th of the month, 95-year-old Jyoti Basu, former chief minister of West Bengal and the longest serving chief minister of any state and belonging to the Communist Party of India (Marxist) breathed his last. January 25, environment ministers from BASIC/G4 Block consisting of Brazil, India, South Africa and China met in New Delhi and decided that the Copenhagen accord was not legally binding.

February. About 17 Indian soldiers lost their lives to an avalanche in Kashmir in the first week. On February 13 Pune witnessed a bomb explosion at German Bakery that killed dozens and injured several others. Though fundamentalist Islamic groups of Laskhar-e-Taiba, Al Alami and Mujahideen Islami Muslim Front claimed responsibility for the attack, Indian investigating authorities believe that the attack could have been masterminded by Lashkar-e-Taiba to use Indian Mujahideen in its "Karachi project." David Coleman Headley, Pakistani-American terror suspect, is alleged to be involved in this project. Then in the mid of the month Naxalites struck upon an army camp in West Bengal killing two dozen Indian soldiers and injuring many more. In the field of arts and movies India lost three eminent personalities. They were Salim Ahmed Ghoush (stage name Cochin Haneefa), a South Indian film actor and director; Gireesh Puthenchery, Malayalam lyricist and screenwriter; and Nirmal Pandey, film and television actor.

---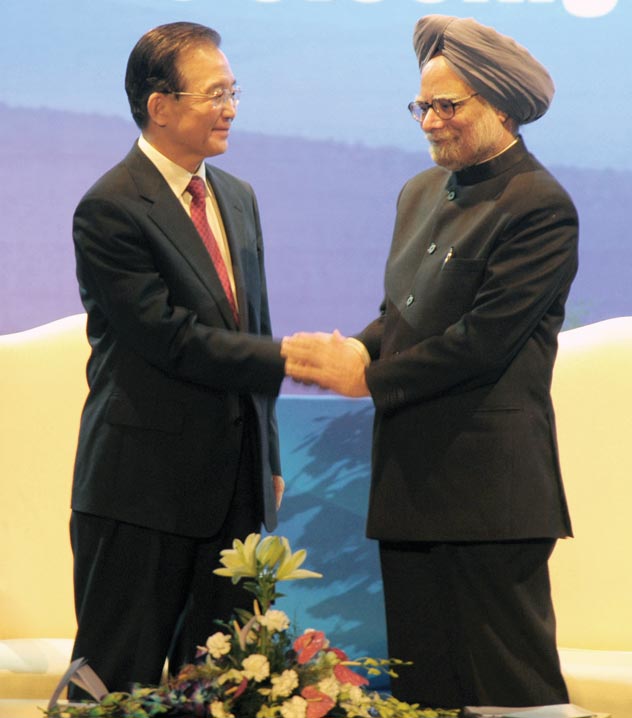 (Above): Indian Prime Minister Manmohan Singh with Chinese Premier Wen Jiabao during the closing ceremony of the Chinese Festival in India in New Delhi Dec. 16. The festival marked the 60th anniversary of the establishment of diplomatic relations between the Asian giants. [PRESS INFORMATION BUREAU photo]
---
March. On the 3rd of March three were killed in an Indian Navy air show crash in Hyderabad. The same month the Indo-Russian nuclear deal was signed that involves development of sixteen nuclear reactors in India. In the last few days two short range missiles, Dhanush and Prithvi II, were successfully test-fired and eight Indian sea vessels were hijacked by thirty Somali pirates. It was the largest abduction till date, off the coast of Kismayo, with 120 sailors being abducted.

April. In the fourth month of the year the Government of India initiated "The Right of Children to Free and Compulsory Education Act" which will ensure free and compulsory education to all children aged between 6 and 14 years and thereby making education a fundamental right for millions of children. The 2011 biometric census, the largest census all over the globe, was launched. India's attempt to launch the Geosynchronous Satellite Launch Vehicle Make – II (composed of an indigenous cryogenic upper stage) ended in failure and led to loss of GSAT-4 satellite. In April, Maoists led attacks on the police and public. On the 3rd of the month 10 Indian security personnel were killed and three injured when Maoist guerrillas blew up a police bus in Koraput district of Orissa. A few days later over seventy Indian soldiers were killed in a Maoist attack in Dantewada, Chhattisgarh. Natural forces wreaked havoc as 140 people lost their lives in eastern India when a powerful storm demolished thousands of homes in West Bengal. News wires reported that nearly five hundred thousand were rendered homeless or affected by this storm. Before the cricket match between Royal Challengers Bangalore and Mumbai Indians during the Indian Premier League Game – Season III, twin bomb blasts injured eight people outside M. Chinnaswamy Stadium in Bangalore. A third bomb was found un-detonated outside the stadium. Indian corridors of diplomacy were rocked when a woman employee in the Indian embassy in Islamabad was held on charges of espionage. The Indian kabaddi team won the World Cup in Punjab after defeating Pakistan.

---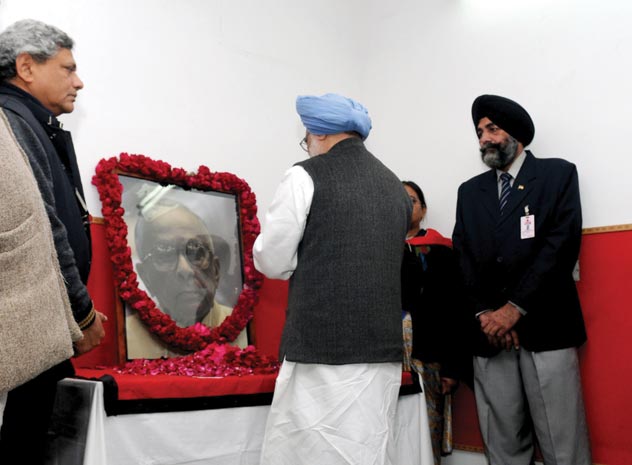 (Above): Indian Prime Minister Manmohan Singh paying homage to former West Bengal Chief Minister Jyoti Basu in New Delhi Jan. 18. Jyoti Basu, who died at the age of 95, was the longing-serving chief minister in India. [PRESS INFORMATION BUREAU photo]
---
May. India was hit by cyclone Laila in its south eastern parts causing deaths and evacuations from Tamil Nadu. In the very first week India's court found Ajmal Kasab, the only surviving terrorist involved in the 2008 Mumbai attacks, guilty of murder, conspiracy, and waging war against the country and sentenced him to death. The month was full of bloodshed. In Kashmir skirmishes, five insurgents and two soldiers were killed during a gun battle between Islamist rebels and Indian security forces. In Chhatisgarh Naxalite rebels killed seven Central Reserve Police Force officers and six villagers in separate incidents. In Dantewada, Chhatisgarh, Maoists blew up a bus full of police, special police officers and paramilitary personnel. Maoists also derailed Gyaneshwari Express train, killing 25 and injuring hundreds more in Paschim Medinipur, West Bengal. In the field of sports the Indian Hockey Federation was restored after a court passed an order. The federation was dissolved after allegations were made against India's Olympic chiefs on grounds of graft and poor on-field performance. In May Air India Express Flight 812 overshot the runway at Mangalore International Airport, killing 158. Important persons that India lost in this month were veteran actor Mac Mohan, seen in Sholay, Bhairon Singh Shekhawat, ex-vice president of India, and eminent Bengali film actor Tapen Chatterjee.

June. While northern India witnessed an intense heat wave, recording 53C (127F), killing hundreds, heavy rains lashed and killed many more Maharashtra. An earthquake of 7.5-magnitude rocked west of India's Nicobar Islands causing tremors along the eastern seaboard and triggering a tsunami watch. Among human-induced casualties, four people were killed and five wounded in violence in Sopore, Kashmir. Maoists attacked and killed 26 policemen in Narayanpur, Chhatisgarh. India caught global attention as in Bhopal eight were convicted, one posthumously, for their role in the Bhopal disaster a quarter of a century ago. Viveka Babajee, model, was found dead in her Mumbai flat, probably committing suicide.

---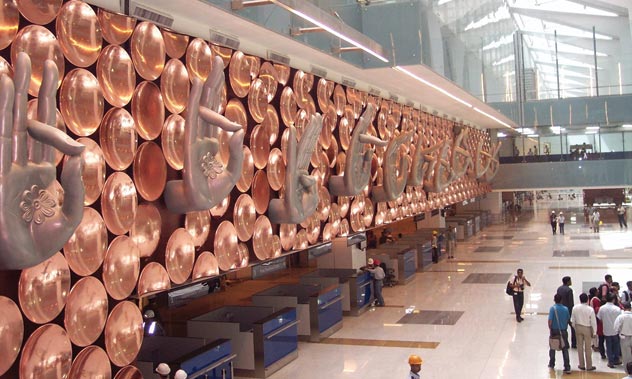 (Above): The arrival area of the new $2.8 billion T3 terminal that opened in 2010 at the Indira Gandhi International Airport in New Delhi. [PRESS INFORMATION BUREAU photo]
---
July. The month started with a nationwide strike in protest against rise in fuel prices. The pulling of Ratha Yatra chariots in Puri, Orissa also saw a massive stampede. Indo-Pak soldiers were involved in skirmishes in Kashmir and senior Indian Army officer Major A. K. Thinge was killed. Once again a former Indian junior diplomat, Madhuri Gupta, was charged with spying for Pakistan. The country's apex court approved a new quota law of Tamil Nadu government. The law provides for 69 percent employment in educational institutions to scheduled castes and tribes and other backward classes. In the field of science and technology the government unveiled a solar power touch-screen laptop, lesser priced than America's iPad, that is expected to be on sale from 2011. An impressive T 3 terminal was inaugurated in New Delhi international airport. Among the deceased were M.G. Radhakrishnan, Malayalam film music director and Carnatic vocalist; Ravi Baswani, film actor; and A. Sreedhara Menon, eminent historian.

August. Indo-Pak clashes in Kashmir continued. Within India security personnel engaged with Maoists in Chhattisgarh forests. Police killed a top Naxalite guerilla, Umakanta Mahato, wanted in connection with Gyaneshwari Express train derailment. Sudden flash floods struck Leh region, killing hundreds and leaving many more missing. Then collision of vessels resulted in a huge oil spill stretching over two miles in the Arabian Sea offshore of Mumbai coast. The Indian government issued a deadline to producer of Blackberry devices to provide it security access to its services. India lost K. M. Mathew, newspaper editor of Malayala Manorama; Leo Pinto, ex-field hockey player and Olympic gold medalist; Biliyar Ramadas Bhat, eminent mathematician and statistician; poet Narayan Gangaram Surve and Ravindra Kelekar, another author, poet and activist.

---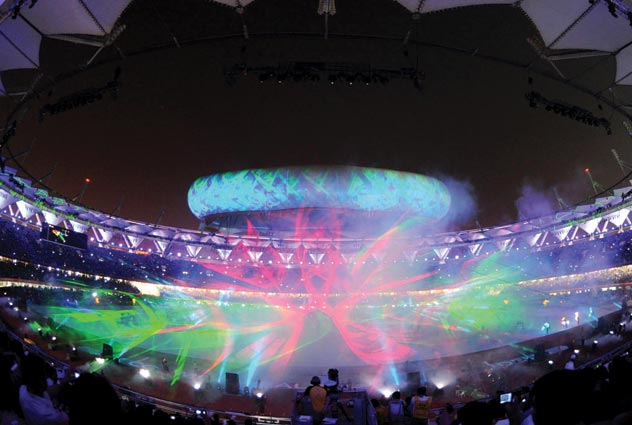 (Above): Laser show at the closing ceremony of XIX Commonwealth Games at Jawaharlal Nehru Stadium in New Delhi Oct. 14. While Indian athletes performed superbly, organizing glitches and allegations of massive corruption drew sharp criticism. [PRESS INFORMATION BUREAU photo]
---
September. Delhi witnessed more rainfall than usual and thousands had to be evacuated over flooding fears. Two trains collided in Shivpuri, Madhya Pradesh and a speeding train killed seven elephants in Eastern India. A national identity scheme was launched. The scheme is expected to discourage fraud by improving access to state benefits. Among the personalities that India lost were writer Vasundhara Patwardhan, Homi Sethna, nuclear scientist and chemical engineer, and Venu Nagavally, screenwriter and director in Malayalam cinema.

October. The country's capital geared to host the XIX Commonwealth Games from 3rd to 14th of the month. India's impressive medal tally of 101 won it a second place among others. The discovery of more than 700 species of ancient insects preserved in amber in an ancient rainforest brought in some good cheer. Reports came in of boats capsizing in Bihar, West Bengal and Uttar Pradesh. S. S. Chandran, comic actor and member of Rajya Sabha, ex-cricketer, Parthasarathy Sharma, and poet, A. Ayyappan passed away.

---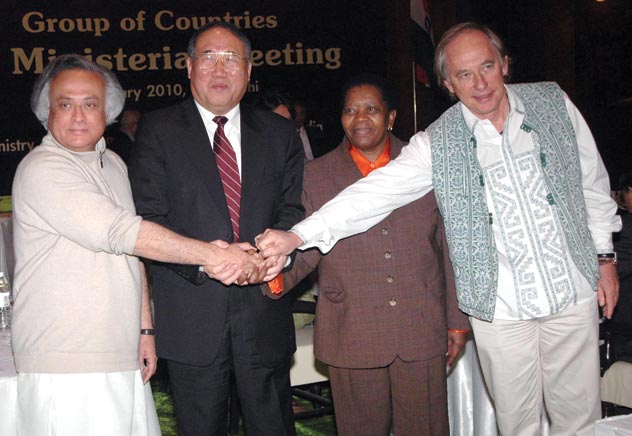 (Above): Indian Environment Minister Jairam Ramesh (l) with environment ministers from BASIC countries (Brazil, South Africa, India and China) in New Delhi on Jan. 24. The environment ministers discussed the post Copenhagen scenario on climate change and decided that the Copenhagen accord was not legally binding. [PRESS INFORMATION BUREAU photo]
---
November. Many drowned after a ferry-boat capsized on Muri Ganga River in West Bengal. Maoists struck and killed people in Aurangabad, Bihar. The Bihar Assembly elections saw an impressive win by Nitish Kumar of Janata Dal (United). Nitish won the mandate on his good governance plank from a state that was among the most backward and corrupt in India. Nitish was named as Forbes Man of Year 2010. U.S. President Barack Obama visited India and signed an array of pacts ranging from trade to nuclear, defense, counter-terrorism etc. Among important persons who died were writer P. Lal, Siddhartha Shankar Ray, politician, lawyer and diplomat (an ex-Indian ambassador to the U.S.), and another politician, Mahaveer Prasad.

December. On 5th December Nicole Faria became the first Indian to win the Miss Earth 2010 pageant in Vietnam. French President Nikolas Sarkozy with his wife, Carla Bruni paid a visit and concluded major defense and nuclear deals. Visiting Chinese Premier Wen Jiabao inked over 50 deals with India. Russian President Medvedev was in India and he re-emphasized India-Russia strategic partnership in last ten years and India's growing significance in world affairs. India's attempt to launch its heaviest communication satellite, GSAT-5P failed. Badminton sensation Saina Nehwal won Hong Kong Super Series defeating Shixian Wang of China. The year seems to be ending on the same note as it has begun. Dense fog has enveloped most parts of north India disrupting train, road and rail services.

---

Priyanka Bhardwaj is a reporter with Siliconeer. She is based in New Delhi.