ENVIRONMENT:
Restoring Breuner Marsh: $1M Federal Grant

The East Bay Regional Park District has been awarded a $1 million federal grant for Breuner Marsh restoration at Point Pinole Regional Shoreline Park in Richmond, Calif. A Siliconeer report.
---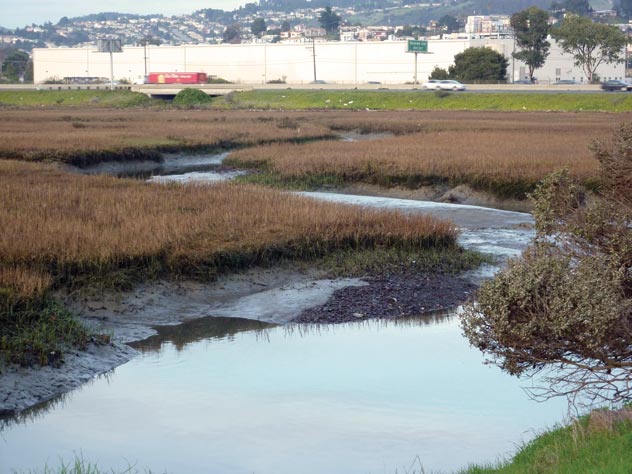 (Above): Breuner Marsh at Point Pinole Regional Shoreline Park in Richmond, Calif.

---
The United States Secretary of the Interior Ken Salazar has announced that the East Bay Regional Park District will receive a $1 million dollar award for habitat restoration at Breuner Marsh at Point Pinole Regional Shoreline Park in Richmond, according to a press release from the East Bay Regional Park District.

The Breuner Marsh Restoration Project was one of only 24 national coastal conservation projects receiving an award. The proposed restoration project includes restoring and enhancing 66 acres of tidal and seasonal wetlands, mudflats, coastal scrub and grasslands. The goal of the project is to provide long-term, self-sustaining tidal wetlands, seasonal wetlands, and coastal prairie to create valuable habitat for protected species. The project will provide habitat for several federally-endangered species, including Salt marsh harvest mouse and California clapper rail. The project will also provide public access for compatible, passive recreation and public education.

"I am most appreciative of this award and the critical funding it provides for this project and restoration of the North Richmond shoreline," said Whitney Dotson, a member of the East Bay Regional Park District Board of Directors and president of the North Richmond Shoreline Open Space Alliance. "I look forward to seeing this shoreline restored into a healthy vibrant place for plants and animals to thrive and the opportunity it provides to the residents of Richmond to experience and enjoy access to the shore." Dotson especially acknowledged Rep. George Miller, U.S. Representative for California's 7th district who was very supportive of the Breuner Marsh Restoration Project.

"Congratulations to the East Bay Regional Park District for your successful effort in obtaining the funding to continue the bay restoration process. The Breuner Marsh will once again support our native plants, fish and wildlife and will be a great asset for all who visit the Richmond Shoreline," said Miller.

The California Coastal Conservancy was the only other California agency to receive awards, and it received awards for four projects throughout California. "Our nation's coastal wetlands encompass large areas of vital habitat for countless species of wildlife while providing important economic resources and recreational opportunities for the American people," Salazar said. "These grants will offer additional protection, restorations, and enhancement of these precious habitats.