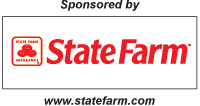 AUTO REVIEW:
Zippy and Fun: 2011 Mazda 3 Five-door Sport


The Mazda 3 is not only zippy and fun to drive, it's packaged well and nicely priced, writes Sally Miller Wyatt.
---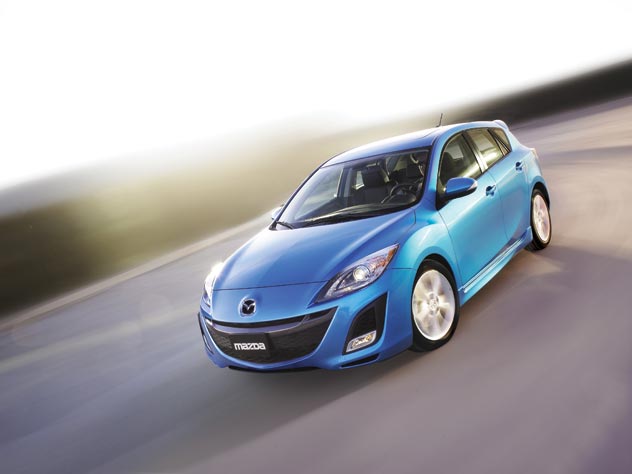 (Above): Exterior view of the 2011 Mazda 3 Five-door Sport.

---
You don't have to be young or young at heart to want a little extra "zoom" in your life, and Mazda is aware of this. Their Mazda 3 is the best-selling vehicle in their line-up, and it's not just because the cars are zippy and fun to drive. It's probably because of how well the vehicle is packaged, and how nicely it is priced.

Mazda says that one of every three Mazdas sold worldwide is a Mazda 3. It has become a favorite for those shopping for their first new vehicle because it has a nice list of standard features and, for 2011, improved standard safety features.

The Mazda 3 was completely redesigned for 2010 and receives some new enhancements for 2011. It is available as a four- or five-door, and our test car was the five door. That fifth door is a lift gate to access the rear cargo area. This rear cargo area is obscured from prying eyes by a cargo cover/cargo shelf that lifts away when the gate is up. It's a nice little feature that adds additional carrying space in a car that is, by its design, on the small side.

For 2011, all Mazda 3s receive Standard Dynamic Stability Control (DSC) and Traction Control, and that is a safety bonus. Power door locks with an automatic locking function are added to the I SV and I Sport models. Also available are rain-sensing wipers, automatic on/off headlights and self-leveling Bi-Xenon headlights.

As for the sound system, our test car had a 265-watt Bose 10-speaker surround sound audio system that included a six-disc CD changer and was MP3 compatible, which was included as part of the Moonroof package for an additional $1,395. Sirius Satellite Radio is also available for an additional for $430.

---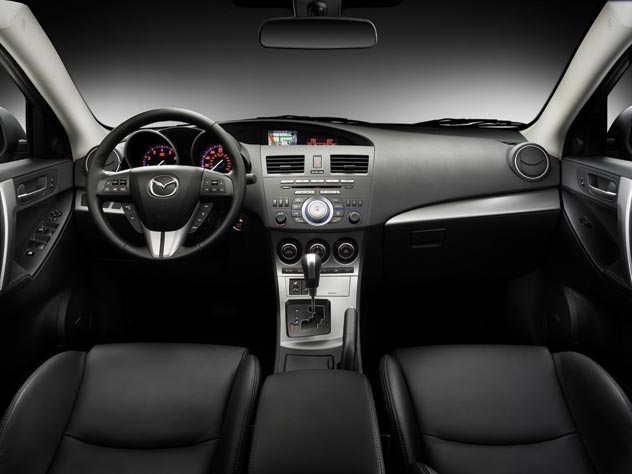 (Above): Interior view of the 2011 Mazda 3 Five-door Sport.

---
But those on a budget may be more interested in what is included with the car as standard features. On this list are such conveniences as a steering wheel that is leather wrapped, can tilt and telescope and has audio, cruise control and BlueTooth controls. Also standard are air conditioning with a pollen filter, two 12-volt power outlets, a center console with a sliding armrest, power windows and door locks.

Safety features include anti-lock brakes with Electronic Brake Force Distribution and Brake Assist, remote keyless entry, a "crashable" brake pedal, side impact air bags and active front head restraints.

Our test car was equipped with a 2.5-liter DOHC 16-valve VVT engine. It was quickly responsive with its 167-horsepower rating. Other models may be equipped with a 2.0-liter engine.

There is seating for five here but, let's face it: the rear middle position probably will not be popular with anyone but the dog. Space for feet is at a premium here and the seat back is stiff because it includes a fold-down arm rest. But your other passengers should be relatively comfortable in these firm, cloth-covered seats, both in the rear outboard and front passenger positions.

Behind the wheel, you'll see that the Mazda 3's dashboard is stylish and nicely organized. Visibility to the front sides is diminished somewhat because of the placement of the large side view mirrors and a wide A pillar. The rear and side view is good.

On the road, I found the Mazda 3 was spunky, handled well and was whisper-quiet at freeway speed. The gas mileage is nice on the budget, as well.

---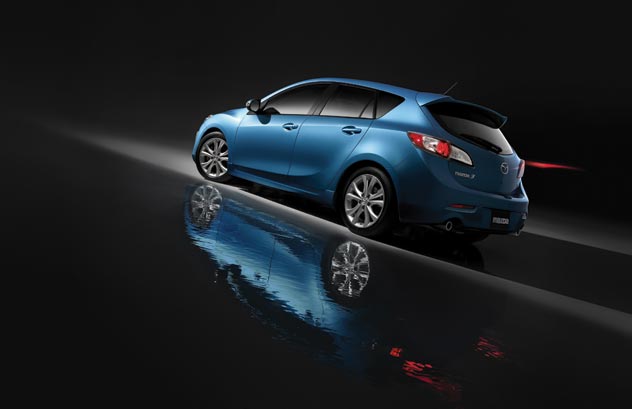 (Above): Exterior view of the 2011 Mazda 3 Five-door Sport.

---
The rear cargo area is generous for a car of this size, and did accommodate a week's load of groceries and cases of water.

Shoppers have found the Mazda 3 packs a lot into a smallish package, and that is no doubt why it is such a popular car for the manufacturer.

Today's Test Drive: 2011 Mazda 3 Five-door Sport

Base Price: $20,485
Price as Tested: 23,1100
Engine: 2.5-liter, 16-valve VVT i4
Horsepower: 167
Torque: 168 lb.ft
Transmission: five-speed automatic
Mileage: 22/city, 29/highway.