PHILANTHROPY:
A Friend in Need: Imran Khan Fundraisers

In his cricketing heyday, Imran Khan made cricket fans cheer and women swoon all over the world, but it is as after his illustrious cricketing career that he has shone as the keeper of the conscience of his nation, and has given his unstinting support whenever Pakistanis were in trouble, as was evident during his recent fundraising trip to Northern California, writes Ras H. Siddiqui.
---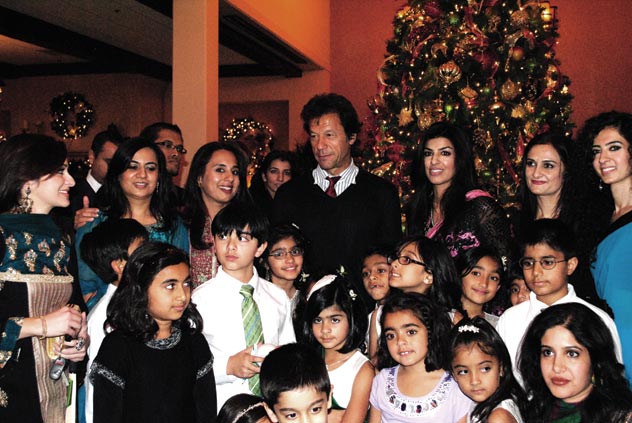 (Above): Imran Khan with Buddies without Borders in Pleasanton, Calif.

---
Imran Khan Niazi is no stranger to Pakistanis, South Asians, or for that matter fans of cricket worldwide. One of the finest all-rounders to have ever played the game, Imran also happens to be a hospital and college builder. Once married to Jemima Goldsmith (now Khan), a friend of the late Lady Diana Spencer and the Mick Jagger of the Rolling Stones, this Pakistani king of the social scene from Mumbai to London gave up his membership in the international jet set and started getting serious about life after the death of his mother Shaukat Khanum, in whose name he built a charity cancer hospital in Lahore.

Imran is a hero in many ways. His popularity transcends the societal stratification of Pakistani life. Imran Khan since leading the Pakistani cricket team to its world cup victory in 1992 has developed and retained quite a following. He has also entered politics there as the head of the Pakistan Tehreek-e-Insaf (Movement for Justice) political party.

But besides all that, any time there is a need for a humanitarian effort in Pakistan; Imran Khan is there to help. This scribe recalls that the most productive fundraiser ever held in Northern California after the devastating earthquake in Pakistan in 2005 was led by him.

On Dec. 4 the Imran Khan Foundation (www.imrankhanfoundation.com) held two fundraisers in Northern California to aid flood victims in Pakistan. The recent floods there are possibly the worst natural calamity to have hit the area in its entire history, with millions homeless, livestock and cropland plus storage facilities destroyed, it is no wonder that many organizations have come forward to help.

Understandably, the Imran Khan Flood Relief effort stands at the forefront once again.
The two events, a dinner in Pleasanton and an earlier luncheon in Sacramento and, were both sold out.

Pleasanton. The dinner event at The Castlewood Country Club was an elegant affair with just about the same number of people as earlier in Sacramento. Imran Khan has been coming to the San Francisco Bay area for almost two decades now and is no stranger to various cities around here. A new group of young people under the name of "Buddies without Borders" (www.buddieswithoutborders.org) put together this fundraiser both with and for the Imran Khan Foundation. Buddies without Borders (BWB) is an initiative by concerned Pakistani Americans to spread awareness about the dire flood disaster in Pakistan and the need to continue to help the needy through the collective power of children.

A short and very moving video put together by BWB pretty much explained the whole purpose for the evening.

Kids carrying in the American and Pakistani flags started the formalities at Pleasanton as the national anthems of both countries were played. Both BWB and the Imran Khan Foundation were presented with Congressional certificates for their flood relief activities from the office of local Congressman Jerry McNerney.

By the end of the evening just over $120,000 were raised at this fundraiser.

---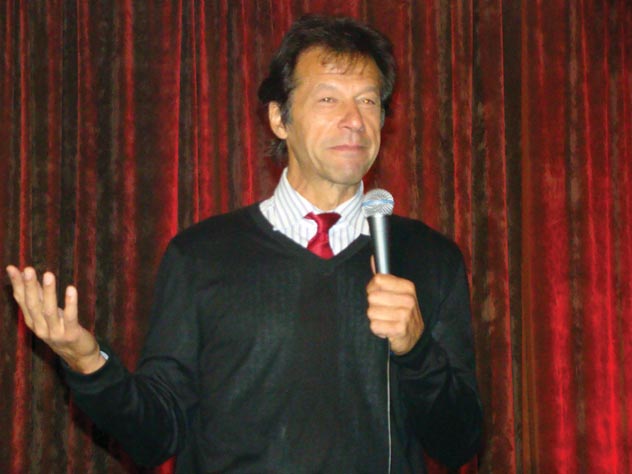 (Above): Imran Khan

---
And now to the "Lion of Pakistan" himself, Imran Khan Niazi. The Niazi family name is being added here just to differentiate him from others, because (and possibly) due to the success and popularity of this particular legend, there are just too many people named Imran Khan all over the world. Khan Sahib was his usual self at both these events and appeared quite relaxed when seated in the company of his many admirers and friends. But when he got up and started speaking, things were not always calm but people listened intently.

He was critical of the current government and certain Pak-U.S. policies but wanted to maintain good relations with all. In his motivational address in Pleasanton he said that he had come to the San Francisco area for the first time when many in the audience were children, bringing with him a little known singer by the name of Nusrat Fateh Ali Khan. He remarked that what we saw in the video does not tell the full extent of the flood tragedy. "As Pakistanis we have no other choice but to play our part," he said. He said that his organization was helping to bring help to people so that they can stand back up on their feet soon, by getting seeds to farmers so that they can plant crops as soon as possible.

Sacramento. This event was held at the Hyatt Regency, Sacramento. It was Imran Khan's first ever visit to meet the community in Sacramento, Calif. The people here represent the oldest Pakistani American ethnic presence in the United States.

Local dignitaries including recently elected Insurance Commissioner Dave Jones and Assembly Member Roger Dickinson were in attendance along with the local who's who from the Pakistani community.

Imam Mumtaz Qasmi from the Downtown Sacramento Muslim Mosque started the formal program with the customary invocation. Dr. Aslam Godil made the introductions as a video on the need for relief for flood victims in Pakistan put together by David Washburn was shown. Pakistani-American Association of Sacramento president Bashir Choudhry also said a few words before the audience stood up for the national anthems of the United States and Pakistan. Dr. Godil returned to recognize Americans from the area for their unique contributions to Pakistan and its people. They were Greg Zeller and his wife Laurie. Greg is operating women schools in Pakistan (LWCO.org), Darcey Donovan of the PAKSBAB organization (www.paksbab.org), and Gary Bielman, a male nurse, who went to Pakistan for earthquake relief in 2005.

Faraaz Godil and Tanya Syed representing local Pakistani-American kids and youth respectively set the pace but Bob Quance, an American who spent a part of his childhood in Pakistan, really touched everyone as he donated a Pakistani flag that has been in his family since 1948 and asked that it be auctioned to raise funds for flood relief at this event.

Fauzia Kasuri of the Imran Khan Foundation set the tone for the fundraising segment. She said that the organization was teaming with other NGOs in Pakistan and was looking for a sustained relationship with affected people there. The Imran Khan brand name, which was highlighted in a video titled "Transforming Lives," was also shown. In total over $160,000 was raised at this event.

Final Thoughts. It would not be off the mark to add that Imran took many moments during his speeches at both events to promote his political party along with his charitable foundation. And whether one agrees with him or not on the political front, it is hard to argue on some of the points that he raised. As one person said to this scribe at the Sacramento event, Imran Khan has delivered something back to his people in the shape of a hospital and a college and for that he has the respect of people from all over Pakistan. Whether he is a good politician or not is immaterial. He is a person who has shown that he cares.

---

Ras Hafiz Siddiqui is a South Asian American writer who lives in Sacramento, Calif.
---