HINDI FILM REVIEW:
Holiday Dhamaka: Tees Maar Khan

Review by: Priyanka Bhardwaj
Rating: **1/2 (Mediocre)
Directed by: Farah Khan
Music: Vishal-Shekhar and Shirish Kunder
Starring: Akshay Kumar, Katrina Kaif, Akshaye Khanna, Salman Khan, Anil Kapoor and Twinkle Khanna.

---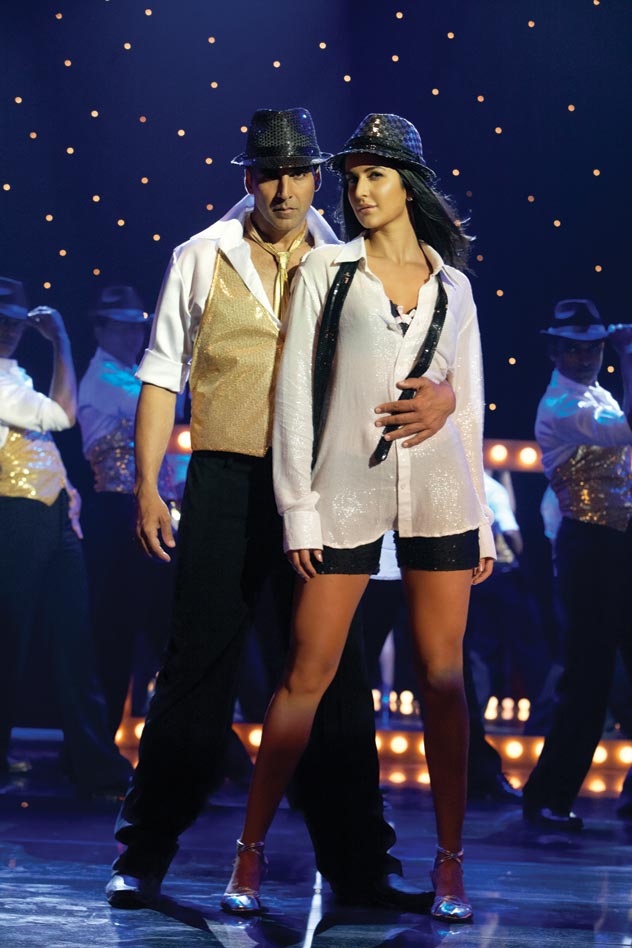 (Above): Akshay and Katrina in "Tees Maar Khan."

---
Produced under three banners, Hari Om Productions, Three's Company and UTV Motion Pictures, the latest Bollywood extravaganza to hit the box office on Christmas Eve is Tees Maar Khan.

For the movie, Farah Khan and UTV have officially taken over remake rights of After the Fox from Metro Goldwyn Mayer.

An action comedy film directed by choreographer turned film director Farah Khan, the star cast includes Akshay Kumar as Tabrez Mirza Khan or Tees Maar Khan, Katrina Kaif as Anya and Akshaye Khanna as Aatish Kapoor. Salman Khan, Anil Kapoor and Twinkle Khanna make special guest appearances.

It is the seventh pairing of hit tinsel-world on screen couple, Akshay Kumar and Katrina. Theatrical trailers and "Sheela Ki Jawani," the title song of the film, had created a record of sorts by winning a huge number of fans on social networking sites like FaceBook and Twitter.

Penned by Shirish Kunder the film's interesting tit-bits include the climax shot in a moving train on a 500- meter track, all especially designed for a cool sum of Rs.7, 500, 000.

The movie is about a sort of not-so-Robin Hood shameless and audacious international swindler Tees Maar Khan who survives on cheating and stealing.

Aided by his team of Soda, Dollar and Burger in masterfully executing his illegal plans, he lands up a once-in-a-lifetime lucrative assignment from Siamese twins Johri brothers (Ran and Raghu) for looting Rs.5 billion worth of antiques from a heavily guarded moving locomotive.

---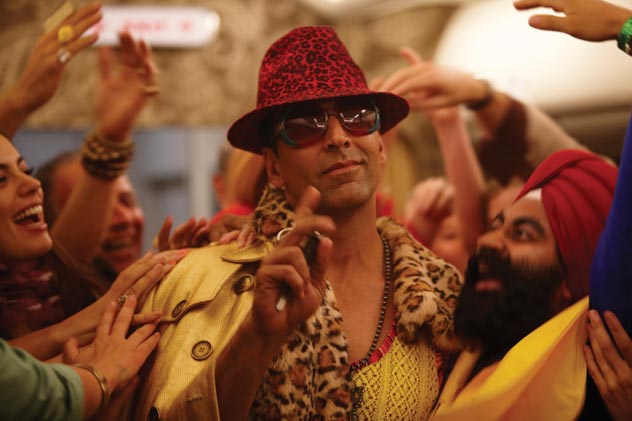 (Above): Akshay in "Tees Maar Khan."

---
The mighty project requires him to disguise himself as a Bollywood producer and he embarks upon a project to shoot a fictitious film at a village called Dhulia where the train passes.

He cons Oscar-hungry superstar Aatish Kapoor to play the role of krantikaari. It's a film within a film and Khan uses naïve villagers in his robbery. He also ropes in his girlfriend and wannabe actress Anya, who is also oblivious of the plan.

Kaif seems to understand her role of dumb eye-candy and plays it well, though not to an impressive level. There are moments of comedy like when she says, "Main aur zyaadaa make-up laga kar aati hoon" (I am putting on some more make up and coming).

The movie makes fun of Academy Awards, Bollywood aspirants of Hollywood (from Aamir Khan to Anil Kapoor) and of how a poverty-stricken India makes for excellent Oscar nominations.

During the course of the movie Khan unknowingly saves a bunch of village children from being smuggled and brought into the child-labor racket. However, after the successful train robbery, the police catch him and he is handed an imprisonment 60 years.

Meanwhile Khan's minions have shot the entire movie and he gets the court's approval to attend its premiere.

---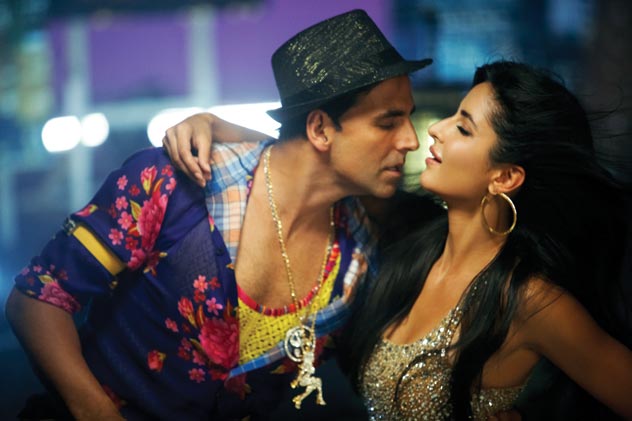 (Above): Akshay and Katrina in "Tees Maar Khan."

---
A perfect occasion to escape, Tees Maar Khan does not miss on it. It also ensures a "happy ending" to the regular Bollywood buff.

The music composed by successful duo Vishal-Shekhar and debutant music composer Shirish Kunder has made a good attempt to attract mass appeal. Talented Sonu Nigam is highly entertaining while creating fifty-four different voices: screechy, squeaky, throaty, loopy — you name it.

The bouncy item number by Kaif, "Sheela Ki Jawani," became a rage much before the release of movie. This erotic number, flowing from Indian shores, has replaced Dabangg's "Munni Badnaam Hui" as the number one item song.

With her midriff generously exposed for the movie buff's viewing pleasure, Kaif gives a high voltage show-stopper appearance in a sexy avatar in this visually-super scorching belly dance number.

Kaif, dancing to Sunidhi Chauhan's singing and excellent choreography of Farah, is sure to garner a new fan base.

---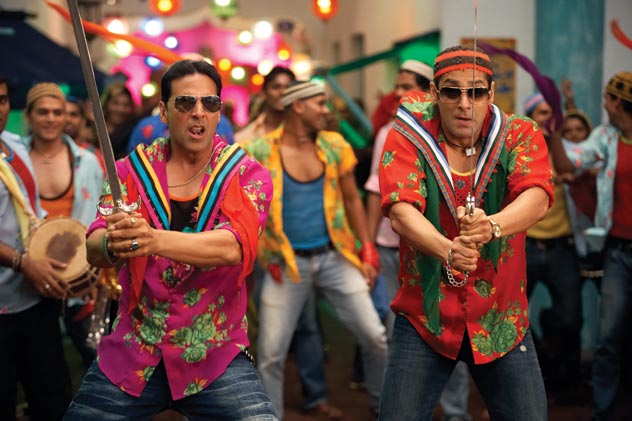 (Above): Akshay and Salman in "Tees Maar Khan."

---
Salman Khan, numero uno of contemporary Bollywood, making an appearance in a qawaali in his trade mark bright red shirt and colorful style attracts wolf whistles.

Interestingly, prior to the release, trailers of the movie had created a trend of sorts with people curious to procure copies of over the top and colorful fashion ensemble used by the film actors.

To encash this public interest the film's fashion designer Aki Narula and director Farah Khan planned to launch a similar clothing line with a leading brand toward the end of December.

The makers of the film have announced that original outfits will either be given away in charity or awarded in promotional contests.

The setting is playfully colorful and extravagant, costumes flashier than ever and drama and slapstick humor present in oodles.

---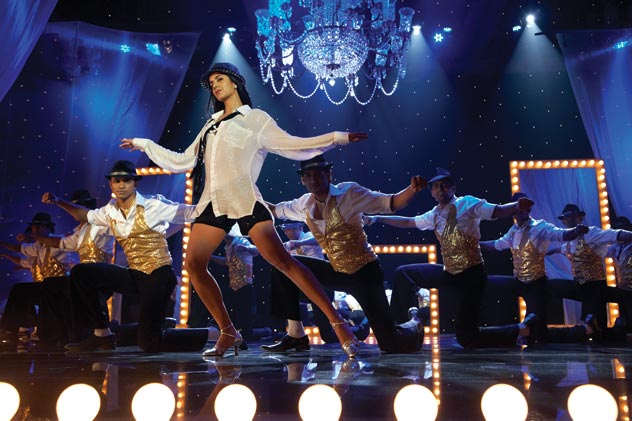 (Above): Katrina in "Tees Maar Khan."

---
Yet, with her growing directorial experience, one feels Farah Khan could have turned out much better fare.

There could have been an improved display of talent in hand rather than many being reduced to caricatures, lesser jokes on gays and A.R. Rahman (in form of "Day Ho") and a tighter script by Shirish and Ashmit Kunder.

Despite weaknesses in terms of screamingly delivered dialogues, an overdose of infantile jokes, a long-winding story, eye squinting razzle-dazzle, the film has managed to create the dhamaka of a holiday fun film to some measure, especially due to "Shiela ki Jawani" number.

The movie is an audio-visual fare of "sexiness-n-excess" and gets a two and a half rating.