RECIPE:
Quick Veggie Delight: Chilli Paneer


Here's something that's healthy, wholesome, delicious and vegetarian—and you can make it quickly too. Gourmet chef Sanjay Patel shows you how.
---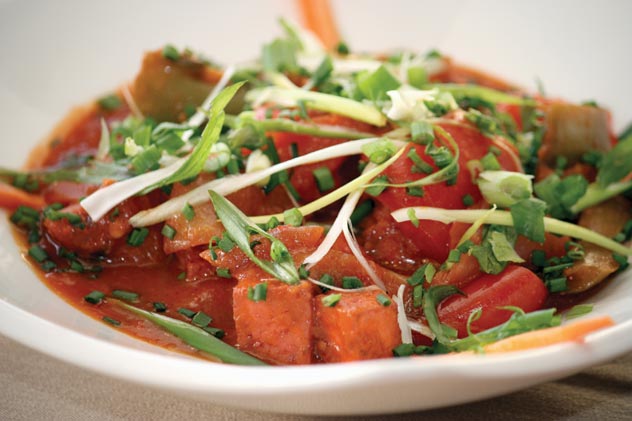 (Above): Chilli Paneer [Photo: SILICONEER]

---
Ingredients

Paneer cubes : 2 cups

Oil : 2 tbsp

Garlic, finely chopped: 2 tbsp

Ginger, finely chopped : 1 tbsp

Green chilies, finely chopped : 4

Lime juice : 1 tbsp

Coriander powder : 2 tsp (optional)

Onion, Medium and finely chopped: 1

Corn flour : 3 tbsp

All purpose flour : 1 tbsp

Salt: according to taste

Cilantro: 2 tbsp (for garnishing)

Curry leaves : 4-5

Bell peppers : 1 1/2 cup cut in cubes

Combination of Sauce:

Soy sauce : 1 1/2 tbsp

Red chili sauce : 2 tbsp

Red wine vinegar or Regular vinegar : 1 tbsp

Tomato sauce : 2 tbsp)

Method:

Combine the corn flour and regular flour in 2 tbsp of water to make a loose paste. Marinate the paneer with corn flour paste and green chilies. Shallow fry the paneer till it becomes brown in color. Keep aside.

Heat oil in a pan. Add chopped garlic and sautee for a few minutes. Add ginger. Fry for 4-5 minutes in simmer heat.

Now add chopped onions and curry leaves, fry them for 3-4 minutes or till the onion becomes translucent.

Add the coriander powder. Fry for few minutes by adding little water.

Add bell pepper and let it sit in the heat for 4-5 minutes.

Now add all the sauces and fried paneer. Cook them for 3-4 minutes in high heat.

Finally add the remaining corn flour paste in to the mixture. Let the mixture thicken and garnish it with coriander leaves and lime juice. Remove from heat and hot with chapati or naan.

---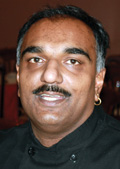 Sanjay Patel has a degree from the Culinary Institute in Birmingham, U.K., and is certified in food and hygiene. He was named 1996 Chef of the Year by Quality Cuisine, U.K.
Patel is executive chef at Milan restaurant in Milpitas, Calif.
---