CONFERENCE:
Entrepreneur's Bazaar: TiECon 2011

Think you have the next big business idea, TiECon promises to deliver. A Siliconeer report.
---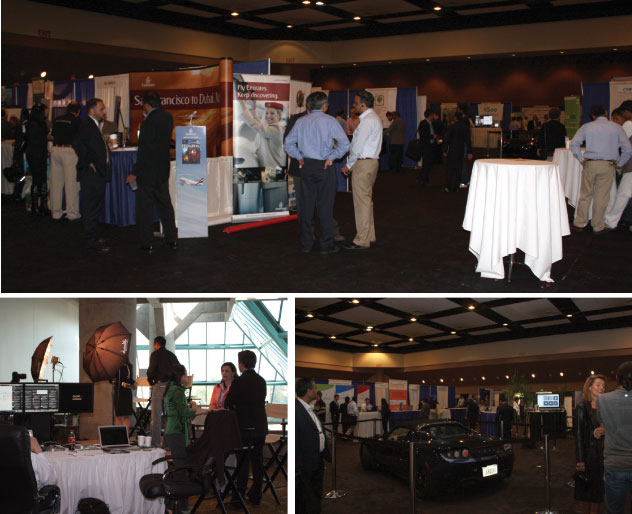 (Above): (Clockwise from top left): Attendees networking with exhibitors; Tesla's all electric Roadster and, the StartUp America booth at the TiE conference in Santa Clara Convention Center, May 12. [Siliconeer photo]

---
The Indus Entrepreneur (TiE) held its annual conference, TiECon, May 12-13, at the Santa Clara Convention Center in Santa Clara, Calif. Considered as the Mecca of entrepreneurship, TiECon 2011 is also considered the world's largest entrepreneurship meet.

An impressive list of this year's speakers included Dr. David Ferrucci or IBM, who talked about Watson, a computer created by IBM that beat the best brains on ABC's Jeopardy show. Keynote speaker Steve Case of AOL discussed his latest drive, StartUp America, a program aimed at bringing Silicon Valley work culture home to the rest of the nation. In other words, StartUp America is looking to bring the entrepreneurial practices that drive Silicon Valley to other parts of the country.

Sun Microsystems co-founder Vinod Khosla, who was one of the keynote speakers, spoke on his research on energy transformations.

TiECon also had the regular VC sessions, networking opportunities, talks and an expo that saw a slew of new IT companies showcasing their products.

Fostering entrepreneurship has always been TiE's forte and this year was nothing different. Continuing the trend, TiE announced a list of Top 50 startups that were most promising ventures, one of them was Sunnyvale-based Mobifusion, a mobile application development company.

'Cloud computing, social media, and mobile' seemed to be the buzz words this year and are already turing out to be the next boom post the dot-com bust and the budding entrepreneurs are seemingly ready to jump on the bandwagon.

TiECon is not just tech and business, spirits do run high as old friends run into each other, often seen discussing business or just having a good time.

A Tesla roadster, Indian real estate companies, yoga trainer, community organizations, engineers, budding entrepreneurs, realtors, explorers, investors and entertainers, all fit well in this hi-tech bazaar.