BOLLYWOOD | Film Review:
Voyeuristic Horror Flick: Ragini MMS


Produced by: Ekta Kapoor and Shobha Kapoor
Director: Pawan Kripalani
Starring: Raj Kumar Yadav and Kainaz Motivala
Music by: S.D. Burman, Shamir Tandon, Faizan Hussain, Agnel Boman and Bappi Lahiri
Rating: *** (Good)

---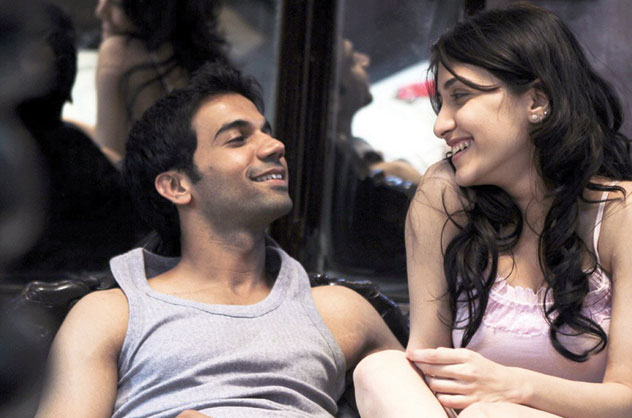 (Above): Raj Kumar Yadav and Kainaz Motivala (r) in "Ragini MMS."
---
Ragini MMS is a horror thriller that hit theaters last month. Indian television soap queen Ekta Kapoor, better known for saas – bahu (mother-in-law and daughter-in-law) extra-marital affairs-ridden serials, recently conjured a steamy horror film that she claims to be 'as horrific as Bollywood has seen yet.'

As for the star cast, what a way to start a career for the newbies Kainaz Motivala who plays 'Ragini' and Raj Kumar Yadav who plays 'Uday.'

The story revolves around a girl called Ragini and her boyfriend Uday who decide to spend a lusty weekend at a farm house situated deep inside the woods on the outskirts of Mumbai.

The drama unfolds as the duo snuggle on the sofa and the bag of food unwraps to reveal worms in it.

However, in their excitement of making love they opted to ignore the worms as a one-off incident.

The real intentions of Uday as it turned out, was to record a sex video featuring himself and Ragini, without Ragini's consent or knowledge, that he planned to use as his path to fame and to live his Bollywood dream of becoming an actor.

Uday discreetly had cameras set up all over the house to record his love making in a way similar to Big Boss (a highly popular reality television show) sets.

Just as 'things' were about to begin, Ragini's friend, Piya arrived at the farmhouse with her boyfriend.

Afraid that these friends may ruin his plans Uday tried to scare them away with stories of a ghost who haunts the house.

The friends don't buy the story but soon Piya's boyfriend gets spooked and immediately leaves with Piya.

---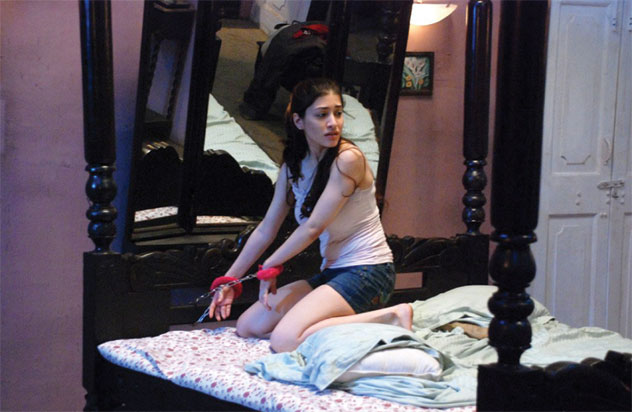 (Above): Kainaz Motivala (r) in "Ragini MMS."
---
Unfazed by this, Uday and Ragini get back to their original act of love making, that included Ragini being handcuffed to the bed.

Ragini's character depicts an urban girl who has no qualms about indulging in physical intimacy with her boyfriend and Uday is characterized as a rash urban boy who has no qualms about using his escapades with his girlfriend to for commercial gains.

The ghost meanwhile quietly arrives and pulls Uday's hair as Ragini spots the cameras in the room.

As Uday is attacked and shrieks out, Ragini struggles to free herself but in vain.

Selfish and scared out of his wits, Uday tries to escape but the spirit goes after him, enters inside his body and compels him to commit suicide.

Ragini manages to free herself as the ghost returns to kill her.

She runs out and sees a car with the headlamps on and is terrified to find the dead bodies of Piya and her boyfriend.

She tries to escape but the vehicle does fails to start and the ghost grabs and drags her inside the house. (Quite a familiar scene from the Ramsay TV soaps if you can recollect).

The movie ends with Ragini slipping into unconsciousness but free to escape.

---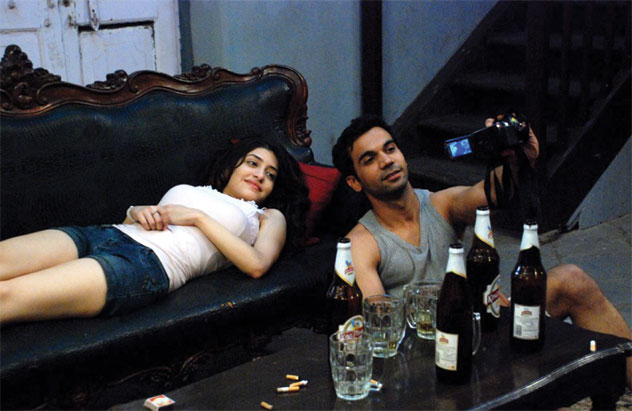 (Above): Raj Kumar Yadav and Kainaz Motivala (r) in "Ragini MMS."
---
For the first time Bollywood has churned out an unconventional, eerie and spine-chilling sex-date film that combines aspects of sex, betrayal, horror and the paranormal.

The flick also takes from the real life MMS scandal of Deepika, a Delhi-based girl, that occurred a few years back.

Refreshingly the young and new actors portray their roles convincingly in both the sexually loaded and petrifying scenes.

Though the film does have its share of errors, the overall effect is not spoiled. A voyeuristic edge is provided with the viewer being led into personal details of the couple's lives.

The girl trusts her boyfriend completely, who turns out to be deceptive.

The mix of titillation and horror form a lethal combination, and given current Bollywood standards, it is an achievement for the director. Elements of Hollywood movie Paranormal Activity are quite discernible.

Ragini MMS is an unconventional horror film by Bollywood standards ­— no women in white saris singing songs, no silhouettes of dead people walking, or the contrived high pitched screams, and ghosts setting out to revenge the wrongs of their previous birth.

The movie does not throw one off their seats but fires an anxiety of knowing the coming story every second.

The musical score consisting of four songs, including S.D. Burman's "Raat Akeli Hai" of yesteryears film Jewel Thief, "Itne Kareeb Aao," "Ragini," and "You Are My Chicken Fry," is fairly hip.

At a time when movies are made with skyrocketing budgets, Ragini MMS has been made on a shoestring budget and was shot in a month.

The quick success of the movie has already encouraged the producer to announce a sequel, and from what sources reveal, it could be in 3D.

Do we see a repeat of Balaji Telefilms' soap-sans-film saga here. With Ekta Kapoor in charge, chances are, sequels will continue to haunt the filmi junta.

Though the film has been doing well, it does make one wonder, what can be more traumatic — ghosts, or betrayal and the unnerving trauma of being involved in a salacious MMS.

Perhaps the sequel will speak better for itself.