POLITICS:
Politique Femme: Didi, Behenji and Amma

India's political scenario saw major shifts at the recent State Assembly polls as frustrated voters took on the incumbents to infuse a change in leadership. Women power ended up bagging the biggest booty. Though the victory is sweet, the path to meeting voters' expectations is not as rosy, writes Siddharth Srivastava.

---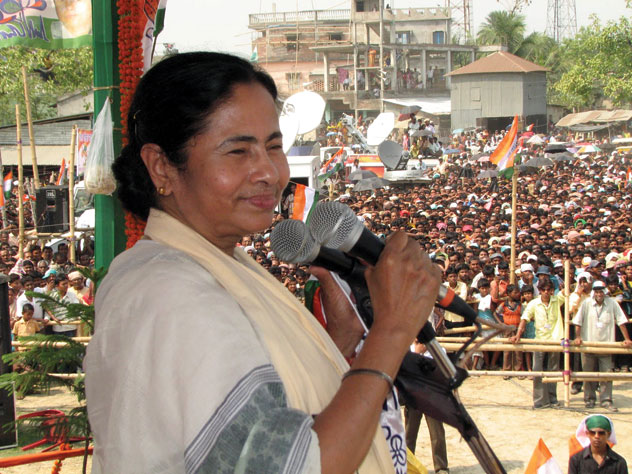 (Above): Former Railway Minister of India and Trinamool Congress leader Mamata Banerjee addressing a rally in West Bengal as the state's first woman Chief Minister."Didi" as she is fondly called, has defeated the incumbent CPI(M) leadership that ruled the state for over three decades. Mamata Banerjee is a seasoned street fighter politician who has even taken on hoodlums and cadres of the Left parties in West Bengal, in literal fist fights.
---
According to the results of the latest round of assembly elections, two big states — Tamil Nadu and West Bengal will now be ruled by women chief ministers. In Tamil Nadu, Jayalalithaa rose to victory, while in Bengal, it was history in the making as the 34-year-old CPI(M) rule came to an end, and India's now former Railway Minister and Trinamool Congress leader and Mamata Banerjee won a landslide victory.

Presently, Mayawati heads the government in the large state of Uttar Pradesh while Shiela Dikshit rules the capital state New Delhi. Together, these four powerful women heads of government have a big say about the future and fortunes of more than 400 million of India's 1.2 billion population.

In Indian politics women have always played a pivotal role though the fair sex still forms an abysmal percentage of the overall elected representatives.

However, to say the ladies have proved themselves in a political arena dominated by men, via gentler elements usually linked to the fairer sex in an otherwise seen as crass profession in India, is wrong.

Many women political leaders have been more men than men themselves and continually disproved that in politics women are of a kinder persuasion, an argument to favor reservations for women in legislatures.

They have quickly realized that niceties do not work in Indian politics that revolves around dynastic and hereditary rule, quick money making, sycophancy and cultivating larger than life personas.

Then there is the cultural and social milieu of a patriarchal set up, skewed sex ratio, preference for sons even as female feticide has reached alarming proportions, to grapple with.

India's political past has been witness to leaders such as former Prime Minister Indira Gandhi whose detractors mistakenly called her "dumb doll" or "goongi guriya" in Hindi in the early part of her career.

Gandhi went on to impose emergency in India and jailed quite a few of her opponents who were made to eat their words. She lost elections but re-emerged victorious again. Such was her legacy that even today the Gandhi family dominates leadership of the largest political party in India. Her daughter-in-law, Sonia Gandhi, is now the Congress party's supreme leader.

However, leading the pack of women in pants are the mercurial Jayalalithaa and maverick Mayawati given associated misdemeanors of corruption, arrogance, rudeness and opportunism for which their male counterparts are known practitioners.

There have been instances when both have shown disdain for law and attempted to subvert justice. Major charges of corruption and manipulating witnesses have been leveled against Jayalalithaa, a former actress and "mistress" of the late MGR, a doyen of Tamil politics and films for long.

---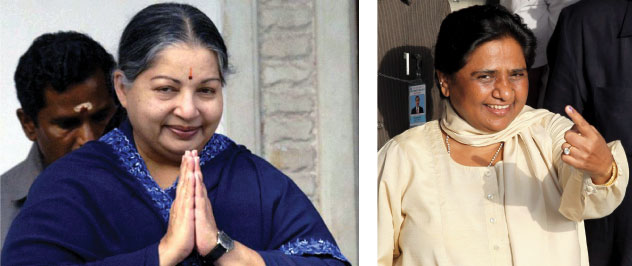 (Above): (Left): All-India Anna Dravida Munnetra KazhagamA (AIADMK) general secretary J. Jayalalithaa led her party to a sweeping victory in Tamil Nadu. (Right): Mayawati is the current Chief Minister of Uttar Pradesh. Her supporters refer to her as Behen Ji (sister). She became the first Dalit-woman chief minister of any Indian state..
---
Ministers and party representatives genuflect on the ground and her feet in the presence of the imperious 'Amma' or mother that Jayalalithaa is referred. She smiles at them in encouragement.

'Behenji' or sister Mayawati, too, like Jayalalithaa, possesses assets disproportionate to her sources of income that she claims are donations to her by well wishers.

In acts of self aggrandizement, Mayawati has spent a big chunk of exchequer money of the impoverished state Uttar Pradesh building statues of herself and her party symbols. She has slapped more than a hundred cases against political bete noir Mulayam Singh Yadav and let the police (that reports to her) loose against political opponents.

In the past Jayalalithaa has gone a step further and had her political bete noir M. Karunanidhi physically lifted, assaulted and thrown into jail, by the police.

Meanwhile, rabble rouser didi or elder sister Mamata Banerjee is a seasoned street fighter politician who has even taken on hoodlums and cadres of the Left parties in West Bengal, in literal fist fights.

Among the latest electoral results, the biggest upset has been by Mamata who has ended over three decades of left party rule in West Bengal. She has not had it easy. She has been severely beaten up during street protests and almost lost her life at least once due to injuries suffered.

Yet, didi has never missed any opportunity that has come her way to buttress her case in Bengal. As federal Railway Minister of India, her single-minded focus has been strengthening the train system of her constituency, West Bengal. She has been in and out of arrangements with the BJP or the Congress as it has suited her interests, though it has also been the cause of her political downfall in the past.

However, it is also true that Indian democracy and politics is maturing and the voters are increasingly vigilant about being taken for a ride by their elected representatives.

The message that is being repeatedly delivered during elections is that the Indian voter wants clean and corruption free governance with focus on development and growth.

Chief ministers who have performed on this count include Dikshit, Narender Modi of Gujarat, Nitish Kumar in Bihar and Naveen Patnaik in Orissa. These leaders have bucked anti-incumbency and won multiple elections.

During the last month's assembly polls, Tarun Gogoi in Assam has retained power on a similar platform, while a corruption-tainted Karunanidhi government has been booted out in Tamil Nadu.

Mayawati, Jayalalithaa and Mamata will need to realize that lady-luck will be on their side if they too perform. The Indian voter expects results.