SUBCONTINENT:
India's Most Wanted: Dawood Ibrahim

Following the Abbotabad incident, where the U.S. went in and eliminated Osama bin Laden, there is rising debate whether India can and should launch covert operations that follow definite intelligence against people like Dawood Ibrahim, who have acted against the country, writes Siddharth Srivastava.

---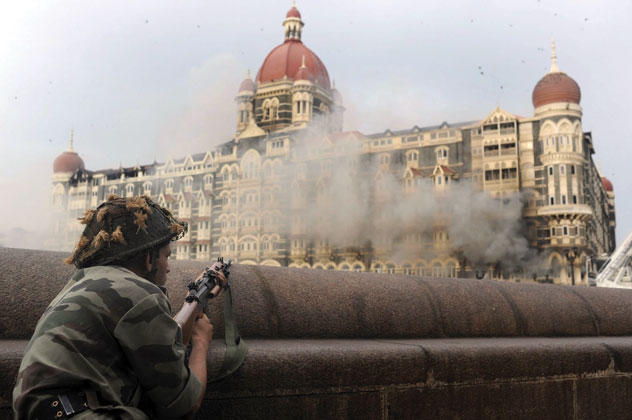 (Above): Smoke billows from the Taj Mahal Hotel in Mumbai on Nov. 26, 2008, when the city was under siege of terrorists. The attacks, which drew widespread global condemnation, began Nov. 26, 2008 and lasted until Nov. 29, killing 164 people and wounding at least 308. [PHOTO: Manoj Joshi Blog]
---
While Washington wins the plaudits for hunting down Osama bin Laden, New Delhi is unhappy that its 'Most Wanted' terrorist Dawood Ibrahim remains free in Pakistan.

The list of 50 'most wanted fugitives' and 'enemies' that India seeks action by Islamabad include Lashkar-e-Toiba founder Hafiz Saeed, 26/11 planners Sajjid Majid and Syed Abdur Rehman.

Masood Azhar, meanwhile, is the founder of the banned Islamic extremist group Jaish-e-Mohammed, which is accused of plotting several terror attacks in India.

Azhar was released by India in exchange for the lives of 150 passengers traveling on Indian Airlines flight IC 814 from Kathmandu in Nepal that was hijacked in December 1999 by Pakistani nationals with links to the ISI. He continues to live and preach in Pakistan.

India, a major victim of terror attacks, believes that Dawood owns houses in Karachi, Lahore and Islamabad based on assessments by agencies such as the Interpol that has said that the gangster's address is the exclusive Clifton area in Karachi. India holds Dawood responsible for serial bomb attacks in Mumbai in 1993 and for providing logistical support to LeT for the 26/11 attacks on Mumbai.

Last month, New Delhi rejected Pakistani Interior Minister Rehman Malik's claim that Dawood was not in Pakistan. "If the minister (Rehman Malik) is so sure that Dawood is not in Pakistan, he should tell us where is he . . . according to our information, Dawood is in Pakistan," Indian Home Secretary Gopal K Pillai said.

Underlining the duplicity of rogue elements in Pakistan harboring terrorists, a senior government official told this correspondent, "We are happy that Osama is dead. However, despite definite information that Dawood is leading a luxurious life in Pakistan like Osama did, he has not been captured."

The issue also highlights India's constant refrain that Islamabad has not been forthcoming about investigations into the brazen 26/11 Mumbai attacks that left 171 people dead.

Reacting to Osama's killing, Indian Home Minister P. Chidambaram said, "The firefight in which Osama bin Laden was killed took place in Abbottabad, deep inside Pakistan. This fact underlines our concern that terrorists belonging to different organizations find sanctuary in Pakistan."

In 2003, the U.S. labeled Dawood a "global terrorist," after which it was expected there would be added pressure on Pakistan to rein in the gangster, if it could. The fact sheet on Dawood is well documented on official U.S. security websites:

---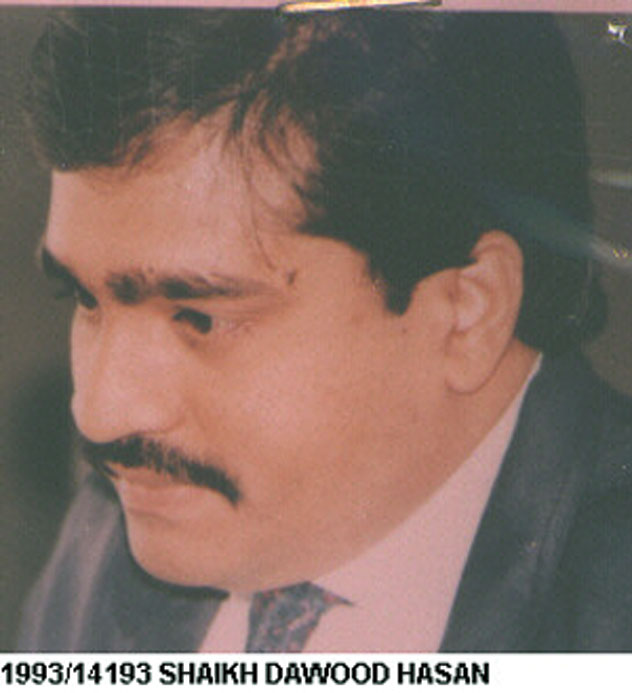 (Right): File photo of Dawood Ibrahim. [Source: WIKIPEDIA | INTERPOL]
---
"Dawood, the son of a police constable, has reigned as one of the pre-eminent criminals in the Indian underworld for most of the past two decades. Ibrahim's syndicate has consistently aimed to destabilize the Indian government through inciting riots, acts of terrorism and civil disobedience. He is currently wanted by India for the March 12, 1993, Bombay Exchange bombings which killed hundreds of Indians and injured over a thousand more. Information indicates that Ibrahim has financially supported Islamic militant groups working against India, such as Lashkar-e-Tayyiba (LeT). Ibrahim's syndicate is involved in large-scale shipments of narcotics in the United Kingdom and Western Europe."

There has been plenty of speculation about Dawood in the Indian media – that he lives a lavish life in Karachi, enjoys the hospitality of the top bosses in Pakistan, has married an Indian Bollywood actress, his daughter is married to the son of a prominent Pakistani ex-cricketer, is still close to Pakistan's ISI agency, or has fallen out of favor.

In the past, India has made strong efforts to convince the United States of Pakistan's complicity in allowing Dawood and others, such as Masood Azhar, to flourish. India has repeatedly conveyed to Washington that a selective elimination of inimical forces that have mushroomed under the umbrella of the al-Qaeda is not the right strategy.

India's stand is that terror knows no boundaries and today's Jehadi terrorist may tomorrow be a militant in Indian Kashmir, a bomber in New York or in Mumbai.

It is the same powerful elements within the Pakistan Army and the Inter Service Intelligence (ISI) that must have sheltered Osama near Islamabad that protect many other terrorists within Pakistan. This in turn dilutes America's war on terror in which Pakistan is supposed to be a partner.

Yet, over the course of time, the Dawood issue has turned into a symbolic tussle of Islamabad not giving into an Indian concern, pitch forking the gangster into the realm of India-Pakistan give-and-take politics.

The killing of Osama has also focused attention on a long debated issue in India: Whether the country can and should launch covert operations like Israel and America that follow definite intelligence inputs against those who have acted against the country.

In other words, could India take out Dawood the way America eliminated Osama?

New Delhi has for long been concerned about terror training camps in Pakistan Kashmir, specifically aimed at militant attacks in India. There have been occasions such as after the Kargil War in 1999 and the Mumbai Terror Attacks in November 2008, that the issue of 'hot pursuit' of the enemy within Pakistan territory has been a subject of intense debate in the country.

There is an emerging thought that India should not adopt the 'wait and watch' diplomatic approach in dealing with known terrorists.

A comment in the Hindustan Times post Osama killing reads: "Nations that are too moralistic and legalistic in dealing with the complex challenge of state-sponsored terrorism end up as hapless victims. Only covert operations conducted by proactive counter-terrorism agencies can raise the cost for an adversary enough to deter him from launching terror strikes."

However, those against such a strategy say that India does not enjoy the military and economic might of America or the efficiency of Israeli forces to pull off secret operations to take out known terrorists.

A botched operation could lead to a war between India and Pakistan, given the tenuous relations. In such situation New Delhi can use diplomatic persuasion, build global pressures or get the Americans to do the job.

Given such contexts, it is unlikely that India is going to score with Dawood in a hurry, unless, a collaborative effort or pressure is induced on Pakistan by the United States.