SUBCONTINENT:
Indo-Pak Ties: Post-Osama Scenario


India's assertions about Pakistani ISI providing a safe haven for terror groups has gained a stronger global attention after U.S. eliminated Osama bin Laden in Pakistan. These events warrant that the United States and India assume the mandate to enable Pakistan's civilian forces to form a strong authoritative government while keeping a close eye on the growing closeness between Pakistan and China. India cannot postpone dealing with the issue of Jammu and Kashmir till eternity, writes Priyanka Bhardwaj.

---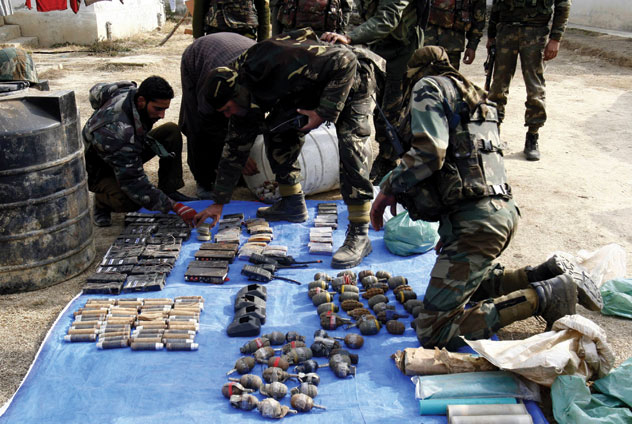 (Above): File photo of Indian Army displaying arms and ammunition seized from terrorists in J&K. Photo: WIKIPEDIA | PANKY2SHARMA
---
Prior to embarking on a tour of four European nations the U.S. President Barack Obama's assertions in an interview to BBC may have impact on Indo-Pak relations in the near future.

President Obama advised Pakistan to shed its anti-India obsession and instead concentrate its capacities on self-growth and development.

He also revealed that he would not mind another 'Abbotabad-like' raid, the one in which U.S. Navy Seals hunted down Osama bin Laden, if Islamabad failed to act on threats developing in Pakistan towards the U.S. or its allies.

"Our job is to secure the United States. We are very respectful of the sovereignty of Pakistan. But we cannot allow someone who is actively planning to kill our people or our allies' people. We can't allow those kind of active plans to come to fruition without us taking some action," Obama said.

Immediately afterwards unconfirmed news reports (unconfirmed as of press date) came in of the killing of Afghan Taliban leader Mullah Mohammed Omar in Pakistan who was regarded as spiritual leader of Taliban movement and operated in parts of Afghanistan and Pakistan. There were also reports of heavily armed Taliban gunmen storming a major naval airbase PNS Mehran in Pakistan's port city of Karachi, destroying two U.S.-made surveillance aircrafts and killing at least ten security personnel.

About 100 commandoes were involved in taking down four of the six infiltrators, two still managed to escape. According to an Indian navy official, this destruction amounts to almost half of Pakistan's sophisticated long-range maritime snooping and strike capabilities.

In the context of these assertions, of a new kind, and a rapidly changing scenario it becomes an absolute imperative for India to put in place a strong, clear cut strategy in dealing with its immediate neighbor, Pakistan.

The fact that too many terror perpetrators are lodged in Pakistan and have been receiving moral, economic and ideological support, armaments and human resource in their jehadi agendas, implemented on foreign soil, from Pakistani Inter-Services Intelligence directorate (ISI) is being fast recognized by the global community as sources of terror.

Clubbing this with Osama's discovery in Pakistani territory, India stands a good chance to use this leverage to influence U.S. Congress to wake up to Indian sensitivities and concerns about Pakistani anti-Indian activities.

Hence, gaining global and U.S. support at this crucial juncture may not be as tedious as before, but then to expect this to be a natural development can be construed as nothing more than wishful thinking.

---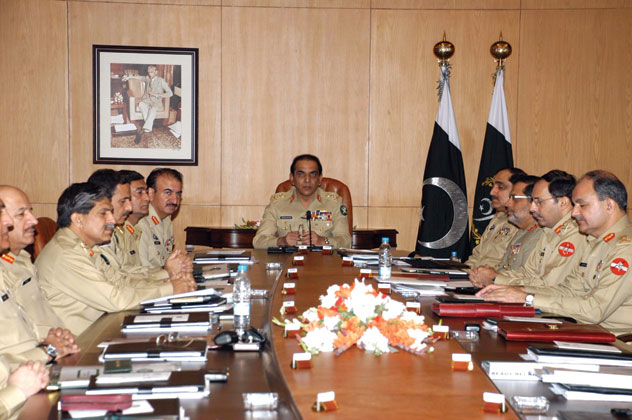 (Above): Pakistan Army generals during a meeting. The fact that Osama bin Laden was discovered at a safe house in the military garrison city of Abbotabad in Pakistan, has raised questions on the integrity of Pakistan's Army and its intelligence bureau, Inter Services Intelligence (ISI). [LUBP photo]
---
In the recent past, as WikiLeaks cables reveal, there have been clear evidences of the U.S. expressing strong confidence regarding the safety of Pakistani nuclear weapons.

If per chance the U.S. falls back to its earlier position it would not at all be in the best interests of India.

Moreover, continuation of U.S. aid to Pakistan should create spaces for the former to engineer a few occurrences in Pakistan that should shape up anti-terror efforts that augment India's security.

And for the sake of world peace and Pakistani growth, the U.S. could be urged by Indian diplomats to pump in their aid into civilian welfare measures rather than being utilized for military and ISI expenditures.

In its capacity as a longstanding, stable democracy, moral power, its presence in the United Nations Security Council and close cooperation in sharing intelligence with the U.S., India should have a higher chance to be seriously considered.

Recently, India was also applauded by the U.S. for its efforts in its Afghan program.

Around mid of May this year, Indian Prime Minister Manmohan Singh earned U.S. brownie points for extending an impressive $1.5 billion aid for schemes such as building roads, setting up power lines and promising another $500 million to accelerate stabilization of Afghanistan.

What needs to be ensured is that the international community recognizes Afghan-Pak region as the heart of global violent extremism and must not be misled to view India's security dimension through the prism of Kashmir-territorial-squabble.

The Mumbai terror attacks had brought sufficient glare on anti-India terror networks based in Pakistan and an enormous pressure on Pakistan to cooperate in anti-terror efforts.

But then peace in the Indian subcontinent seems to be contingent on Pakistan's stability and improved counter-insurgency capacities.

It is also true that thousands of Pakistanis have lost blood in this terror scourge and there exists a constituency in Pakistan, though incapacitated at present, which desires for peace and an end to violent extremism.

This stands in stark contrast to the very reasons of existence of Pakistani military and ISI that hold reigns of power and envision a fissiparous surrounding.

A strengthened civilian and pro-peace constituency would perhaps dismantle this hold of Pakistani army and the spy unit over the country's foreign policy (especially towards India) and create a more optimum environment for dealing with terror networks right now sheltered in Pakistan.

Indian worries also flow from a satellite imagery that point out a developing Pakistani fourth reactor (a plutonium producing facility) at Khushab military facility and reports talk of expansion of the country's capability at about 8-10 nuclear weapons each year.

The latest nuclear tipped arsenal strength of Pakistan is numbered not less than a hundred (as per some sources in early May 2011).

This is clear evidence of a Pakistani build up to react and dominate in any possible escalation with India.

Moreover, the vulnerability of Pakistan's rapidly growing nuclear installations can be deduced from the latest 15-hour-long attack on Pakistani naval base which is situated a mere 15 miles from Masroor Air Base, a large depot for nuclear weapons.

By vulnerability one means threat of internal attacks and sabotages that have been quite occasional in recent times.

The dangerous situation that the Indian subcontinent is fraught with, there is every possibility of an escalating armed nuclear race transforming into one of the most devastating and frightening conflicts ever witnessed by human race.

The United States, a world super power, along with India, a nation eight times larger than Pakistan in terms of economy and population, have to assume the mandate to enable Pakistan's civilian forces to form a strong authoritative government that can seize power from its military.

In the road to establishment of stabilizing regime and peaceful environment there may be hindrances in the form of a third power to counter with.

The growing closeness between Pakistan and China may be something that the global community has to be wary of.

---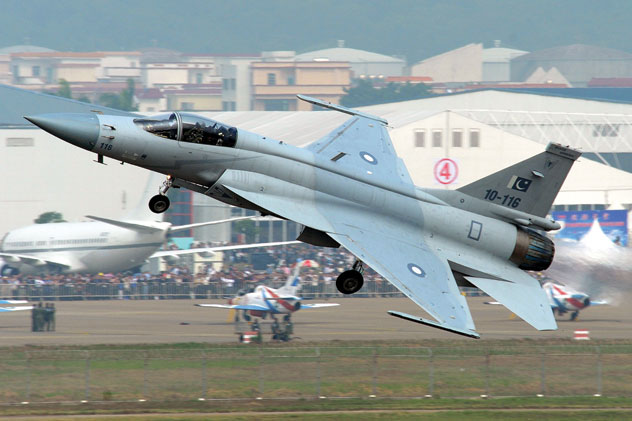 (Above): The JF-17 fighter jet, China's gift to Pakistan.
---
Reports of Chinese plans to increase supply of 50 new JF-17 Thunder multi-role combat jets to Pakistan under a co-production pact are significant pointers to an incipient 'Sino belligerence.'

As regards the core issue of Kashmir, India cannot postpone dealing with securing borders, steady demilitarization, increasing autonomy and self-rule for regions of the northern state of Jammu and Kashmir till eternity.

Finally, a wider cultural rapprochement cannot be put on the back burner as trade normalization, people-to-people contacts, diplomatic meetings, resolution of water disputes and visa issues, etc – are all elementary to buttressing this 'peaceful Pakistani constituency' in Pakistani socio-economic and political realm.

Once a semblance of balance of power is attained, Pakistan can be expected to gradually bring to an end its use of terrorism as an instrument of foreign policy that has been especially directed towards India.

Osama's killing may have evoked positive reactions from the Indian ruling leadership yet its handling of some tasks have been astonishingly full of errors.

India blundered in preparing a list of India's fifty most wanted terrorists that have allegedly been provided sanctuary in Pakistan.

At least two persons that find mention in the above list have been found to be residing in the very heart of Mumbai.

However, Indian Home Minister P. Chidambaram may nonchalantly declare that these mistakes would not impact the contours of Indo-Pak relations, what cannot be overlooked is that such gaffes only tend to erode Indian efforts and credibility in the international arena in tackling terror in a proper synchronized and coordinated way.

Sources in the Home Ministry have mentioned a new revised list being prepared that would be sent to Pakistan shortly.

Even ever since 26/11, too many high level meetings between the two nations have been held but without any concrete headway.

Quite naturally this has prompted rhetoric calls from India's opposition political forces for adoption of a more hardened approach toward Pakistan that continues to sponsor and shelter India-focused terrorist groups like LeT, JeM and Hizbul Mujahideen.

But, however hard it may be for India, it cannot subsume its responsibility and would do well by following the U.S. that continues to engage with Pakistan for achieving results that mean a more secure and peaceful future.

Therefore, even as the walk to peace may not be easy, the Indo-Pak bilateral path is for India to decide and lay out carefully.

---

Priyanka Bhardwaj is a reporter with Siliconeer. She is based in New Delhi.