RECIPE:
Sweet Treat: Fruity Nutty Custard


If you have kids, you know, summer time often means getting creative in the kitchen. Shila Agarwal shows you how to beat the heat with a cool and delicious dessert.
---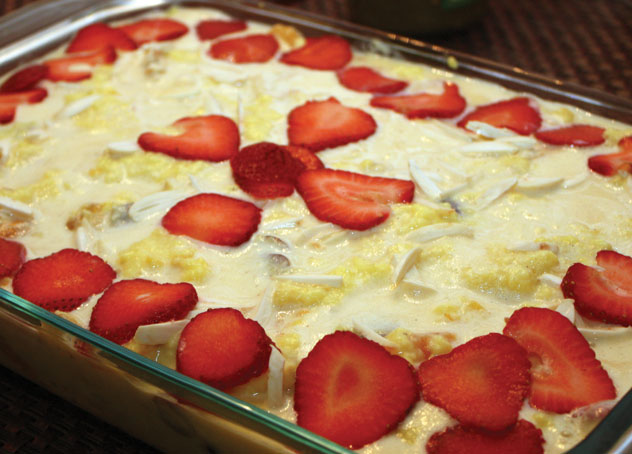 (Above): Fruity Nutty Custard [Photo: Vansh A. Gupta | SILICONEER]

---
Ingredients

Serves 5-6 People:

2 tbsp custard powder

16 oz. (about two glasses) cold milk

2 tbsp sugar

15-20 cashews soaked and cut in pieces

15-20 almonds soaked, peeled and cut lengthwise into slices

1 apple cut in small pieces

2 bananas cut in round slices

1 orange peeled cut in small pieces

1 mango peeled cut in small pieces (seasonal, can be skipped if unavailable)

15-20 grapes sliced in half

4 strawberries sliced for decoration

1 pint ice cream (choose your favorite flavor)

Method:

Pour half of the milk in a container, add custard powder and stir to mix. Pour the other half of the milk in another container and heat it till the milk boils.

When milk starts boiling, add the cold milk and custard mix and stir it continuously till the mix gets thick. Add sugar and set aside to cool.

Add apples, bananas and orange and cashews to the cool mix.

Pour the mix in a serving bowl or tray. Add a layer of ice cream on top to cover the mix and garnish with strawberries and almonds. Refrigerate for 2-3 hours and serve cold.

Enjoy!