EDITORIAL: Social Media: Savior or Peril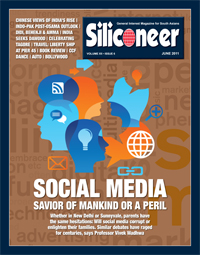 There is no denial that social networking has become a key tool in communications today. It's biggest advantage is the ability to connect with others around the globe, that too instantly and economically. A good way to cite an example is the recent uprising in Egypt, that is being attributed largely to social networking and the Internet. Or consider the classic American example where U.S. President Barack Obama used the power of online social media to raise campaign funds and the support that he shares today from the American people. The list can go on.

However, there is a dark side to all this, as some worry. Issues like vulnerability, especially among kids and seniors, have raised eyebrows about how far and how much can be shared through social networking. The debate has generated a lot of heat. Studies have been conducted and conclusions presented. Then there are other studies that talk about how some seniors in Amsterdam have embraced social media, and how it has changed their lives. Some embrace the advent of online social networking, while others simple dismiss the idea.

This month's cover story is an adaptation of a Business Week opinion piece by Professor Vivek Wadhwa where he presents his views on the subject.

The rapid economic ascendance of India as a global power is, without a doubt, a historic development that will reshape the balance of power in the world in the coming decades. Because of its democratic political system and private-sector entrepreneurial dynamism, India's rise is warmly welcomed in the West. The West's endorsement of India's rise and its democratic development model is based on deeply rooted ideological affinity, mutual economic interests, and strategic considerations. India's emergence as a great economic success story will provide an alternative, but powerful, model for the developing world, as well as a possible strategic counterweight to China.

However, India's rise has met with far more ambivalent response inside China. At the mass level, ignorance, stereotyping, and latent hostility characterize the views of India held by a large segment of Chinese society. At the elite level, while interest in India is growing rapidly, the discourse on India is heavily polarized and politicized. As a result, the quality of analysis of India's ongoing transformation is relatively low. Most worrisome, while elites affiliated with the government tend to discount India's potential as a great power, they obsessively worry about India's role as a strategic counterweight that could be used by the West in containing China. The combination of under-appreciation of India's achievement and exaggeration of India's role as a geopolitical rival could generate dangerous self-reinforcing dynamics that may make strategic competition between India and China more likely in the future, writes Professor Minxin Pei, in an article originally published in India in Transition (IiT), a publication of the Center for the Advanced Study of India of the University of Pennsylvania.

Ever since the horrifc 26/11 attacks that rocked Mumbai, too many high level meetings between India and Pakistan have been held but without any concrete headway. This has prompted rhetoric calls from India's opposition political forces for adoption of a more hardened approach toward Pakistan.

But, however hard it may be for India, it cannot subsume its responsibility and would do well by following the U.S. that continues to engage with Pakistan for achieving results that mean a more secure and peaceful future.

What needs to be ensured is that the international community recognizes Afghan-Pak region as the heart of global violent extremism and must not be misled to view India's security dimension through the prism of Kashmir-territorial-squabble.

The Mumbai terror attacks had brought sufficient glare on anti-India terror networks based in Pakistan and an enormous pressure on Pakistan to cooperate in anti-terror efforts. But then peace in the Indian subcontinent seems to be contingent on Pakistan's stability and improved counter-insurgency capacities.

Priyanka Bhardwaj reviews the post-Osama ties between India and Pakistan.

And for all those dads out there, Siliconeer wishes you all a happy father's day!