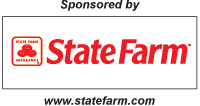 AUTO REVIEW:
Spunky Bold Crossover: 2011 Nissan Juke SV


It's a new way to look at crossovers, a new and gaining segment in autos. Good mileage, space, funky design – seems like a perfect recipe for today's generation, writes Sally Miller Wyatt.
---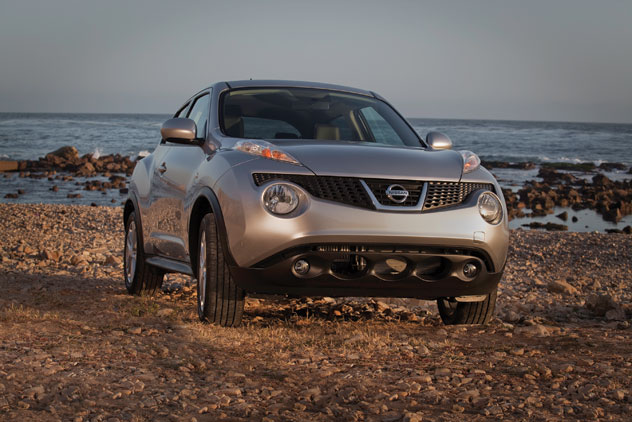 (Above): Exterior view of the 2011 Nissan Juke SV.

---
If you thought Nissan was out of the box with its funky CUBE, wait until you see Nissan's all-new JUKE. They've dubbed it a "bold urban sport cross," and that pretty well sums it up.

The JUKE is a sporty, spunky, boldly designed compact-like car with an urban edge. Oh, and a very scrappy engine. You wouldn't believe this little car can move like this, but it does thanks to the 188-horsepower 1.6-liter Direct Injection Gasoline (DIG) turbo four-cylinder engine and a six-speed transmission.

The JUKE is considered a crossover because it is a blend of sports car, sports utility vehicle, and compact car. It has dynamic handling and that powerful turbo engine to satisfy the sports car enthusiast, but it also has elements to satisfy SUV fans, such as raised ground height and available all-wheel drive.

As for the car's edgy, urban look, it starts with those unique headlamps. They are both on the front bumper and also on the front hood, in an elevated and elongated design. The windshield is sloped somewhat and the rear tail lights are also unusually designed. The car itself has a SUV's wider stance, 17-inch wheels and large wheel arches. The rear doors have handles that are "hidden," meaning that they are incorporated into the body design.

---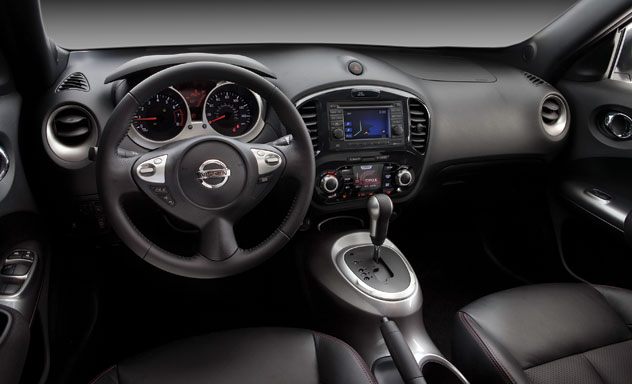 (Above): Interior view of the 2011 Nissan Juke SV.

---
As for the interior, the front seats are bolstered to suggest the sports car element, and the gear shift sits atop a center console that resembles a motorcycle fuel tank in a way. The console has been finished in high gloss and metallic paint and has not only the gear shift in prominence but also a couple of cup holders.

Although it is a compact car, there is seating for five here, and the rear seat has a wide, flat bench. The seat itself can fold in a 60/40 split, which gives it some flexibility for carrying cargo. Even if you don't fold down the rear seats, the trunk area is not miserly. We were able to fit a huge suitcase back there without any problem. Getting into and out of the rear seat is a little challenging, as the rear doors don't open wide and the foot well is compromised somewhat by those arching wheel wells.

You have a choice of two transmissions with the JUKE. Our test car came equipped with the six-speed manual transmission, but there is also a Continuously Variable Transmission. The car gets good fuel economy, with a rating of 24 mpg City and 31 mpg Highway for the manual transmissions.

---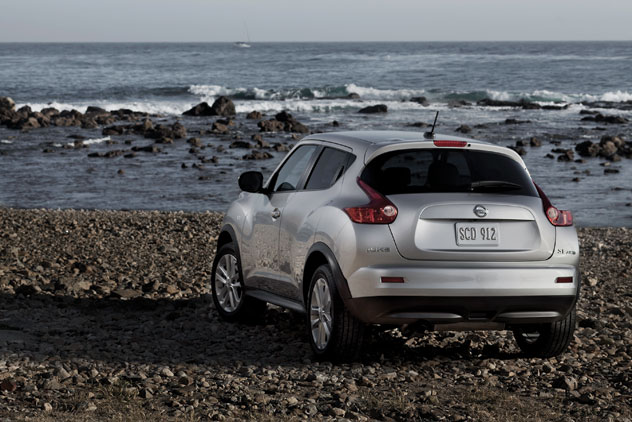 (Above): Exterior view of the 2011 Nissan Juke SV.

---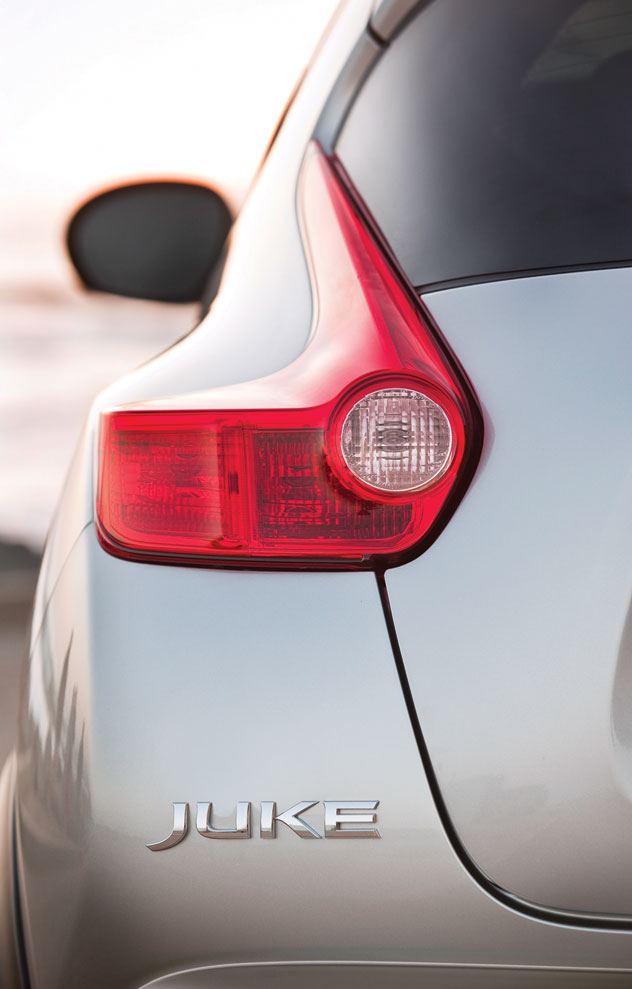 Safety features include an advanced air bag system with front seat mounted side impact bags and roof mounted curtain side impact bags, an energy-absorbing steering column and top-notch braking features including four-wheel anti-lock brakes, Vehicle Dynamic Control and Traction Control, Electronic Brake Force Distribution and Brake Assist.

Our test car also had a very nice sound system with six speakers, MP3 CD Playback Capability and XM Satellite radio.

Overall, we found the 2011 Nissan JUKE to be a fun car to drive. It has a fresh and unique look with its edgy detailing and that may be quite appealing to drivers of any age. And with a sticker price of just over $21,000, it won't break the bank, either.