FESTIVAL
Rang Barse!: San Francisco Bay Area Holi Celebrations


Holi, the festival of colors to herald the arrival of spring, was celebrated with traditional fervor by kids and adults alike at many places in San Francisco Bay Area. Shashi Desai from Milpitas and Nehal Tenany from Fremont present a photo essay.

---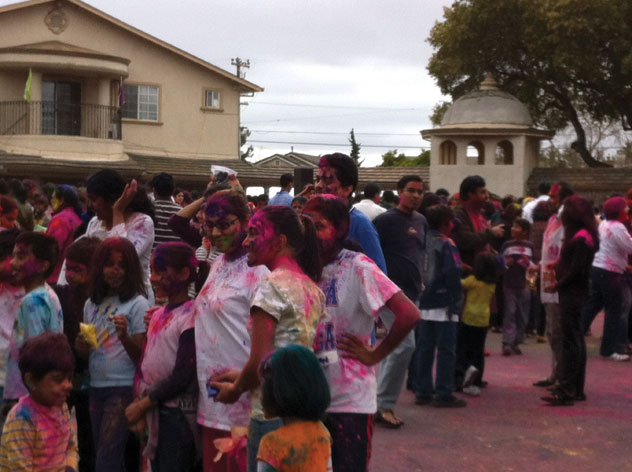 (Above): Holi festivities at the Fremont Hindu Temple, Mar. 11. [Photo: Nehal Tenany]
---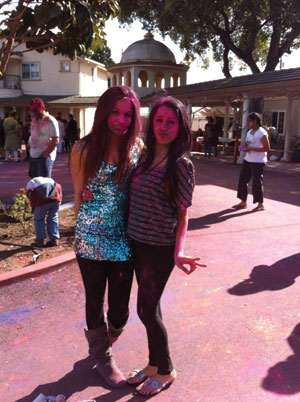 I never realized how fun Holi could be until I went to the Fremont Temple Holi Festival this year. The cold weather was no match for the heightened spirits of the people here.

The amount of enthusiasm and energy people had as they threw colors and water balloons at each other made such a happy ambience to celebrate this wonderful holiday. You come into the temple hoping to get a little bit of color on your face but leave drenched, covered in red, green, yellow and pink, and most of all happy.

I really enjoyed this festival because of how friendly and inviting everyone was, even if you didn't know someone, they would come up and put some color on you to wish you happy holidays.

Another great aspect of this event was the dance performances when you wanted to take a break from the colors, there was always music and wonderful dancers performing on stage to something you could rock your head to.

Overall, Holi really symbolizes the bonding within community, one gets a feel for how all Indians are united as one, and events like these are just a reminder to us of how much we mean to each other. It's the time for families to spend more time together as well as meet new people and share the celebration.

- (Above, right): Nehal Tenany (r) is co-founder of Starlight Dance Company and a senior at Amador High School. She lives in Pleasanton, Calif. Also seen with her is Michelle Randev on the left.

---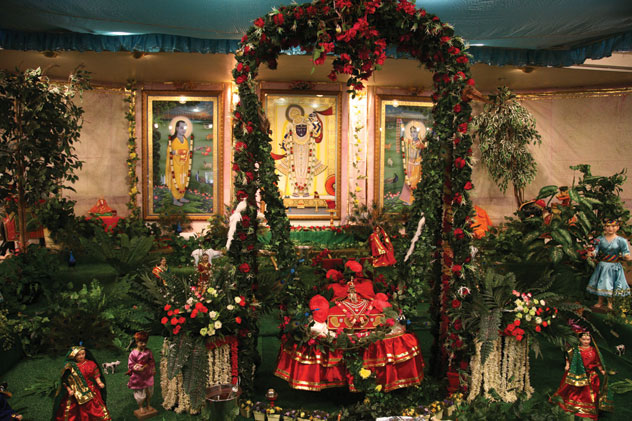 (Above): Decoration at Shreemaya Krishnadham, BayVP temple in Milpitas, Calif., with Lord Shrinathji, Mahaprabhuji and Yamunaji. [Photo: SHASHI DESAI | DREAMSNAPS]
---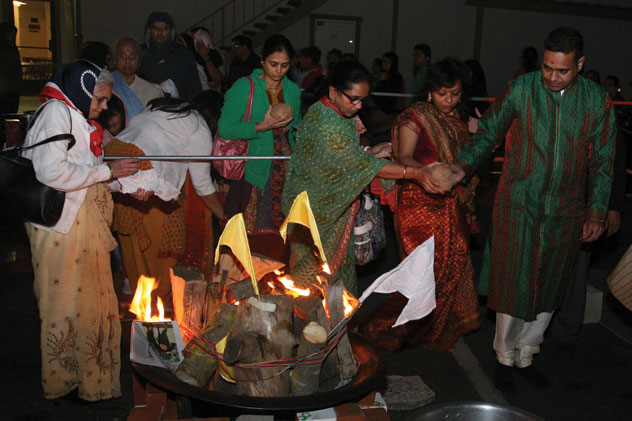 (Above): Holi pradeepan, a ritual to mark Holi, at Shreemaya Krishnadham, BayVP temple in Milpitas, Calif., Mar. 7. [Photo: SHASHI DESAI | DREAMSNAPS]
---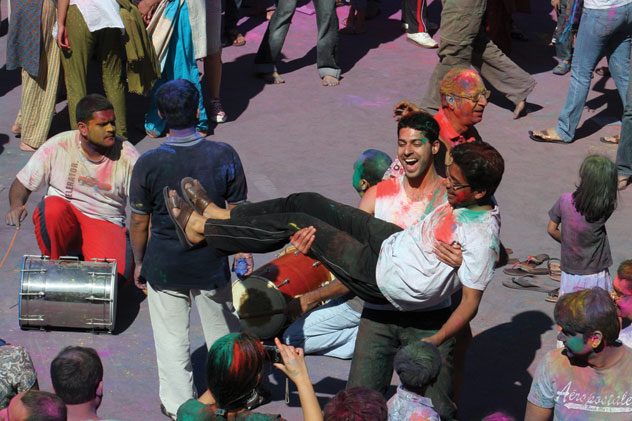 (Above): Holi celebrations at the Shreemaya Krishnadham, BayVP temple parking lot, Milpitas, Calif., Mar. 10, was attended by over 800 revelers. The fun was immense with colors, live DJ, Dhol player and food stalls. [Photo: SHASHI DESAI | DREAMSNAPS]
---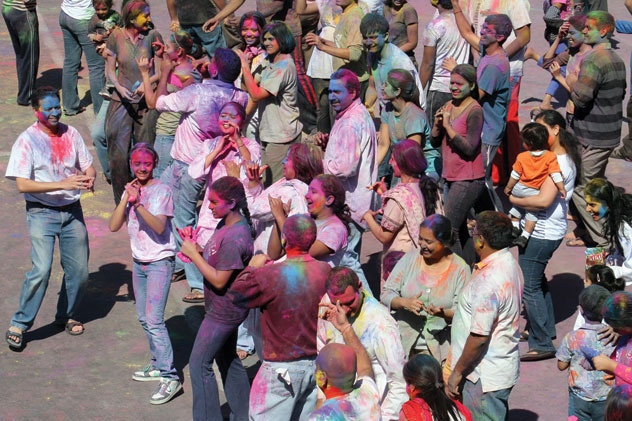 (Above): Holi celebrations at the Shreemaya Krishnadham, BayVP temple parking lot, Milpitas, Calif., Mar. 10, was attended by over 800 revelers. The fun was immense with colors, live DJ, Dhol player and food stalls. [Photo: SHASHI DESAI | DREAMSNAPS]
---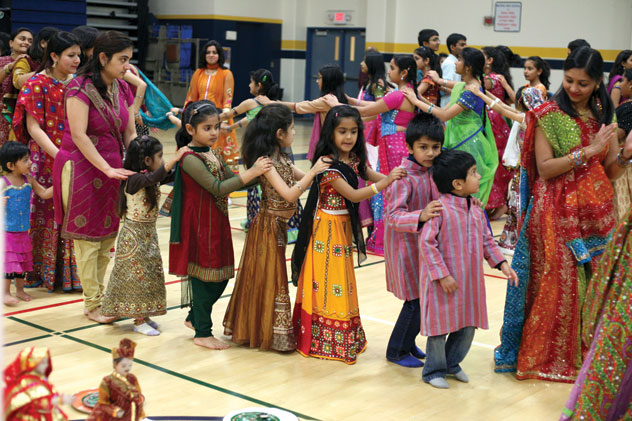 (Above): Kids dressed in colorful outfits enjoy the Garba, Mar. 3., that was part of the weeklong Holi celebrations at the BayVP temple in Milpitas, Calif. [Photo: SHASHI DESAI | DREAMSNAPS]
---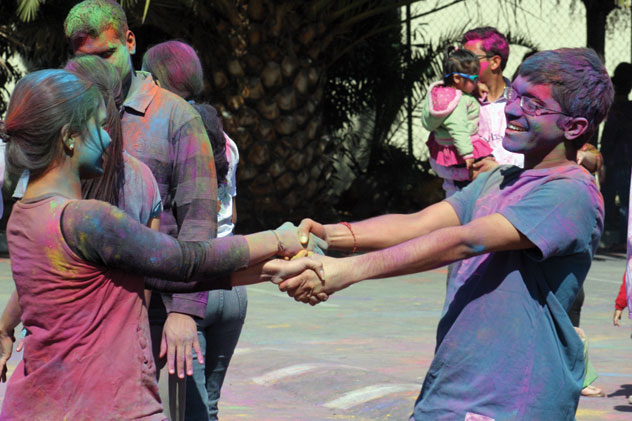 (Above): Hundreds joined for Holi celebrations at the Shreemaya Krishnadham, BayVP temple parking lot in Milpitas, Calif., Mar. 10. [Photo: SHASHI DESAI | DREAMSNAPS]
---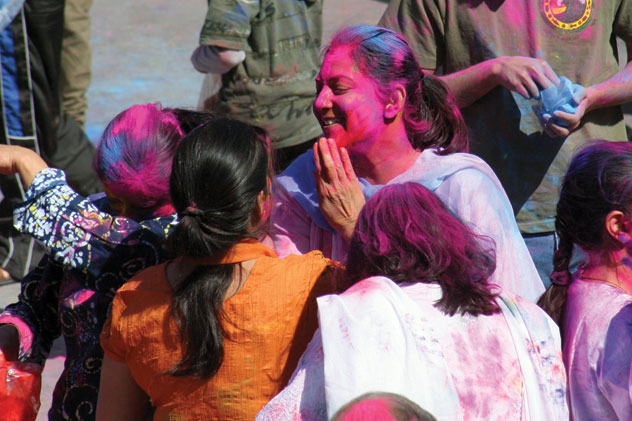 (Above): Hundreds joined for Holi celebrations at the Shreemaya Krishnadham, BayVP temple parking lot in Milpitas, Calif., Mar. 10. [Photo: SHASHI DESAI | DREAMSNAPS]
---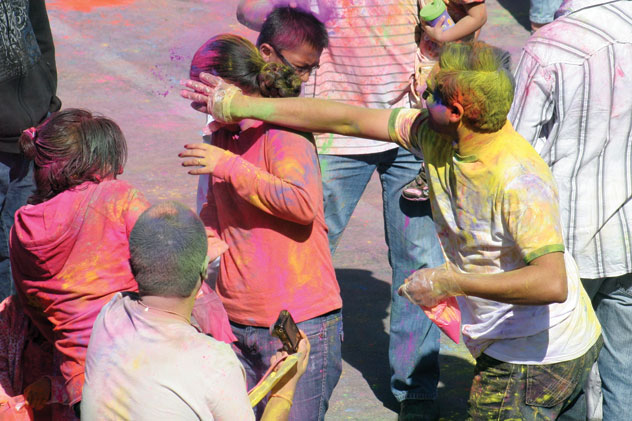 (Above): Hundreds joined for Holi celebrations at the Shreemaya Krishnadham, BayVP temple parking lot in Milpitas, Calif., Mar. 10. [Photo: SHASHI DESAI | DREAMSNAPS]