EDITORIAL: If You Love Cricket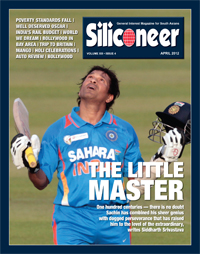 Fan frenzy has seen some of its greatest highs when one man they love and treat as their God of a common religion of cricket shared by all, gave them what a nation of over a billion people had waited for almost a year. One hundred centuries — there is no doubt Sachin has combined his sheer genius and natural talent with dogged perseverance, discipline, endurance, humbleness, fair play, fitness and focus that has raised him to the level of the extraordinary, writes Siddharth Srivastava.

There has been an understandable windfall of reporting recently on the Oscar winners for Documentary (short) films at the 84th Academy Awards ceremony. Pakistani-Canadian Sharmeen Obaid-Chinoy and American Daniel Junge won the Oscar for their film, Saving Face, a very well-deserved recognition for both filmmakers. But there was also a third musketeer involved in the success of this documentary, one who has to be highlighted too, writes Ras H. Siddiqui.

The presentation of this year's Union Railway Budget was packed with dozes of drama that was never before witnessed in India's history. It was the pitfall of running a country with a coalition government where one cannot please all parties and as a result the country does not move forward at a steady pace, writes Priyanka Bhardwaj.

Since independence in 1947, India's average annual income that stood at U.S. $619 has drastically declined. Reforms and liberalization policies only widened gaps between the haves and have-nots and though the country boasts of maximum number of billionaires it is also undergoing an agrarian crisis of the highest level. Priyanka Bhardwaj looks at the shocking fall in standards of poverty as reported by the government.

It is heartening to see today's youth being so compassionate towards such difficult issues.
Living with a brother who has autism, he has seen the challenges that kids, educators, parents, and caregivers run into on a daily basis. His passion about making a difference in the lives of people with special needs led to starting a Web site, WorldWeDream.org, devoted to helping people with disabilities, writes Shubhankar Jain.

Shakespeare, theatre, literature, tradition and pubs, it was a journey through time and the history of English language as our travel editor Al Auger explored the art, culture and glories of centuries old and modern day Britain. He presents an account of his trip.

There is something new happening at Siliconeer. Starting in this issue, we will feature fiction stories and urge readers to send in their fiction work for publishing in the magazine. If writing interests you, get full details on Page 39.

Siliconeer wishes all readers a very happy Baisakhi!