SUBCONTINENT
Shocking Fall: India's Poverty Standards


Liberalization policies widened gaps between the haves and have-nots and though India boasts of maximum number of billionaires it is also undergoing an agrarian crisis of the highest level. Failed government policies and actions are a major factor to blame, writes Priyanka Bhardwaj.

---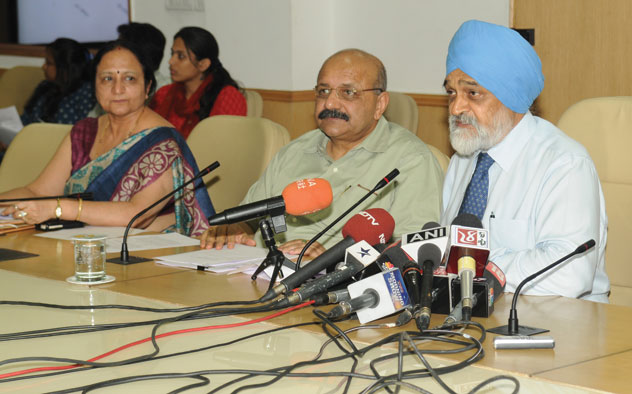 (Above): Deputy chairman of Planning Commission, Montek Singh Ahluwalia (r) addressing the media on poverty in India, in New Delhi, Mar. 20. [Press Information Bureau photo]
---
India's lower house, Lok Sabha, witnessed immense ruckus by opposition members of Parliament as the Planning Commission deputy chairman Montek Singh Ahluwalia furnished details of its report on poverty and daily wage estimates.

The Planning Commission's new poverty line based on per-capita daily consumption as it stands is Rs. 28 per day for urban areas and Rs. 22.50 for rural areas (a dollar equals Rs. 50 approximately).

Last year the poverty line for urban areas was pegged at Rs. 32.

The latest data shows that India has over 360 million poor and that poverty had significantly declined by 7.3%, from 37.2% in 2004-05 to 29.8% in 2009-10.

The poorer states of Bihar, Uttar Pradesh and Chhattisgarh have shown marginal decline in poverty while five North Eastern states of Assam, Meghalaya, Mizoram, Manipur and Nagaland have actually shown an increase in poverty.

Based on the Tendulkar Committee methodology that takes into account calorie intake and spending on health and education, the Commission's data becomes important as it will form the basis of social security measures such as food security bill for the poor, stated Consumer Affairs, Food and Public Distribution minister K.V. Thomas.

Expectedly, the opposition members were in no mood to accept these set of figures and the criteria employed to arrive at the same and demanded a statement from the Prime Minister, who also acts as the chairman of Planning Commission.

Calling the methodology of determining the estimates faulty, Mulayam Singh Yadav of Samajwadi Party blamed the Commission and government of indulging in "treachery with the country as well as poor people."

Communist Party of India-Marxist leader Sitaram Yechury said, "World Bank uses Human Development Index to determine poverty line in most countries. According to the index, 80% of India's population lives under poverty line. A realistic poverty estimate, if you want, it has to be on the basis of a holistic index that has been prepared in the world, many countries are following it…I mean everybody here is shocked because 77% of India lives on less than 20 rupees a day," he added.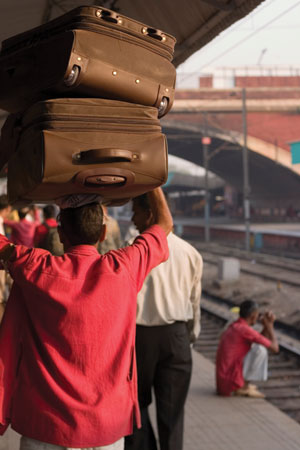 The cacophony that resulted led to an adjournment of the House and compelled Prime Minster Manmohan Singh to say, "Since Tendulkar panel report and earlier poverty estimates are not all inclusive, a multi-layered approach is required and a government panel will devise new methods to assess poverty in the country."

It may not be totally untrue true that at times states inflate poverty numbers to get more funds from the Center, but innumerable facts prove that India harbors world's one-third poor.

Many of its states have done much worse than Sub-Saharan Africa when it comes to malnutrition and child mortality, both of which are linked to access to basic healthcare and education.

About 42.5% children suffer from malnutrition and the country is home to 34% of world's stunted children and 46% of world's wasted children according to a World Bank data.

Latest UN estimates reveal that every year 2.1 million Indian children die before reaching age of 5.

India allocated $5.4 billion for healthcare in 2011-12 that amounts to just 2.13% of total government spending or $4.50 for each person not leaving much to uplift the hugely under-funded and over-stretched healthcare system.

As far as 2011's Global Hunger Index (GHI) Report is concerned, the Asian nation was ranked 45 among countries that suffer from hunger situation and is one of three nations whose GHI shot up from 22.9 to 23.7 between 1996 and 2011.

When compared to India other developing countries like Pakistan, Nepal, Myanmar, Bangladesh, Vietnam, Kenya, Nigeria, Uganda, Zimbabwe and Malawi have managed to improve their lot in this regard.

However, India's dismal story is expected to continue as the UN Millennium Development Goals Report predicts poverty rate to dip with time to about 22% in 2015.

This sorry state finds its roots in a variety of factors, both traditional and new socio-economic.

While the larger chunk of poor comes from lower castes especially dalits, showing a strong relation between caste and poverty, various UN reports have consistently pointed out that more than 50% of rural forward castes live below the poverty line.

Unemployment, especially during recessionary times, and global wealth disparities are other reasons to have contributed to the situation.

Since independence in 1947, India's average annual income that stood at U.S. $619 has drastically declined.

Reforms and liberalization policies only widened gaps between the haves and have-nots and though the country boasts of maximum number of billionaires it is also undergoing an agrarian crisis of the highest level.

The wealth increase due to rise in stock market benefited a mere 4 to 7 percent that held any equity.

Government estimates show two hundred farmer suicides reported between 1997 and 2007 and economists have cited reasons in government's focus on cash crops, rising costs of farm inputs and market determination of crops.

So during desperate times, when farmers are left with no money to buy food or pay off debts, they resort to desperate acts. More than 85% of rural households are either landless, sub-marginal, marginal or small farmers and 48.6% farmer households are in debt.

Though job guarantee schemes, revamped public distribution system, mid-day meal schemes and more recently the National Rural Employment Guarantee Act may have brought some relief, many regions still have to accrue its benefits.

With not more than 0.2% of GDP dedicated for agriculture the situation is far from resolved.

Therefore the arrival of a poverty line at Rs. 28 or Rs. 22.50 is quite absurd as not even a square meal can be fetched for this much an amount.

But then, as the thinking segment says, if the motive of the government is to show large drops in absolute numbers of poor and gain imaginary kudos then it is another matter!