RECIPE:
North Indian Staple: Aloo Gobhi Masala


A tempting favorite that often makes it to the dinner tables in many North Indian homes. Chef Sanjay Patel shows you how to prepare it.
---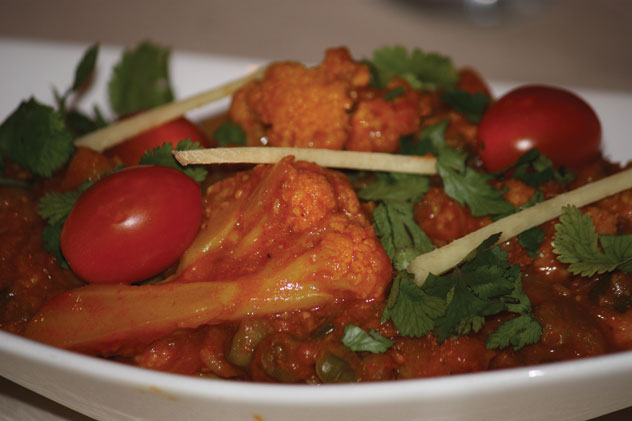 (Above): Aloo Gobhi Masala [Photo: SILICONEER]

---
Ingredients:

2 tbsp vegetable oil

1 tsp black mustard seeds

1 tsp whole cumin seeds

½ tsp whole cloves

1 tbsp grated garlic (about 3 cloves)

1 tbsp grated ginger (about one inch)

2 medium onions minced

1 chili minced (I used a habanero but if that's too spicy you can use a seranno pepper instead)

2 tsp garam masala

½ tsp turmeric

2 tsp kosher salt

2 tsp honey (or vegan sugar)

½ cup water

3 Yukon Gold potatoes cut into haf inch cubes

1 small head cauliflower florets cut up

1 tbsp lemon juice

½ cup green peas


For Garnish:

cilantro, hand torn

1 tomato cut in wedges

Method:

Heat a heavy-bottomed pot over medium heat until very hot and add the oil. Add the mustard seeds, cumin and cloves and stir until the spices begin to crackle. Add ginger and garlic and fry until fragrant then add onion. Fry this mix until the onions are soft and start to brown, then add the chili, garam masala, turmeric, salt, honey, water and potatoes.

Cover and simmer over medium low heat for 10 minutes, add the cauliflower and cook until everything is tender, another 30-40 minutes. Add the lemon juice and peas at the very end and serve hot, garnished with cilantro and tomato, with rotis or basmati rice and raita.